Booz Allen's Susan Penfield Receives WashingtonExec Lifetime Achievement Award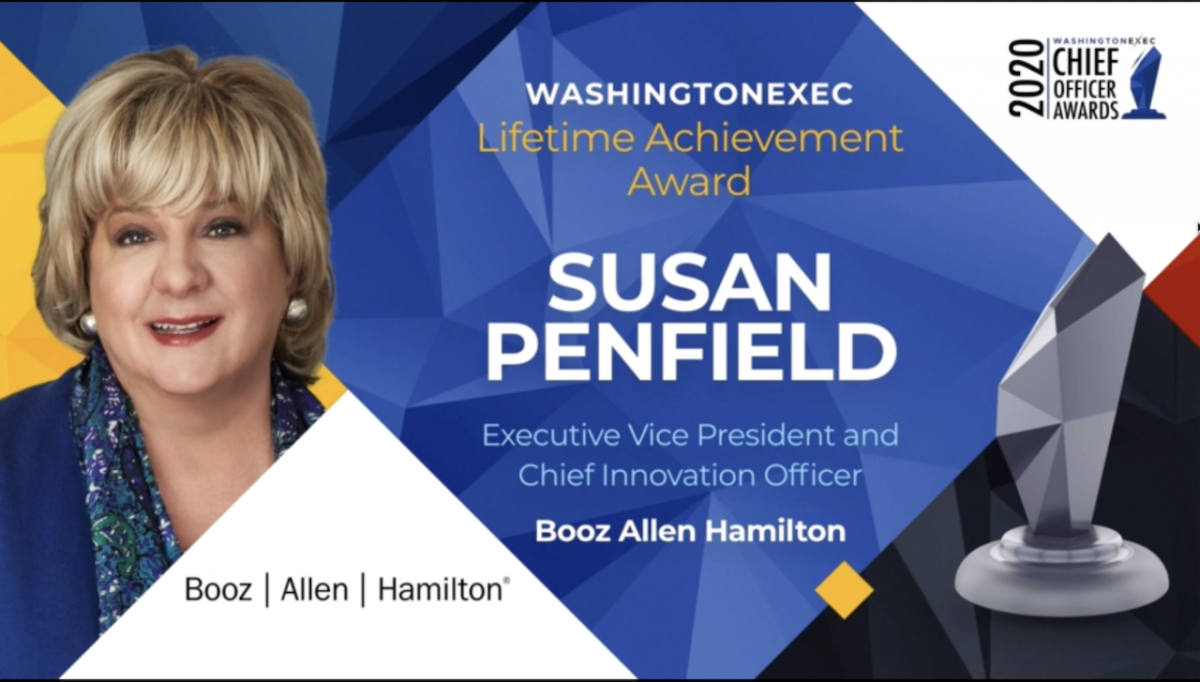 "Role model to many and a true, innovative leader whose contributions deserve to be highlighted," is how JD Kathuria, WashingtonExec founder and CEO, describes Booz Allen Executive Vice President and Chief Innovation Officer Susan Penfield."She perfectly embodies what the Lifetime Achievement Award stands for."
Honored at this year's virtual WashingtonExec Chief Officer Awards ceremony, Penfield was celebrated for her advocacy of women in STEM careers and her efforts to foster innovation within Booz Allen. One common theme throughout her career – resiliency. 
"In today's challenging times, I am reminded about what it takes to be resilient and how to use that strength to better the world around us," Penfield said in her acceptance speech.
Shaping innovation at Booz Allen
"The government tech business has not always been the easiest. We have weathered many storms over the almost 30 years I have been around," Penfield said. However, "as leaders, this means we've got to reshape the narrative and lean into new challenges as they arise."
Penfield has been instrumental in driving Booz Allen's innovation agenda in fields such as digital transformation, artificial intelligence, advanced cyber, and augmented and virtual reality and defining Booz Allen's status as a solutions company with the launches of the District Defend secure mobility solution, Recreation.gov, and the Modzy™ AI platform and marketplace. Other career highlights include:
In 2002, Penfield was one of the firm's first female technology leaders, standing up the Software Development Center of Excellence. 

In 2007, she was one of the first female partners to lead Booz Allen's health account, driving technology and transformation initiatives for almost every major federal health organization in the United States.

In 2016, she became the firm's second Chief Innovation Officer, playing an instrumental role in launching Booz Allen's Innovation Center and reigniting a culture of innovation across the firm. 
"My focus was simple: Catch the right tech waves, invest appropriately, position ourselves in the ecosystem to be relevant and good partners to high-tech firms and develop an ecosystem of partnerships with starts-ups and incubators," Penfield said in an interview with WashingtonExec.
Empowering across generations
"We are the firm we are today because of her vision because of her passion and because of her can-do attitude," said Booz Allen CEO Horacio Rozanski in his introduction of Penfield. "She was instrumental in launching our Innovation Center and in changing our culture to make sure that innovation is part of everything we do." 
Growing up in Williamsport, Pennsylvania, "It was mostly women—my mom, my aunts, the Catholic nuns, and caring neighbors—that served as my role models," Penfield said. She found a similar community of supportive, passionate women at Booz Allen. 
"We worked together to create the firm's Women's Agenda, partnered with not for Profits in the STEM arena, Women in Technology, Girls Inc. and STEM Girls for Social Good," Penfield said. "We even co-wrote a STEM book called IMAGINE IT for school-aged girls." 
"Susan has helped change our firm through her leadership in our Women's Agenda and in women in STEM… she's one of the reasons that today there are more women than men on our leadership team," said Rozanski.
"What we do for each other and what we do to mentor, sponsor, and develop that next generation of women really makes me proud," Penfield said. "They have been a driving force throughout my career."
Through it all, Penfield says her proudest moments have been helping others. "I am thankful for the opportunity to be part of this vibrant and innovative group of leaders that has such passion for serving our Federal government."
Learn more about innovation and STEM careers for women at Booz Allen.