Booz Allen Plays Career Matchmaker for Military Spouses
Booz Allen Plays Career Matchmaker for Military Spouses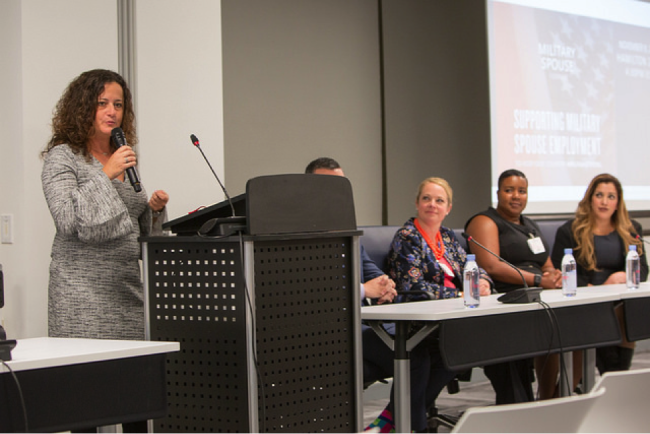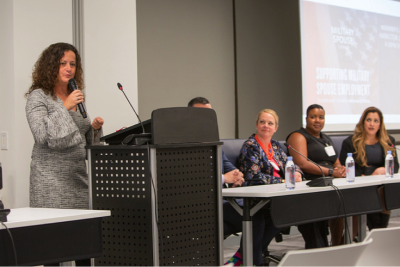 Friday, December 8, 2017 - 5:15pm
Military spouses are the backbone of military families. Studies show that supporting military spouse employment and closing the military spouse un/underemployment gap not only strengthens our nation's economy, but also improves military readiness.
But for military spouses who want to work outside the home, the frequent relocations common to military life can seem an insurmountable barrier to building and maintaining a career. As a result, many military spouses find themselves unemployed or underemployed.
To help military spouses connect with military-friendly companies, Booz Allen's Military Spouse Forum (MSF) hosted its third annual panel discussion featuring military spouses and the companies that employ them. As one of the firm's featured events celebrating November's Military Family Appreciation month, this year's panel event, Supporting Military Spouse Employment and Keeping our Country #MilFamStrong, showed the conversation from both the employer and employee perspectives.
Event speakers shared valuable insight gained from their own personal experiences, and outlined military spouse employment and retention best practices for the benefit of both employers and military spouses who can implement them.
Recognized not only as a military spouse friendly employer, but also as an industry leader in military spouse employment and retention, Booz Allen Hamilton has long-standing commitment to the military community. Booz Allen CEO Horacio D. Rozanski cited the Military Spouse Employment Initiative as one of two key diversity initiatives in a pledge to advance diversity and inclusion in the workplace as a part of CEO Action for Diversity & Inclusion:
"At Booz Allen, one of our corporate values is collective ingenuity. We believe in harnessing the power of diversity and empowering people to bring the best of who they are to every challenge or problem. When we do so—in our workplaces and communities—there is no limit to what we can achieve together." Horacio D. Rozanski, president and CEO of Booz Allen.
In case you missed the event, you can watch the event recording and check out the photos from the event on our Flickr Album!