Booz Allen Named a Top 50 Employer for People With Disabilities by CAREERS & the disABLED Magazine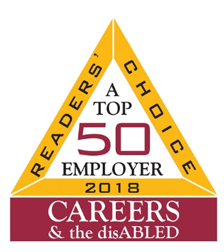 Booz Allen Hamilton is proud to again be listed among CAREERS & the disABLED's Top 50 Employers, appearing in the #10 spot this year. To determine the list and rankings, CAREERS & the disABLED magazine surveyed its readers via mail and email, asking them to select the top companies in the country for which they would most prefer to work or believe provide a positive working environment for people with disabilities.
Booz Allen Hamilton's commitment to employees with disabilities is essential to its core values, and supported by the firm's disability employee resource group, the diverseABILITY Forum. The forum provides leadership and development opportunities for its members, gives back to the community through volunteerism, and increases awareness of disability inclusion best practices.
"We are honored to be recognized by CAREERS & the disABLED for our dedication to hiring, retaining, and advancing employees with disabilities. At Booz Allen, we know that our differences lead to unique ways of thinking and approaching challenges—something we truly value as a multicultural community of problem solvers," said Eli Hinson, chair of the firm's diverseABILITY Forum.
The "Top 50 Employers" list is online here, and will appear in the Winter issue of the print version of CAREERS & the disABLED.
CAREERS & the disABLED Magazine, established in 1986, is the nation's first and only career-guidance and recruitment magazine for people with disabilities who are at undergraduate, graduate, or professional levels. Each issue features a special Braille section.
Love solving problems? Explore career opportunities at Booz Allen Hamilton: https://www.boozallen.com/careers.html