Booz Allen Named One of America's Best Employers for Veterans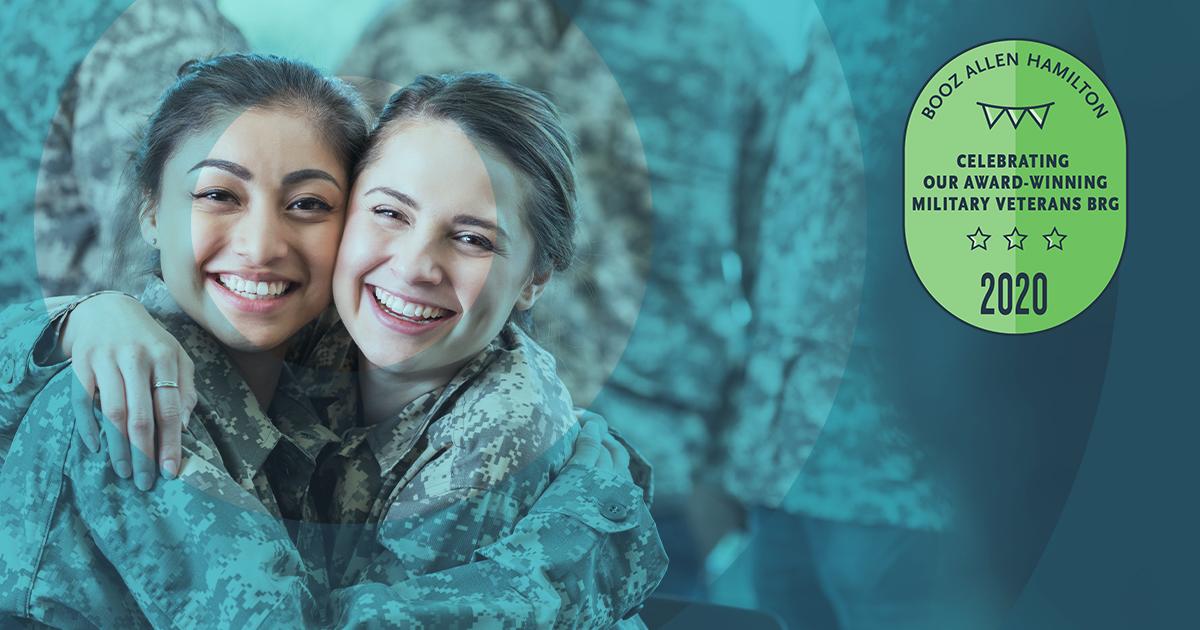 Forbes named Booz Allen as one of "America's Best Employers for Veterans," one of many accolades the firm and its Military and Veterans Affairs Business Resource Group have received in 2020.
What qualifies an organization as one of America's Best Employers for Veterans? Forbes and market research firm Statista asked more than 5,000 veterans working at companies with 1,000 or more employees.
Based on factors like work environment and approach to diversity and inclusion, Forbes recognized Booz Allen as one of the top organizations on the 2020 list. And, that's just one of several awards the firm has received this year around its work to support and employ military members and their families—read on for highlights.
Cultivating talent, easing transitions
Of Booz Allen's 27,600+ employees, 29 percent are veterans—and an invaluable resource for the firm's military, civil, and commercial work.
Able to build on their military background through resources and skills training across the firm, veterans can leverage support like Booz Allen's MilTech Workforce Initiative, which helps service members transition from active duty to civilian careers.
"It's imperative to not only provide service members smooth transitions to civilian life, but to also set them up for careers where they can maintain a sense of purpose and have opportunities for growth, especially in careers that give them technical skills in AI, 5G, cyber and more," explained Laura Schmiegel, Booz Allen's head of military and veteran affairs.
Military-connected employees also benefit from Booz Allen's Armed Services Network and its Military and Veterans Affairs Business Resource Group (BRG), which utilizes research, industry best practices, peer mentoring, and career development resources to help military employees successfully traverse the active duty-civilian career transition.
Helping military spouses and caregivers thrive
"We believe that supporting the employment of veterans, military spouses, caregivers, and others in the community promotes a more sustainable military," said Schmiegel. "That's why we're committed to not only hiring this talent, but also addressing the biggest challenges to readiness in this community."
For on-the-move military spouses, skills and training may not match in-demand jobs, sometimes leading to a continuous cycle of under-employment or even unemployment. Booz Allen is committed to bridging these gaps through its longtime partnership with Hiring Our Heroes, a program of the U.S. Chamber of Commerce Foundation. Most recently, the firm moderated expert panels for the organization's virtual Military Spouse Employment Summit.
For injured veterans and their families, particularly during the COVID-19 crisis, caregivers are essential workers who often face challenges of their own. To pinpoint where these caregivers live and their most prevalent health challenges, Booz Allen and the Elizabeth Dole Foundation used EpiMaps, a platform that uses machine learning and analytics tools to provide a visual dashboard of caregiver populations and their communities' social determinants of health.
A long history of award-winning support
In addition to inclusion on Forbes' "Best Employers for Veterans" list, the firm has received many other awards and recognitions in 2020 alone for supporting military-connected employees, spouses, and businesses.
Earlier in the year, Diversity Best Practices honored Booz Allen's Military Spouse network with its only Workplace Culture award. The network, which is part of the firm's Military and Veterans BRG, provides military spouses with practical career resources and programming. These have significantly increased the number of military spouses employed at the firm and supported strong retention rates.
This year, the firm's military and military-family focused awards and recognitions include:
Virginia Military and Veteran Affairs' 2020 Governor's Award
The National Veteran Small Business Coalition's Champions of Veterans Enterprise Award for the eighth year in a row
The Department of Labor's 2020 HIRE Vets Medallion Award, Platinum level (up from Gold in 2019)
Inclusion on the 2020 VETS Employers Index, which measures veteran-friendly status and financial health
The U.S. Veterans Magazine/Diversity.com's 2020 "Best of the Best Veteran Friendly Employers" award
Inclusion in the Military Times Best Employers for Vets
Learn more about how Booz Allen supports the military community.