Booz Allen Named to Monster.com's Ten Best Companies for Veterans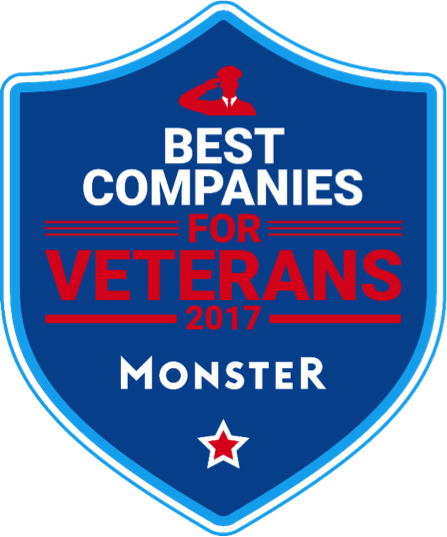 For the third year in a row, Booz Allen Hamilton has been named to Monster.com's Ten Best Companies for Veterans. The management and technology consulting firm ranks fifth on this year's list.
"At Booz Allen, we are committed to helping our veteran, reservist, and military spouse employees thrive," said senior vice president Andrea Inserra, who serves as chair of the firm's Veterans' Agenda. "We continually hear from retiring military, that there is an easy assimilation into Booz Allen given our focus on purpose and passionate service. Our veterans continue to work on missions that matter, allowing them to continue to serve their country, just not in uniform. And for that, we are proud that a strong sense of mission and integrity permeate our culture."
To determine the 2017 "Best for Veterans" rankings Monster.com collaborated with Military.com to develop a methodology that considered each company's veteran hiring, onboarding, and retention practices. While 88 percent of employers surveyed by Monster agree that veterans' skills are relevant to a civilian career, the companies recognized as on Monster's Ten Best list are "best in class" for their veteran hiring initiatives.
To date in 2017, 27 percent of all Booz Allen new hires are veterans. Veterans make up nearly 30 percent of the firm's total workforce.
To learn more about Booz Allen's commitment to veterans, visit: https://www.boozallen.com/e/culture/working-with-military-families.html
To read the full rankings from Monster.com, visit: https://www.monster.com/career-advice/article/best-companies-veterans-2017