Booz Allen Named Best Place to Work for LGBTQ Equality by Human Rights Campaign for 11th Consecutive Year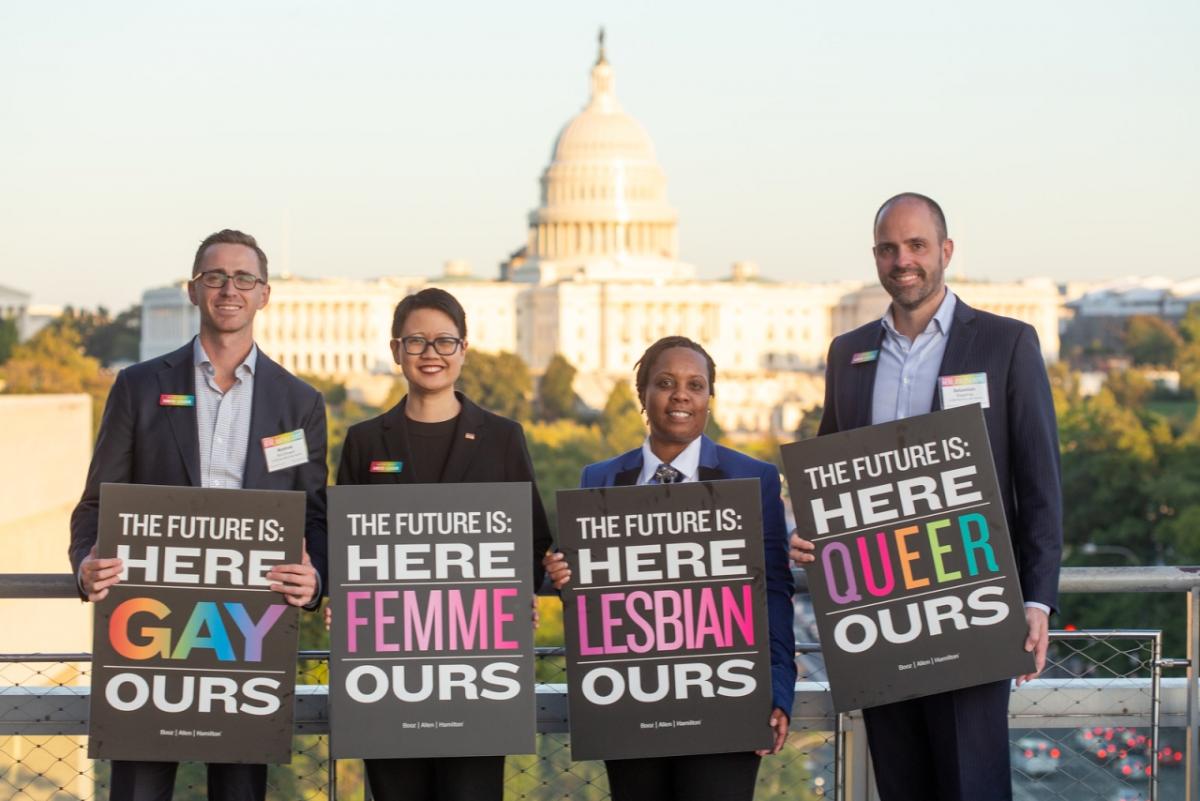 "From the previously unimaginable impact of the COVID-19 pandemic to a long overdue reckoning with racial injustice, 2020 was an unprecedented year. Yet, many businesses across the nation stepped up and continued to prioritize and champion LGBTQ equality."
-Alphonso David, President, Human Rights Campaign
Each year, the Human Rights Campaign (HRC) releases its Corporate Equality Index, the nation's foremost benchmarking survey and report measuring corporate policies and practices related to LGBTQ+ workplace equality.
Despite the unprecedented challenges of 2020, Booz Allen once again earned a perfect score of 100 on the Index and was recognized as a "Best Place to Work for LGBTQ Equality."
LGBTQ leadership in a changing world
This is the 11th consecutive year Booz Allen has received this recognition from HRC. GLOBE+, Booz Allen's LGBTQ+ focused business resource group (BRG) has been pivotal to such continued success.
"GLOBE+ has for 20 years been instrumental in helping Booz Allen navigate and lead the shifting cultural, social, political, and professional standards that shape LGBTQ lives in our country," said Taylor Montgomery, Booz Allen General Management Consultant, former GLOBE+ Pride Director, and incoming GLOBE+ BRG Co-Chair.GLOBE+ BRG Co-Chair.
For example, Booz Allen was an early activator of same-sex domestic partner recognition and benefits, and one of the first firms to enact transgender-inclusive benefits and policies—both key areas of focus in HRC's 2021 Corporate Equality Index.
Strengthening skills, community engagement, and visibility
The 2021 Index also looked at companies' support for organizational LGBTQ diversity competencies and public commitment to the LGBTQ community—both priority areas for the GLOBE+ BRG.
"The GLOBE+ BRG has a long-standing program of skills-based volunteering and community service programs," said Dominique Chamely, Booz Allen Organizational Change and Transformation Consultant, former GLOBE+ Volunteerism Director, and incoming GLOBE+ BRG Co-Chair.
Chamely cited recent partnerships with Capital Pride Alliance, the Gay Men's Chorus of Washington (GMCW), and Services and Advocacy for LGBT Elders (SAGE), in addition to ongoing contributions to Whitman Walker Health's Walk to End HIV, among others. 
"These programs allow BRG members to develop skills by serving national and local LGBTQ community organizations," Chamley added. "It's an opportunity for GLOBE+ to serve essential community organizations while creating opportunities for professional and personal development."  
The GLOBE+ BRG has also partnered with Booz Allen's Corporate Affairs team to ensure high visibility of LGBTQ narratives and issues year-round. This includes:
Regular casting of LGBTQ employees in marketing photos and videos
LGBTQ stories that feature prominently across content about defense, cybersecurity, artificial intelligence, and healthcare
"Throughout the year—not just during Pride season—GLOBE+ engages across Booz Allen to ensure LGBTQ employees, their achievements and their challenges are broadcast and brought to the forefront," said Montgomery. "We're proud of the work we've done to date—and know that we can keep doing this hard work together. That's the benefit of being part of GLOBE+ and a company like Booz Allen that empowers its people to change the world."  
Learn more about Booz Allen's GLOBE+ BRG and diversity, equity, and inclusion at Booz Allen.