Booz Allen Named Among Indeed's Top-Rated Workplaces
Booz Allen Named Among Indeed's Top-Rated Workplaces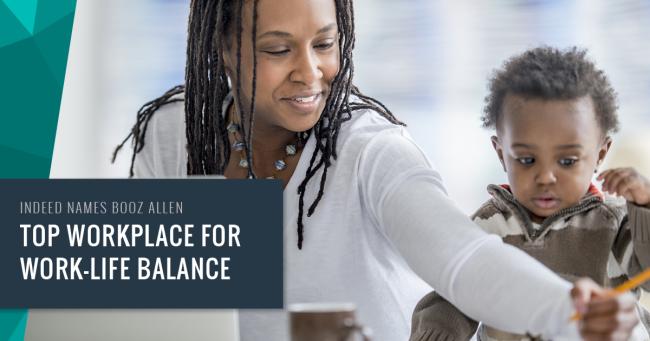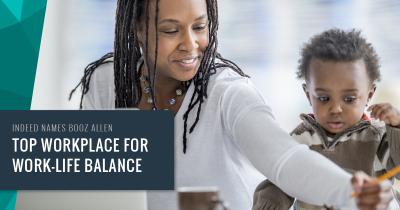 Wednesday, May 15, 2019 - 9:30am
Work-life balance is good for both employees and employers. A Corporate Executive Board study of 50,000 global workers found that employees who believe they have a good work-life balance work 21 percent harder.
Global job site Indeed named Booz Allen among its Top-Rated Workplaces for Work-Life Balance drawing from an analysis of 100 million ratings and reviews.
The firm ranked #13 in a list that also included American Express, Johnson & Johnson, and shoe manufacturer, Vans. Booz Allen and Northrop Grumman were the only consulting firms in the top 15. The list was compiled based on Indeed user-submitted ratings.
An enduring commitment to employee quality of life  
From policies that support working parents to award-winning commuter benefits, Booz Allen is committed to helping its employees live their best lives in and outside of work. For example, 80 percent of respondents in a recent employee survey reported that they work a flexible schedule, and 75 percent said that they regularly telecommute.
A growing list of honors from Indeed
This award is the latest of several recognitions from Indeed. Indeed also named Booz Allen among its 2018 Top-Rated Workplaces and its 20 Hottest Companies for Job Seekers.
Learn more about the Indeed award and work-life balance at Booz Allen.