Booz Allen Convenes Experts – and You – at This Year's Atlantic Festival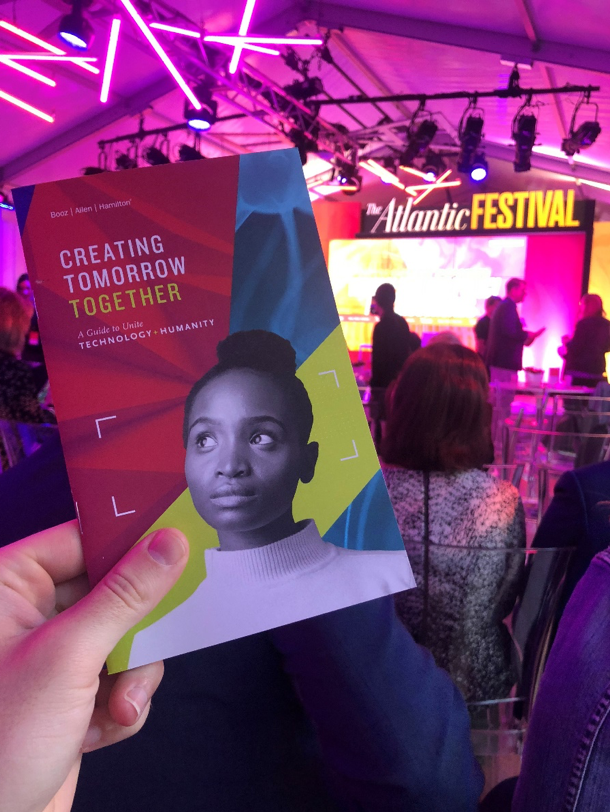 Not able to go to Washington, DC for the 10th annual Atlantic Festival? Good news: You can listen to expert discussions on artificial intelligence, virtual reality, cybersecurity, and more Oct. 3-4 thanks to Booz Allen's live streaming of the event. Tune in on any device, here.
The Atlantic Festival convenes leaders in policy, law, education, business, nonprofit, government, and beyond, with this year's theme exploring the intersection of technology, innovation, and policy. As an underwriting sponsor, Booz Allen is hosting its first-ever Booz Allen Innovation Zone, a street-festival style experience, featuring panel discussions, technology demonstrations, networking receptions, entertainment, and more.
Booz Allen sponsored the opening session on Tuesday, Oct. 2, which brought together leaders from Congress, the FTC, the private sector, and technology groups for interactive discussions and big questions. What should U.S. privacy and data protection policy look like? How will it impact innovation? And how will everything change with the Internet of Things, artificial intelligence, 5G, and beyond?
On Wednesday, Oct. 3:
Panelists from Microsoft and NVIDIA (creator of the GPU) discuss the Future of Artificial Intelligence for National Security (7:45-8:45 am)
Booz Allen CEO Horacio Rozanski and New York Times senior correspondent Eric Schmitt discuss Artificial Intelligence (10:25-10:35 am)
Panelists from the IRS and Department of Labor talk about Innovating the Government Experience (4:30-5:30 pm)   
On Thursday, Oct. 4:
Panelists from T-Mobile, the DoD, and Satelles examine the Lifeblood of Modernity: Positioning, Navigation and Timing (PNT), the infrastructure that makes cellular communications, electricity, and emergency services possible (7:45-8:45 am)
Panelists from University of Maryland, TRADOC Games and Simulations, and Doghead Simulations explore virtual reality, augmented reality, and The Next Frontier of Immersive Innovation (12:30-1:30 pm)
As technology brings us together in breathtaking new ways, Booz Allen helps clients find better solutions by uniting the right people, processes, and technology. Watch our experts live as we discuss how to create tomorrow together.