Booz Allen Celebrates National Veterans and Military Families Month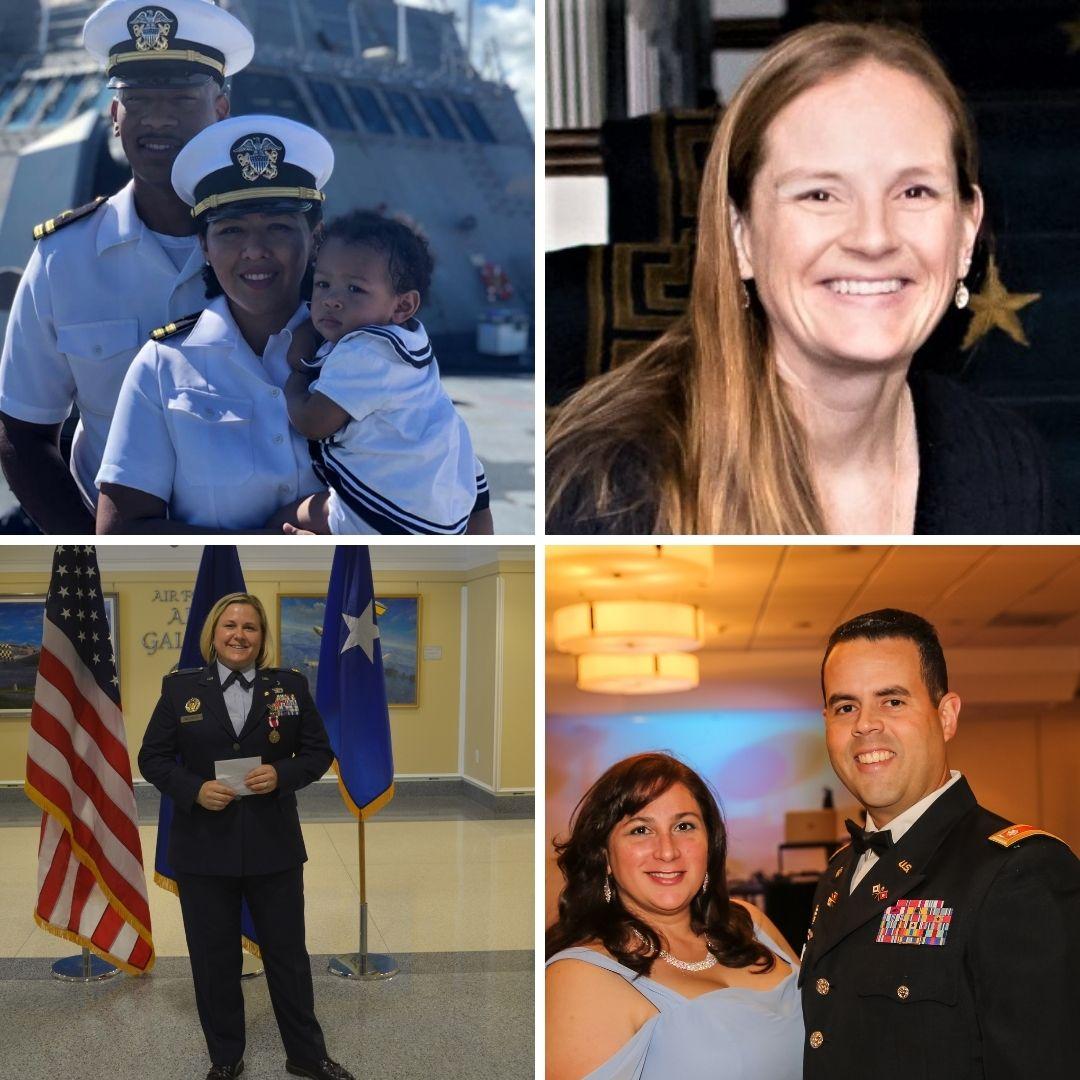 Booz Allen employees – top: Cindy Weise (Senior Consultant), Tiffany Archuleta (Associate), bottom: Lisa Burrell (Associate), Myni Vazquez (Senior Consultant) – share their stories in honor of National Veterans and Military Families Month
Booz Allen's military connected community is as diverse as the nation it serves—from military spouses to third-generation service members, active reservists to retired veterans.
Some members have studied at West Point or the U.S. Naval Academy, others serve at home in the National Guard or Reserve, and some are stationed abroad. The past two Novembers, in honor of National Veterans and Military Families Month, they have all gathered with their Booz Allen colleagues for military appreciation breakfasts across the globe. 
Though the COVID-19 pandemic makes this traditional Booz Allen breakfast—activated at 80+ locations around the world last year—and regular celebrations impossible this year, the firm has developed creative ways to connect and express gratitude this month—and year-round—to the nearly 9,000 veterans, reservists, guardsmen, and military family members among its employees.
Keeping the spirit alive, this year online
Behind the tribute month is Booz Allen's Military and Veteran Business Resource Group (BRG), which supports the firm's military-connected employees with peer mentoring, professional development, and more.
"We don't just hire veterans and military spouses," said Laura Schmiegel, Booz Allen's Head of Military and Veteran Affairs. "We empower them to become our future leaders." 
Highlights from this year's remote celebrations honoring Veterans and Military Families include:
Unstoppable Together, an internal employee event showcasing stories of service and how the expertise of military employees strengthens the firm's client work. The event is part of Booz Allen's global storytelling tour of guided discussions, small gatherings, and large events committed to humanizing the real challenges facing today's workforce. This year's military-focused event was developed in collaboration with the Women's Global Disabilities, Multicultural and GLOBE+ BRGs, making it a truly intersectional discussion. 
Women Defending Our Nation, a virtual panel discussion on how women service members can transition into civilian careers in defense. Speakers included Mara Motherway, Vice President and Head of Government Relations at Booz Allen; Jennie Brooks, Senior Vice President and leader of the firm's San Diego office; Chrissy Houlahan, U.S. Representative (D-PA-6); Gretchen Idsinga, Chair of Women in Defense National Council; Miki Sherrill, U.S. Representative (D-NJ-11); and Phyllis Wilson, President of the Military Women's Memorial. 

Military lapel pins, delivered to any employee who has self-identified as a veteran, member of the Guard or Reserve, or military spouse.
Meet four of Booz Allen's nearly 9,000 military-connected employees below.
Leveraging experience, expanding opportunities for others   
For Associate Lisa Burrell, service is a family tradition. She's third-generation Air Force and served for more than two decades—a valuable experience she brings to her current position at Booz Allen. 
"I believe my time in the Air Force has shaped me," she said. "I am more methodical in the way I approach issues or challenges. I try to think strategically rather than 'in the weeds,' and I've learned to value processes and well-developed guidance and policies. I'm able to leverage the skills and knowledge I've gained in my work."
Senior Consultant and veteran Cindy Weise has been with Booz Allen since August. She's a military spouse, mother of two young children, a Navy Reserve Officer, a U.S. Naval Academy Alumni, a current graduate student at Georgetown University—and an active advocate for encouraging others to explore a similar career path. 
"I am a first-generation Mexican American," she said. "Growing up my parents were not able to inform me about opportunities available in the world because they were unaware, but my service in the Navy has helped me gain that knowledge, not be afraid to take chances, and be fearless. I love to share my story! I want to inspire other women and the Latinx community to follow their heart and chase their dreams."
The adaptability, resilience, and contributions of military spouses
Senior Consultant and military spouse Myni Vazquez and her family have relocated 11 times over 23 years due to her husband's service in the United States Air Force and United States Army (Blue to Green Program). 
"As a military spouse, adaptability and resilience are key to embracing the opportunities with each move," Vazquez said. "The beauty of a military spouse lies in his or her ability to challenge and transform themselves in ways they know they can be relevant in their career." 
Vazquez is now "living my dream" at Booz Allen, working in health information management and supporting the efforts of longtime Booz Allen partner Hiring Our Heroes and Booz Allen's Military Spouse Network, which is part of the Military and Veterans BRG.   
"I mentor those seeking to enter their field and advocate for the advancement of Health Information professionals within the military healthcare system, especially as the need for healthcare data and information continues to influence and grow in the military healthcare system," she said.  
Tiffany Archuleta, who served as an Army military intelligence officer, also has relocated multiple times with her spouse's service—while parenting twin toddlers. 
She's now a lead technologist with Booz Allen. "My post-Army professional experience includes a variety of activities, from teaching undergraduates to working as a research coordinator in a clinical healthcare setting to consulting with Booz Allen," Archuleta said. "I am happy to be a part of an organization that values military spouses in our careers."
Learn more about how Booz Allen supports the military community.