Booz Allen Brings Tech-Focused Hiring Our Heroes Fellowship to Fayetteville, NC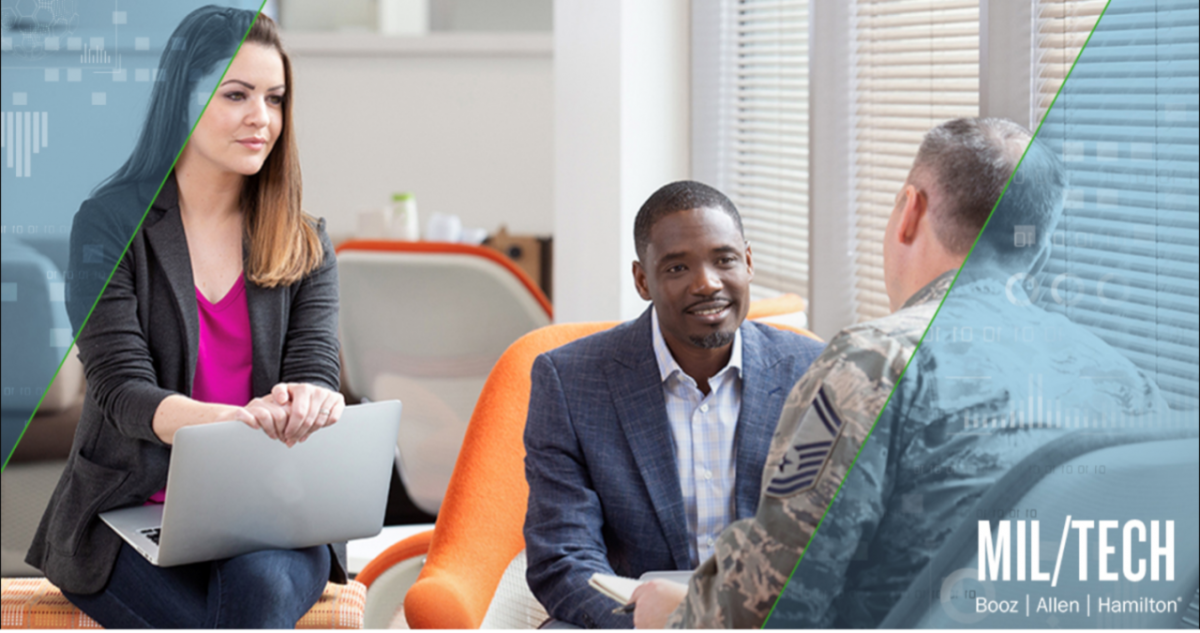 Booz Allen and the U.S. Chamber of Commerce Foundation's Hiring Our Heroes announced this week an all-new tech-focused fellowship program open to transitioning service members from Fort Bragg and the Fayetteville, North Carolina region.
"Solving tomorrow's biggest challenges—particularly in the defense space—requires technology solutions that improve performance, readiness, and survivability. We need talented people, like transitioning service members, who understand the mission challenges and who can leverage the best emerging technologies to help our clients meet those missions."
-Booz Allen Executive Vice President Greg Wenzel
For transitioning service members from Fort Bragg and Fayetteville, North Carolina region, the journey from active duty to a future-focused civilian career just got potentially shorter.
At a virtual hiring fair this week, Booz Allen and the U.S. Chamber of Commerce's Hiring Our Heroes announced a brand new, first of its kind 12-week fellowship program for the region. Its focus: hands-on training in artificial intelligence, analytics, data science, and software and cloud development.
Applications for the new tech-focused fellowship are being accepted beginning this month for placement at Booz Allen, which is the first corporate partner in the city to date. This is the first time a fellowship program like this has been stood up in North Carolina.
Strengthening the talent pipeline for defense innovation
Part of Hiring Our Heroes' Corporate Fellowship Program and Booz Allen's larger Mil/Tech Workforce Initiative, the new fellowship will support critical work taking place at Booz Allen's Fayetteville office for the U.S. Army and other clients.
The firm's Fayetteville office, established in 2009, has over 400 employees, more than half of whom are military-connected—including veterans, Guard members, Reservists, and spouses.
"Booz Allen sits at the apex of mission and technology and our location in Fayetteville—with proximity to Fort Bragg and Camp Lejeune—means we are well suited to support the tremendous pipeline of talent in and around Cumberland County, and provide an important access point for transitioning service members to make the leap into the civilian sector with in-demand, high-impact tech roles," said Vice President Jay Dodd.
Supporting security and service member careers nationwide
Booz Allen participates in the Hiring Our Heroes fellowship programs in six other cities—Colorado Springs, Honolulu, San Antonio, San Diego, Tampa, and the metropolitan D.C. area.
"By working together on Booz Allen's Mil/Tech Workforce initiative, Hiring Our Heroes is making sure that service members obtain the skills they need to transition into in-demand careers in technical fields," said Eric Eversole, president of Hiring Our Heroes and vice president of the U.S. Chamber of Commerce.
"Transitioning service members have dedicated themselves to the mission and often have more skills than they realize—skills that are critical to helping continue to support important missions after their career in uniform ends," said Dodd. "With this program, we aim to help transitioning service members continue supporting critical national security missions, putting their diverse experiences and deep knowledge to work to drive impact for our clients."
To learn more about the Mil/Tech Fellowship and to apply, visit BoozAllen.com/MilTech.