Booz Allen and Hiring Our Heroes: A Partnership That Works for Military Spouses
Booz Allen and Hiring Our Heroes: A Partnership That Works for Military Spouses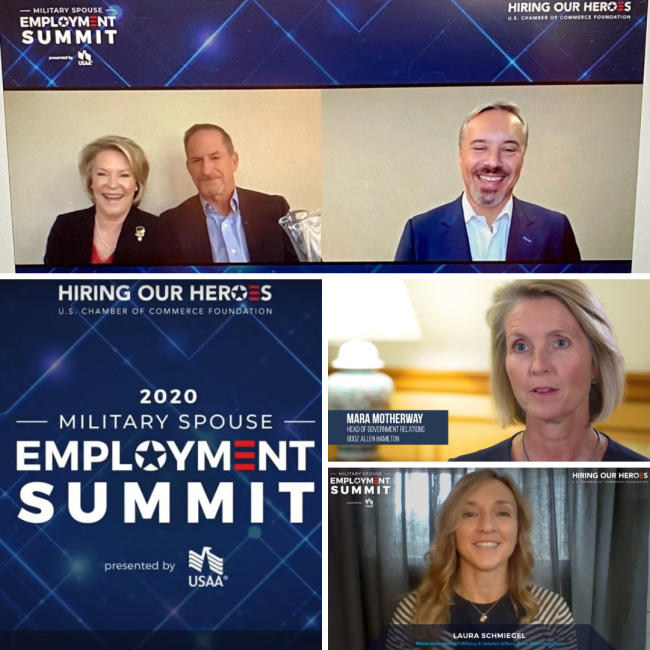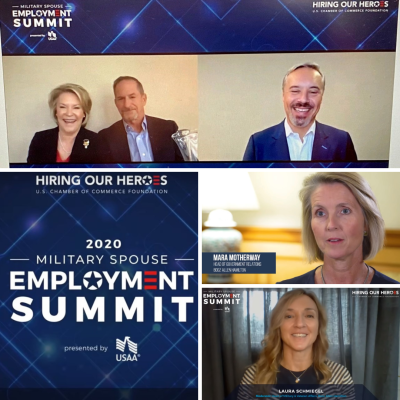 Wednesday, October 7, 2020 - 8:00am
Military spouses (92% of whom are female) face unemployment rates of 24%—six times higher than the current rate for all adult women. And female spouses of active duty service members on average generate 37% less income than civilian spouses. 
 "The high mobility of a military lifestyle means that, as military spouses, we don't have much control over where we live or where we work," explained Laura Schmiegel, head of military and veteran affairs for Booz Allen, at this year's virtual Hiring Our Heroes Military Spouse Employment Summit. This can result in spouses' skills and training not matching in-demand jobs and a continuous cycle of under-employment or even unemployment.
Under this year's Summit theme of "Adapt, Evolve, and Lead," Schmiegel moderated a panel on how companies can support military spouses in their efforts to upskill and reskill. As part of the event's kick off, Booz Allen Vice President and Head of Government Affairs Mara Motherway also discussed the many benefits of the Hiring Our Heroes Military Spouse Fellowship Program, for which Booz Allen was the first sponsor.
For employers who participate in the Fellowship, she said, "You don't just get to see the resume, you get to see the person. This is an opportunity to really get to know individuals for everything they offer." For military spouses, "It's an opportunity to create your own path," said Motherway.
The Summit concluded with Booz Allen CEO Horacio Rozanski presenting the Bonnie Amos Impact Award for Lifetime Achievement to Dawn Goldfein, spouse of Gen. David Goldfein, the 21st Chief of Staff of the Air Force. The award recognizes individuals who have gone above and beyond to support hiring, mentorship and economic opportunities for military spouses in their search for meaningful employment.
"With more than 35 years of service and impact, Dawn Goldfein has dedicated her whole career to helping military spouses. Through her commitment and hard work, she has helped to bridge the public and private sectors to ensure military spouses have the careers they deserve," Rozanski said.  
Multifaceted efforts to expand employment 
The Summit was the latest milestone in Booz Allen's longstanding partnership with the U.S. Chamber of Commerce Foundation's Hiring Our Heroes program. The organizations have worked together since 2013 to develop innovative solutions to address veteran and military spouse employment, including earlier this year when Booz Allen and Hiring Our Heroes partnered with GROW in San Diego to connect participants with hiring managers, recruiters, and local employers, as well as online tools, assistance with resumes, and free professional headshots. In addition to these efforts, Booz Allen also:
Co-chairs the Military Spouse Employment Advisory Council

Serves on the Veteran Employment Advisory Council

Is a founding coalition member of the Hiring 100K Military Spouses initiative

Serves in a corporate co-chair capacity for Military Spouse Economic Empowerment Zones in San Antonio, San Diego, Tampa, and Northern Virginia
Strengthening the military community from the inside out
For Booz Allen, the partnership with Hiring Our Heroes is a natural fit. One-third of the firm's workforce is military connected and much of the firm's client work is performed in support of the military—through the Department of Defense, the intelligence community, and others. And support begins from an employee's first day.
"Every military spouse who joins Booz Allen gets a letter that starts with 'Welcome to Booz Allen. We are happy you are here.' It's a clear and frankly innovative signal to spouses that they can bring their full selves to work every day while they're here," said Schmiegel.
Learn more about how Booz Allen supports the military community.