Bloomberg Unveils New European Headquarters in the City of London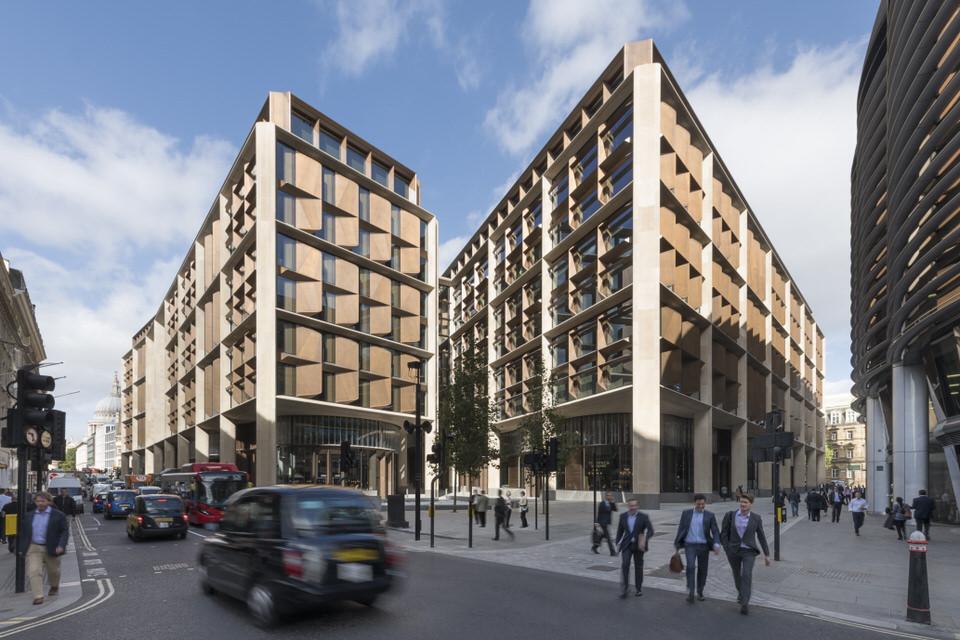 Bloomberg's New European Headquarters in London
Bloomberg Unveils New European Headquarters in the City of London
LONDON, October 30, 2017 /3BL Media/ — Bloomberg unveiled its new European headquarters today at an event hosted by its founder Michael R. Bloomberg in the company of Sadiq Khan, Mayor of London and the building's architect Lord Foster, Founder and Executive Chairman, Foster + Partners.
Located in the heart of the City of London, it is the first wholly owned and designed Bloomberg building in the world. Designed to facilitate collaboration and fuel innovation, it will bring Bloomberg's 4,000 London-based employees under one roof for the first time.
The building responds to its historic context, yet is uniquely of its place and time. It is a true exemplar of sustainable development, with a BREEAM Outstanding rating and the highest design-stage BREEAM score ever achieved by any major office development in the world.
Michael R. Bloomberg, founder, Bloomberg L.P. said: "Our new building aims to empower our employees so that we can better serve our customers, while complementing and adding new life to this historic neighborhood. Lord Foster's spectacular design brings people together in ways that will promote collaboration and communication, and it forges new frontiers in sustainability that we hope will serve as a model for other companies. We have a great future here in London, and this is a big investment in the city."
The 3.2 acre Bloomberg site encompasses three public plazas, providing new civic space in the heart of the City. Bloomberg Arcade divides the site and returns a lost portion of Watling Street – an important Roman road – back to the city grid. The covered dining arcade features a variety of independent restaurants and serves as a new pedestrian thoroughfare. At each end, it is defined by a major new public artwork by Cristina Iglesias that creates a place of repose among the City's dense fabric of streets. Art plays a central role in the project, with eight major contemporary commissions in and around the building.
Lord Foster, Founder and Executive Chairman, Foster + Partners said:"From day one, we talked with Mike Bloomberg about creating an elegant stone building that responds to its historic setting yet is clearly of its own time. We wanted the building to have integrity and continuity of expression both inside and out, creating an inspiring, innovative, dynamic and collaborative workplace for Bloomberg that embodies the core values of the company. Above all, we had a shared belief with Bloomberg that we should provide the highest standards of sustainability and wellbeing for its occupants, as well as create major new public spaces at ground level, making a significant contribution to the daily life of the City of London and its inhabitants."
The Mayor of London Sadiq Khan, said: "This fantastic new building is a huge vote of confidence in London as a destination for global business. It is also a shining example of what can be achieved by combining fantastic British architecture and the latest green technology to reduce our impact on the environment.
"This investment, and the fact London will continue to be the home of Bloomberg's European operations, shows London is open for business. I'm delighted that Mike Bloomberg and the innovative organisation he founded share my confidence in London's future prosperity."
Designed to complement historic neighbouring structures and to age gracefully with time, the Bloomberg building is the biggest stone project in the City of London for a century. It features 9,600 tonnes of Derbyshire sandstone and blends locally sourced, natural materials with the best of international craftsmanship.
The development also represents a major investment in the UK economy. According to a privately commissioned economic impact study, almost 90% of the project's expenditure was retained in the UK over the course of construction. Around half of that was spent with local suppliers in London, including the employment of 13,500 construction workers (9.5 million man hours).
Bloomberg's new European headquarters is located on one of the UK's most significant archaeological sites, home to the ancient Temple of Mithras and at the heart of what was Roman London's commercial centre.
Opening next month, an eagerly awaited new cultural hub – London Mithraeum Bloomberg SPACE – will restore the Temple of Mithras to the site of its discovery. Open to the public and free to enter, it will showcase the reconstructed temple, a selection of the remarkable Roman artefacts found during recent excavations, and a series of rotating contemporary art commissions responding to the site's history.
About Bloomberg:
Bloomberg, the global business and financial information and news leader, gives influential decision makers a critical edge by connecting them to a dynamic network of information, people and ideas. The company's strength – delivering data, news and analytics through innovative technology, quickly and accurately – is at the core of the Bloomberg Terminal. Bloomberg's enterprise solutions build on the company's core strength: leveraging technology to allow customers to access, integrate, distribute and manage data and information across organizations more efficiently and effectively. For more information, visit bloomberg.com/company