Bloomberg Joins UK Movement to Change How Workplaces Think and Act Around Mental Health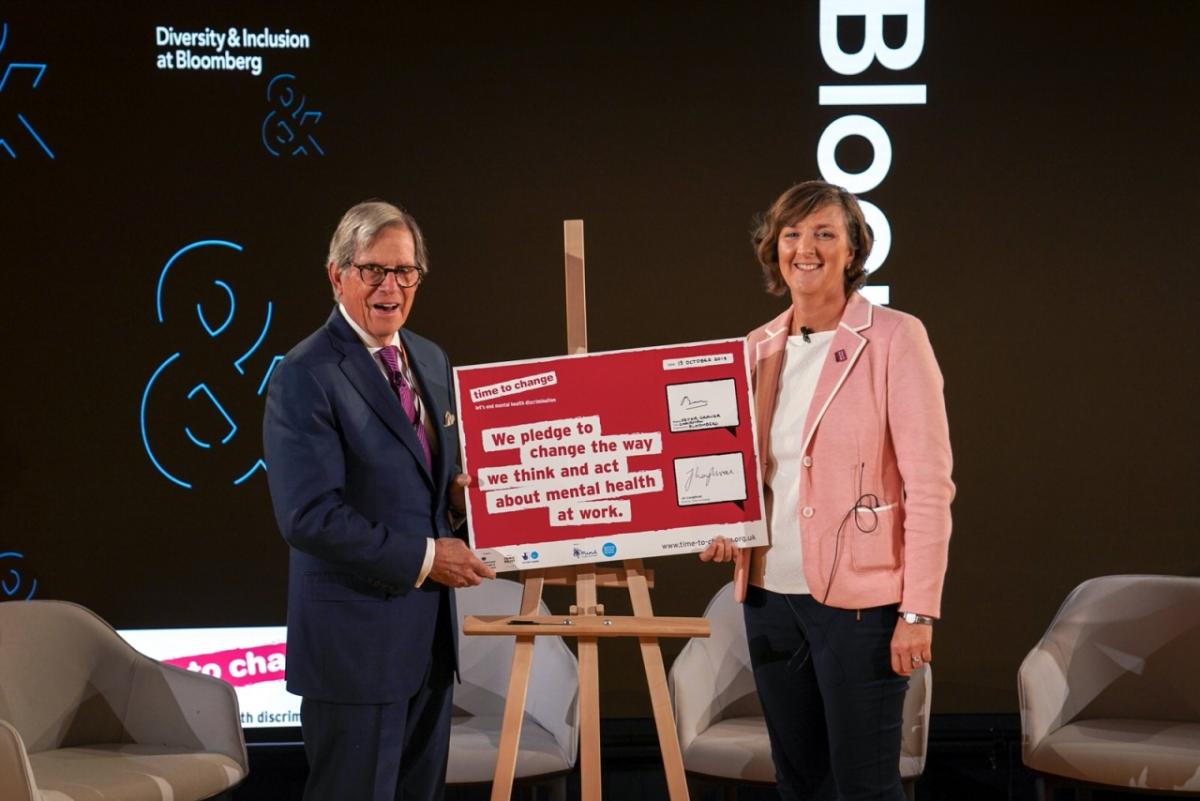 Peter T. Grauer, Chairman, Bloomberg L.P. and Jo Loughran, Director of Time to Change sign the Time to Change employer pledge in London
Originally posted on bloomberg.com
LONDON, October 19, 2018 /3BL Media/ — Today, Bloomberg L.P. Chairman Peter T. Grauer signed an employer pledge with Time to Change, the growing social movement run by charities Mind and Rethink Mental Illness, which is changing how people across the UK are thinking and acting with regards to mental health problems. By signing, Bloomberg is committing to change the way we think and act around mental health in the workplace.
"With one in six British workers experiencing mental illness, it's time for Bloomberg, a business at the heart of the City, to commit to change as we create a more mentally-healthy workplace," said Grauer at the signing ceremony, which took place at Bloomberg's new European headquarters in the City of London.
"Signing the Time to Change pledge affirms Bloomberg's commitment to supporting our employees' efforts to stay mentally healthy," added Grauer. "Our efforts, in accordance with the principles set out by Time to Change, will raise awareness of mental health issues, highlight our extensive support systems and, most importantly, showcase the steps we can all take to help one another thrive in the workplace."
Bloomberg joins the wide movement of more than 800 organisations that have signed the Time to Change pledge, including E.ON, British Gas, Ernst & Young, Transport for London, Royal Mail, Barclays, Shell, Pepsico, the Church of England, Sunday Mirror, Marks and Spencer, WH Smiths and many NHS trusts, universities, and local authorities.
Time to Change is funded by the Department of Health, Comic Relief and the Big Lottery Fund. Set up to create a positive shift in public attitudes towards mental health problems, Time to Change supports communities, schools and workplaces to open up to mental health problems; to talk and to listen.