Bloomberg Impact Report 2020: The Business of Resilience
When the COVID-19 pandemic shook the world, our company stepped up to help stabilize global markets and communities in crisis.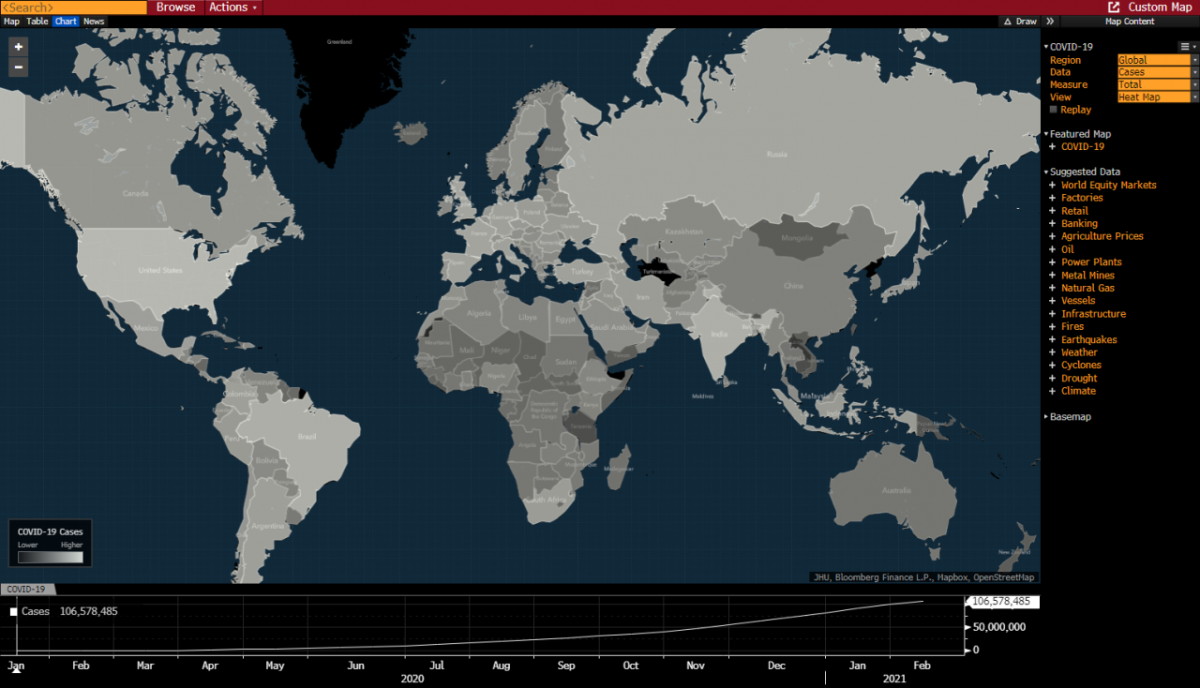 Virus map (MAP VIRUS<GO>)
Bloomberg Impact Report 2020: The Business of Resilience
Originally posted on bloomberg.com/impact. 
In 2020, the COVID-19 virus infected hundreds of thousands of people globally, throwing the markets into turmoil and forcing companies — including our own — to send employees home to work remotely.
We quickly recognized that one of the most significant ways Bloomberg could support global resilience was ensuring our clients could access the data they needed to engage with the markets and operate their businesses, no matter where they were located. To accomplish that, we also had to help our employees and vendors adapt to a new business environment and manage a continuously evolving threat.
The initial coronavirus outbreak in Asia in January provided lessons on how to make the transition to remote work more seamlessly worldwide. We saw that while most of our clients, employees and suppliers in the region had the technology to connect remotely, they needed additional support to perform at an optimal level. Shipping additional equipment to employees in some departments, such as News or Analytics, boosted their abilities; providing regular communication and social support to all employees reduced the strain of working remotely; and new collaborations across our Support, Human Resources, Legal and Communications teams ensured that we dealt with logistical challenges efficiently. When the coronavirus spread to more regions, we were ready.
Learn more about how we built resilience during the pandemic and how we supported our clients, employees, vendors and communities in the Bloomberg Impact Report 2020.