Bloomberg Hosts 5th Annual Young Women's Leadership Summit
Summit provided over 500 young women the opportunity to network with professionals from a variety of disciplines including engineering, media, and sales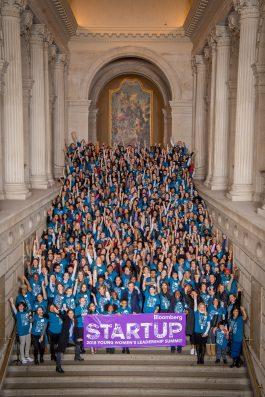 Originally posted on bloomberg.com
On Saturday, March 3, Bloomberg hosted its 5th annual Startup Young Women's Leadership Summit, convening 500 high school and college-aged girls at the Metropolitan Museum of Art for a day of networking and mentoring. More than 200 employees in the Bloomberg Startup program joined together with students from 34 diverse partner organizations, including CUNY's Macaulay Honor College, the Young Women's Leadership Network, PENCIL, and our partner school University Heights High School, Girls Who Invest, the Ghetto Film School, and other high schools that participate in our FIRST Robotics programs.
The event, in partnership with the Bloomberg Women's Community and Bloomberg Startup, featured a screening of the Sundance Film Festival's award-winning film, STEP, which was followed by a special performance and discussion with Amanda Lipitz, the director of STEP.
Click here to read the full story. 
Click here to read more about Bloomberg's International Women's Day celebration.