Blackbaud Employee Mema Nackasha Is Helping Good Take Over With Her Account Management Talents
"I help good take over by taking some of the crazy luck I've been dealt and sharing it with others who, for whatever reason, are in a less fortunate place." - Mema Nackasha, Account Executive, Blackbaud (London, U.K.)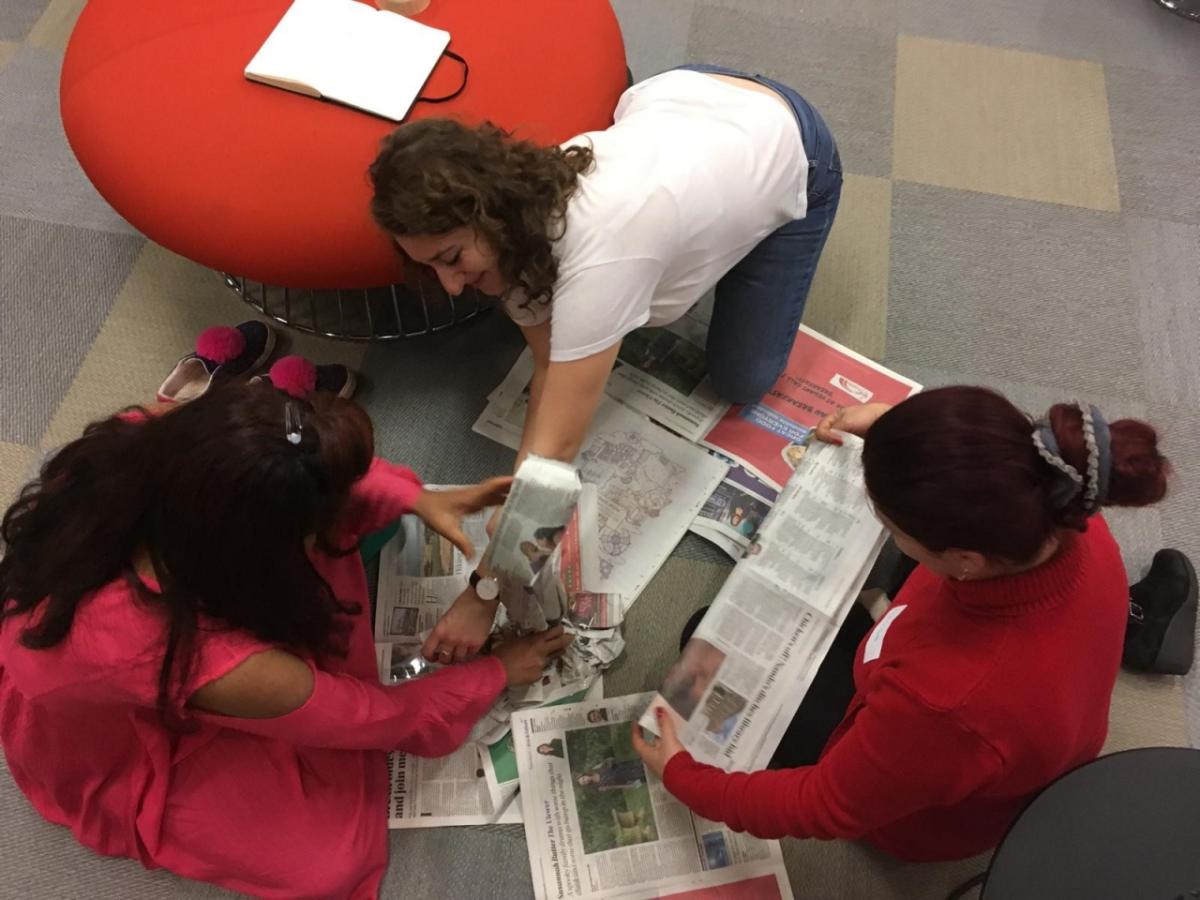 Blackbaud employee Mema Nackasha participates in an icebreaker exercise as a facilitator with The Sophie Hayes Foundation. Small teams work together to construct the tallest tower and then share the strengths they see in each other to help build trust and friendship.
Blackbaud employees are committed to doing good both at work and in their personal lives.
The following Q&A with Mema Nackasha, an account executive in Blackbaud's U.K. office who is passionate about leveraging her experience to help others, was featured in the 2019 Blackbaud Social Responsibility Report.
Q: Where do you volunteer, and what do you do in your time there?
A: The Sophie Hayes Foundation—as a lead facilitator, I work with a small team to run a program (designed by us) to help survivors of human trafficking find their independence again through employability. In the first couple of weeks we focus on confidence-building, and then we start talking about skills and our purpose. Next we focus on the future and careers they may be interested in, which leads to writing CVs and interview practice with our ladies.
On the back end, I organize fundraising strategies and events to keep powering the awesome work we're doing.
Q: How did you get started with The Sophie Hayes Foundation?
A: One of my amazing Blackbaud colleagues was volunteering there already and told me about the charity. I went to my first induction and soon was running the inductions and then volunteering as closely with them as I do now!
Q: What's your day job?
A: I'm an account executive, helping the smallest not-for-profits smarten up the way they use their data, so they can increase their fundraising revenue and power their amazing causes. It all ties in quite beautifully, as my experiences with The Sophie Hayes Foundation allow me to really understand the issues these small charities face day to day.
Q: What does it mean to have your company support your volunteer efforts, and how does that support shape the way you bring your "whole self" to work?
A: Blackbaud is half the reason I got into volunteering in the first place! Along with giving us grants, letting us use the office space every week, and doubling our fundraising efforts through match giving, Blackbaud provides the best colleagues in the world, who are always asking about the charity and supporting me in little ways that I'm eternally grateful for. It's not even that I'm just allowed to bring my whole self to work; I genuinely feel I'm encouraged to do so! 
Read the full 2019 Blackbaud Social Responsibility Report