BIER Member Spotlight: Ryan Spicer
Meet Ryan Spicer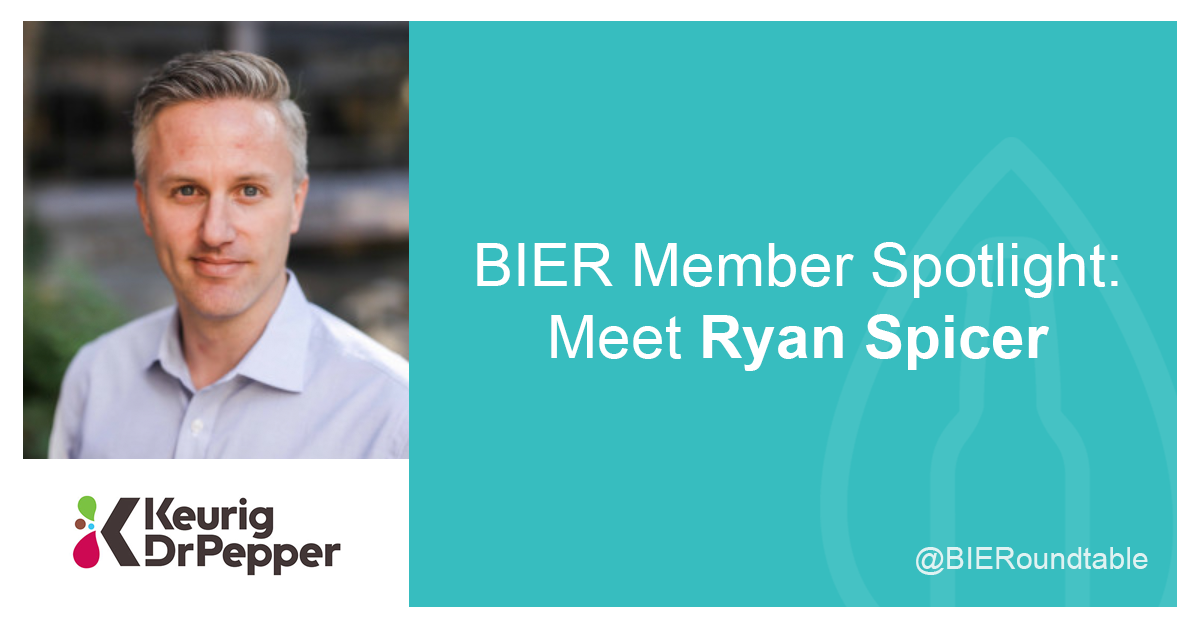 Meet Ryan Spicer
Name: Ryan Spicer, Corporate Responsibility | ESG | Sustainability
Company: Keurig Dr Pepper
Connect with Ryan on LinkedIn and Twitter
Welcome to our series aimed at spotlighting the individual leaders within BIER member companies and stakeholder organizations. Learn how these practitioners and their companies are addressing pressing challenges around water, energy, agriculture, climate change, and what inspires each of them to advance environmental sustainability in the beverage sector and collectively, overall.
Briefly describe your role and responsibilities and how long you have worked with your company. 
I've been with Keurig Dr Pepper (KDP) for about nine months and came PepsiCo where I held several climate-focused roles, including fleet climate strategy and global operations. I also worked within the global sustainability office where I focused on PepsiCo's operational fleets' carbon emissions – primarily Scope 1 and Scope 2 – and gained valuable experience with electrification and renewable electricity agreements.
Prior to PepsiCo, I was the first sustainability manager for the Dallas-Fort Worth (DFW) International Airport. In this small organization, I learned on the fly how to define sustainability for an organization and what it would look like for DFW, meaning my experience stretched across the full scope of sustainability.
My time at PepsiCo and DFW provided invaluable experiences, but I was eager to work somewhere where I could drive a broader sustainability agenda. Now at KDP, I work across climate and water strategies and am helping to shape how we create meaningful impact.
How has the company's sustainability program evolved over the years, and what are your specific priorities for 2023?
Being relatively new to KDP, I have a helpful external perspective of the company's sustainability evolution. KDP grew heavily in the last decade, bringing together Green Mountain Coffee Roasters (GMCR), Keurig and Dr Pepper Snapple Group to form the current company, Keurig Dr Pepper. The growth resulting from bringing together hot and cold beverages at scale has created a dynamic corporation and, of course, also broadened the complexity of the company's sustainability agenda. At KDP, we focus on our greatest opportunities for impact through our Drink Well, Do Good corporate responsibility platform. This covers the areas of the environment, our supply chain, the health and well-being of our consumers and with our people and communities. 
Over the past few years, we've witnessed big shifts in the ESG landscape and that continues to impact how we shape our ESG agenda, sustainability goals and progress. For background, Dr Pepper has a large fleet and operations in water-stressed areas, while GMCR has a small fleet and operations in non-water-stressed areas. To address this while satisfying evolving regulation and stakeholder demands, KDP must have a measured approach to determine how we set goals and targets that are meaningful across the company. While there is temptation to be overly ambitious and bold, KDP's approach is to stay aggressive while ensuring we have a focused plan and strategy that is executable against our goals. Only then can we measure our progress and know that our work is driving a positive impact.
Take our water stewardship efforts, for example. KDP has operations across California, Florida, Texas, and Mexico, it is essential that our business understands the impact we have on local communities. In 2023, we will continue to build on replenishment, but also account for water use across our value chain, including water quality and access to water in our highest risk water areas. I can say that water stewardship is a personal passion of mine, and there are so many moving pieces, it keeps my job challenging, fun and very interesting.