Award-Winning Workplaces: Booz Allen Makes Indeed's Top 25
Award-Winning Workplaces: Booz Allen Makes Indeed's Top 25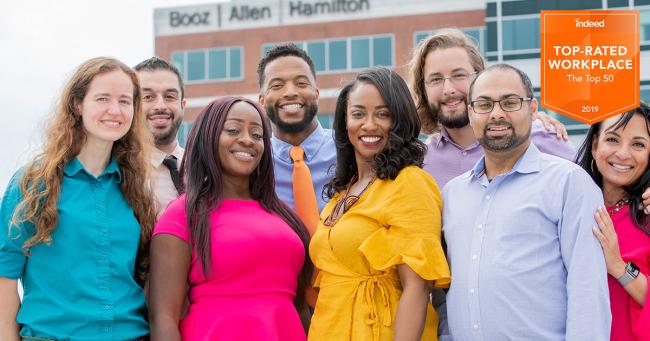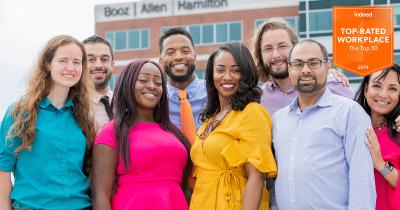 Wednesday, July 17, 2019 - 3:40pm
In the 2019 Top-Rated Workplaces by global job site Indeed, Booz Allen not only made the top 50 among Fortune 500 companies. It climbed in rank, from No. 38 in 2018 to No. 23.
This recognition is based on the 150+ million ratings and reviews on Indeed company pages and accounts for attributes like work/life balance, compensation, and benefits. According to Indeed: "Winning employers have already created a great workplace. We're just letting everyone know."
In good company
Booz Allen joins Facebook, Microsoft, and Apple in the lineup, placing ahead of Lockheed Martin, Starbucks, and Northrop Grumman.
And it's not the first time Indeed has recognized Booz Allen. In late 2018, the firm ranked No. 11 on Indeed's list of Top 20 Hottest Companies for Job Seekers.
For this list, Indeed's analytics team calculated average job-seeker interest for all titles at all companies and compared it to the number of clicks per posting. Indeed deemed the top 20 companies "a snapshot of who's winning the battle for talent."
Continued recognition of culture
"Particularly for the technical, hard-to-find skill set, it's critical to attract, hire, and retain the best talent—especially in a talent-shortage labor market," said Patricia Porter, Booz Allen vice president who leads talent acquisition.
"We're proud of Indeed's continued recognition of Booz Allen—particularly of our culture of opportunity that resonates with staff of all generations, backgrounds, and focus areas," Porter said.
Read more about the Indeed Top 50 and careers at Booz Allen.