Aramark Reports Progress on Sustainable Seafood Sourcing Goals
Purchases increasingly meet Seafood Watch® Recommendations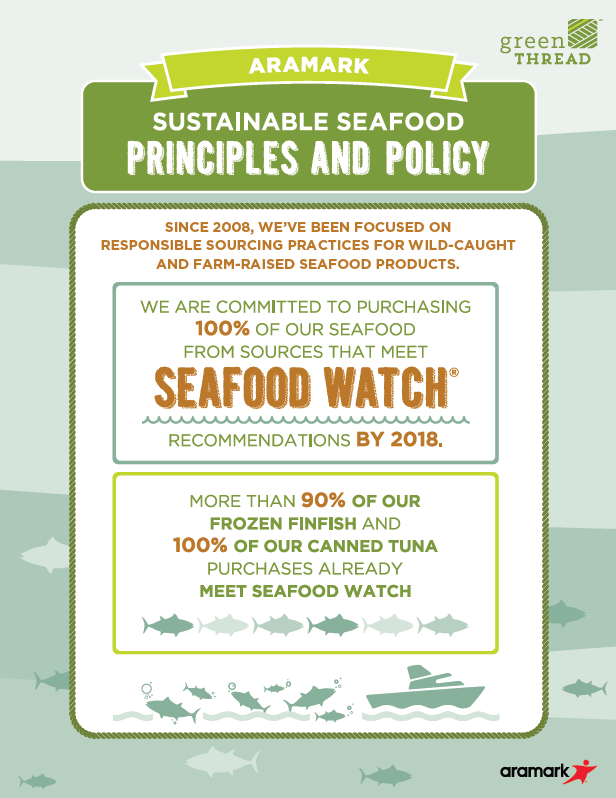 October 18, 2017 /3BL Media/ - As a responsible participant in the world's seafood supply chain, Aramark (NYSE: ARMK), a global provider of dining solutions to businesses, schools, universities, hospitals and stadiums, is making significant progress toward its 2018 commitment to purchase 100% of its U.S. contracted seafood from sources that meet Monterey Bay Aquarium Seafood Watch® program recommendations. Today, 90% of the company's frozen finfish and 100% of canned tuna purchases meet the Seafood Watch recommendations and by the end of 2018, the company expects to have transitioned all salmon and shrimp products to Seafood Watch "Best Choice" and "Good Alternative" categories.
"Responsible and sustainable practices have always been a fundamental part of our mission to enrich and nourish lives," said Scott Barnhart, Aramark's Senior Vice President of Global Supply Chain and Procurement. "We are committed to driving continuous improvement throughout our sourcing process and working with our partners to meet and exceed our sustainable seafood goals."
"Seafood Watch applauds Aramark's business leadership," said Jennifer Dianto-Kemmerly, Director of Global Fisheries and Aquaculture, Monterey Bay Aquarium. "From their responsible canned tuna policy, to calling for stronger tuna fisheries management with international governments, to working with the supply chain to increase transparency, Aramark continues to demonstrate the important role business can play in driving sustainability."
The company is also working to avoid purchasing "at risk" species as defined by Seafood Watch, address human rights abuses, and support responsible management practices, such as requiring its suppliers to ensure that seafood products such as albacore and skipjack tuna are not transshipped - transferred from one boat to another while at sea. Click here to view Aramark's 2017 Progress Report.
Aramark's sustainable seafood sourcing commitments are part of the company's Green ThreadTM environmental sustainability platform, which focuses on:
Increasing procurement of local, seasonal and responsibly sourced products
 
Reducing, reusing and recycling food and other waste
 
Conserving energy and water and providing healthy environments
 
Reducing fuel consumption and minimizing emissions
For more information on Aramark's commitments to environmental sustainability visit www.aramark.com/responsibility.
About Aramark
Aramark (NYSE: ARMK) proudly serves Fortune 500 companies, world champion sports teams, state-of-the-art healthcare providers, the world's leading educational institutions, iconic destinations and cultural attractions, and numerous municipalities in 19 countries around the world. Our 270,000 team members deliver experiences that enrich and nourish millions of lives every day through innovative services in food, facilities management and uniforms. We operate our business with social responsibility, focusing on initiatives that support our diverse workforce, advance consumer health and wellness, protect our environment, and strengthen our communities. Aramark is recognized as one of the World's Most Admired Companies by FORTUNE, as well as an employer of choice by the Human Rights Campaign and DiversityInc. Learn more at www.aramark.com or connect with us on Facebook and Twitter.