Aramark Recognizes Volunteers for Outstanding Community Service During the Pandemic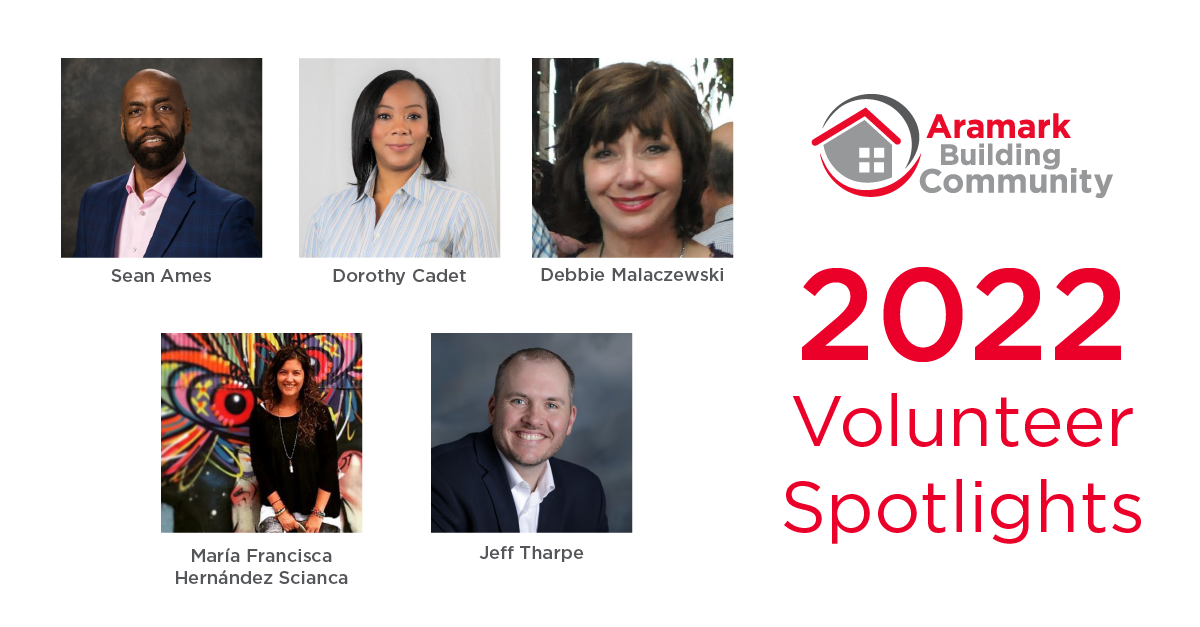 Aramark Recognizes Volunteers for Outstanding Community Service During the Pand…
PHILADELPHIA, April 7, 2022 /3BL Media/ - In celebration of National Volunteer Month (April), Aramark (NYSE: ARMK), the global provider of food, facilities, and uniform services, is recognizing several outstanding employee volunteers across the world for their service to local communities during the COVID-19 pandemic.
Aramark's sustainability plan, Be Well. Do Well., starts with people and outlines the company's goal to make a positive impact on people and planet by working to reduce inequity, supporting and growing communities, and protecting the planet. Every year, thousands of Aramark employees volunteer to build vibrant, sustainable communities. In 2021, Aramark volunteers supported more than 250,000 people, impacted more than 600 nonprofit organizations, and hosted nearly 140 volunteer projects.
"People are at the center of everything we do. We're focused on driving equity and wellbeing for our employees, consumers, communities, and suppliers," said Aramark's Vice President of Community Partnerships, Jami Leveen. "Our volunteers are incredibly passionate and have had a tremendous impact on local communities during the pandemic. We are grateful to everyone who supports Aramark's community efforts and appreciate their willingness to serve and inspire others."
Rooted in the company's service culture, the following employee volunteers reimagined what community involvement looked like when their communities needed them most. Aramark is proud to recognize these outstanding volunteers for serving their communities.
Sean Ames
District Manager, Leisure
Inspired by a desire to ensure everyone has a fair opportunity, Sean has made giving back a priority throughout his career. Sean founded and is the team lead for Aramark's Leaders and Employees of African Descent (LEAD) employee resource group (ERG) and currently supports several organizations in New York and Philadelphia.
Dorothy Cadet, MS, RDN, LD
Unit Finance Controller, K-12
Dorothy inspires colleagues and friends with her many professional accomplishments, but even more so with her commitment to serving others and leading volunteer projects. This year, she led multiple projects and recruited three new project leaders to lead their own volunteer activities.
María Francisca Hernández Scianca
Head of Sustainability, Aramark Chile
Maria Francisca is the driving force behind Aramark's community efforts in South America. When leading community service projects, she incorporates sustainable practices and supports local organizations by helping them develop their own long-term sustainability.
Debbie Malaczewski
Executive Administrative Assistant, Safety and Risk Solutions
Debbie is a longtime supporter of Aramark Building Community. She leads many of the volunteer projects at Aramark's corporate headquarters in Philadelphia and plays a key role in engaging Aramark's Impacto ERG members in volunteer efforts.
Jeff Tharpe
National Account Manager, AUS
Leading with compassion and an eye toward sustainable community impact, Jeff is no stranger to mobilizing large scale efforts to support his community in their time of need. Throughout the last two years, he has coordinated recovery efforts following devastating tornadoes in Nashville, TN, and after flooding in Waverly, TN.
About Aramark Building Community
Rooted in service and united by our purpose, Aramark strives to make a positive impact on people and planet by working to reduce inequity, supporting, and growing our communities, and protecting our planet. Since its inception in 2008, Aramark Building Community, our signature philanthropic and volunteer initiative, has invested tens of millions of dollars, engaged more than 70,000 employee volunteers, and impacted more than five million children and families in underserved communities around the world. Throughout the coronavirus pandemic, Aramark has been working harder than ever to provide food and resources to employees and communities impacted by unprecedented challenges.
About Aramark
Aramark (NYSE: ARMK) proudly serves the world's leading educational institutions, Fortune 500 companies, world champion sports teams, prominent healthcare providers, iconic destinations and cultural attractions, and numerous municipalities in 19 countries around the world with food, facilities, and uniform services. Because our culture is rooted in service, our employees strive to do great things for each other, our partners, our communities, and our planet. Aramark ranked No. 1 In the Diversified Outsourcing Services Category on FORTUNE's 2022 List of 'World's Most Admired Companies' and has been named to DiversityInc's "Top 50 Companies for Diversity" list, the Forbes list of "America's Best Employers for Diversity," the HRC's "Best Places to Work for LGBTQ Equality" and scored 100% on the Disability Equality Index. Learn more at www.aramark.com and connect with us on Facebook, Twitter, and LinkedIn.