American Employees Are Changing — and so Are Their Attitudes About Workplace Giving and Volunteering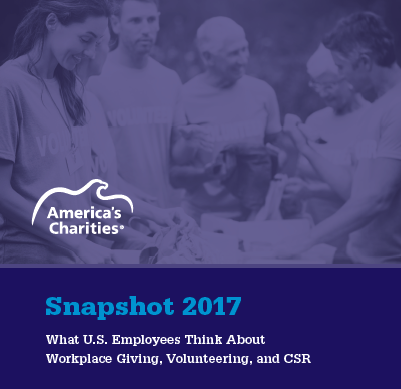 Free Webinar October 24th at 2pm ET | Register Now
With the massive Baby Boomer generation retiring and giving way to Generation X, Millennials, and now Centennials (also known as Gen Z or iGen) — America's Charities has conducted a first-of-its-kind survey of U.S. workers that gauges attitudes toward giving and volunteering in the workplace.
Conducted during the first and second quarters of 2017, this online survey is the latest in a series of original Snapshot research reports by America's Charities that track, analyze, and reflect on the changing nature of workplace-centered philanthropy and employee engagement.
While previous iterations of Snapshot have focused on how companies are engaging their workers for social impact and how nonprofits are meeting corporate expectations, this latest edition puts the spotlight on the workers themselves. America's Charities wanted to compare and contrast how employees view giving and volunteering at the workplace and how their employers viewed what was important to the company and its employees.
The Snapshot 2017 survey includes responses from more than 1,500 employees representing a diverse group of industries, age groupings, and roles within their respective companies. The responses provide some rich insights into their motivations — insights that are incredibly valuable to companies who are looking to attract and retain talent, build a strong culture, and achieve greater social impact.
On October 24th at 2:00 pm ET, join America's Charities and the researchers behind Snapshot 2017 for a free webinar where we will discuss how employee donors' changing attitudes toward giving and volunteering will impact your organization in 2018 and beyond.