Aligning Business with the Global Goals: 3BL Media SDG Webinar Series Features Las Vegas Sands, August 23, 2 p.m. ET
Focus on SDG 7 Affordable and Clean Energy, SDG6 Clean Water and Sanitation, and SDG12 Responsible Consumption and Production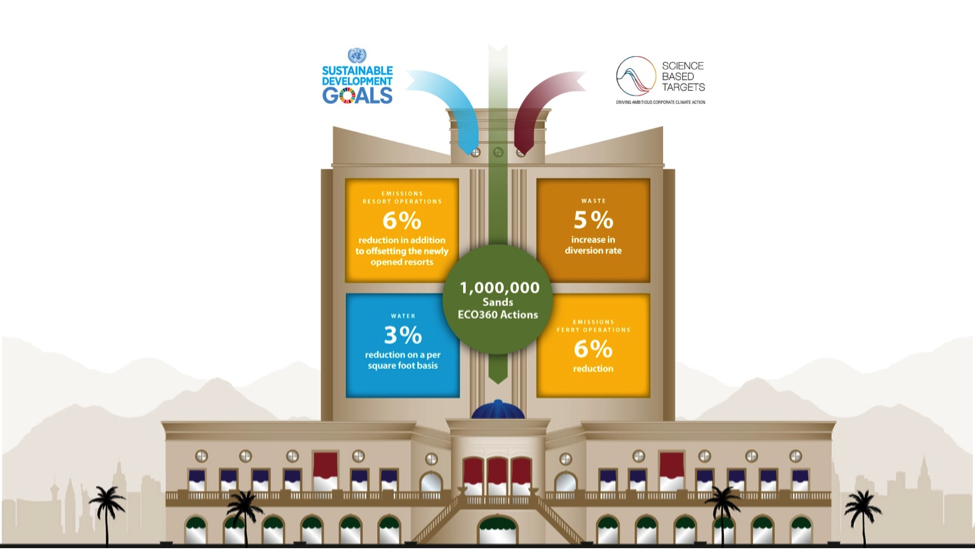 Image courtesy of Las Vegas Sands
NEW YORK, August 9, 2018 /3BL Media/ – 3BL Media's live professional development series focused on the United Nations Sustainable Development Goals (SDGs) continues in August with Las Vegas Sands, the world's leading developer and operator of Integrated Resorts.
This will be the third installment of the series, which is free to attend and designed for corporate responsibility and sustainability professionals. "Aligning Business With the Global Goals: Las Vegas Sands Takes Action" is scheduled for Aug. 23 at 2 p.m. ET. 
"Las Vegas Sands has been working diligently on sustainability, with its first five-year environmental reporting cycle commencing in 2011," said Dave Armon, CMO of 3BL Media, who will act as moderator for the event. "The company has embraced both the SDGs and science-based targets, and will discuss business drivers, milestones and overcoming challenges in hopes of inspiring peers to join in the effort to achieve the Global Goals."
In September 2015, the UN officially introduced the SDGs to transform our world and "leave no one behind" by 2030. The goals were adopted by 193 nations, and the UN has called for broad-based support of the SDGs, including active involvement by the private sector.
Starting with a single property in 1990, the footprint and impact of Las Vegas Sands now extends worldwide, from Nevada and Pennsylvania to Macao and Singapore. The company has 51,000 Team Members and a global sustainability program dubbed Sands ECO360. 
Presenting on "Aligning Business with the SDGs: Las Vegas Sands Takes Action" will be Katarina Tesarova, vice President of global sustainability, for Las Vegas Sands.
For background on Las Vegas Sands, review the 3BL Media profile page and the Sands Eco360 2017 Environmental Progress Report.  
About 3BL Media
3BL Media is the world's leading communications partner for purpose-driven organizations. Through content distribution, multi-media promotion and hands-on learning experiences, we connect organizations to an unrivaled audience that is passionate about sustainable business.
Contact:
Dave Armon
3BL Media
darmon@3blmedia.com
+1.802.444.0177