Albertsons Companies Foundation Designates June 6 as Nourishing Neighbors Day and Awards $9 Million in Multiyear Grants to Innovative Nonprofits Committed to Ending the Cycle of Hunger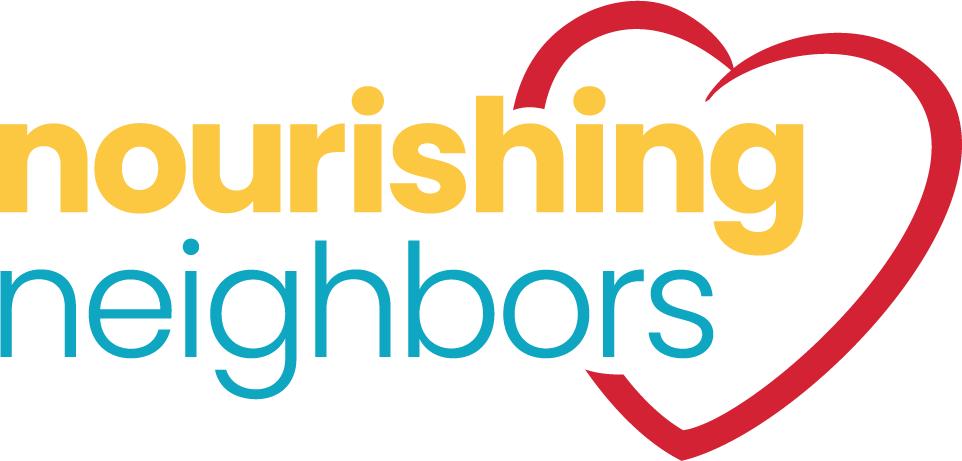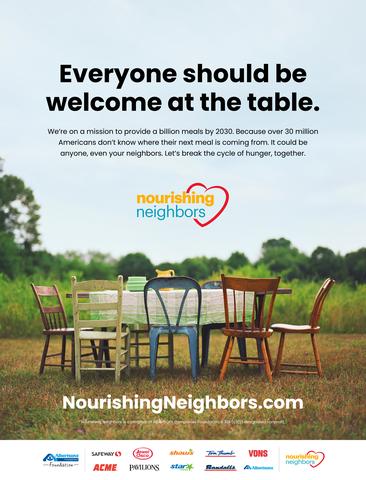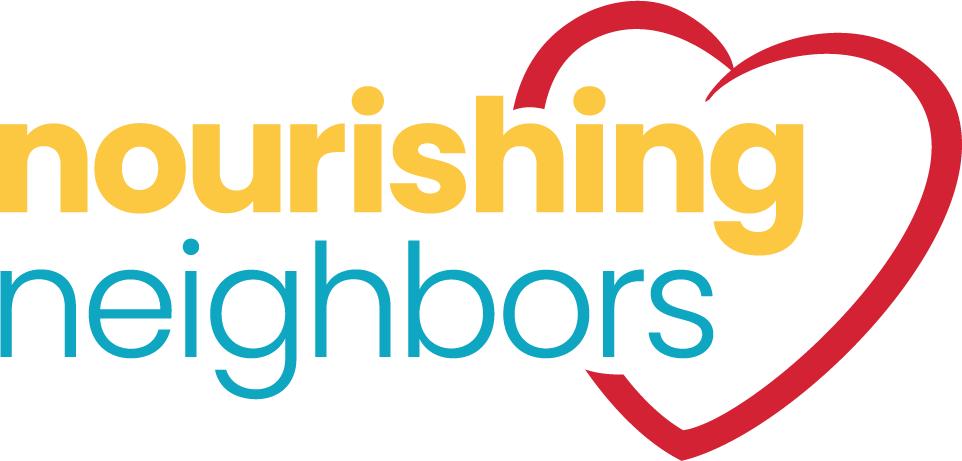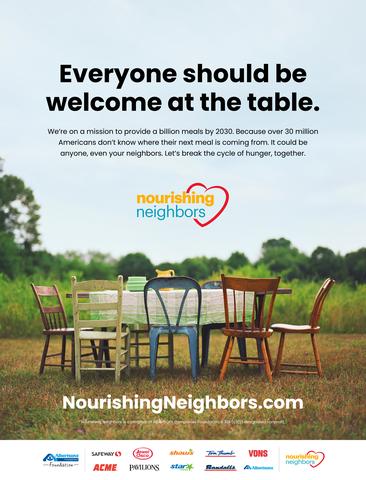 BOISE, Idaho, June 6, 2023 /3BL Media/ - Albertsons Companies, Inc. (NYSE: ACI), along with the Albertsons Companies Foundation, is amplifying its commitment to fight hunger by declaring June 6 as Nourishing Neighbors Day. To mark the occasion, the Foundation is also announcing the recipients of three multiyear Nourishing Neighbors Spark Grants totaling $9 million to nonprofit organizations that are spearheading innovative programs designed to create long-term solutions for moving people out of food insecurity.
"Our grocery stores, including Albertsons, Safeway, Vons, Shaw's, Jewel-Osco and Tom Thumb, have a long-standing history of donating money, fresh food and pantry staples to area food banks, soup kitchens, community fridges and more to help ensure our neighbors in need have access to a nutritious meal," said Susan Morris, Chief Operations Officer for Albertsons Cos. and Board Chair for Albertsons Companies Foundation. "While regular food distribution is an important and critical part of addressing hunger, we developed these grants so we can advance our efforts further by supporting organizations that are at the forefront of empowering individuals and families to achieve lasting food security."
Hunger is a complex health and social issue impacting more than 13.5 million American households, including those with children.* The following nonprofit organizations were selected for a Nourishing Neighbors Spark Grant of $3 million each for their unique solutions, expertise and promise of far-reaching impact in ending hunger.
Share our Strength 
Share Our Strength is a nonprofit organization working to end hunger and poverty through their No Kid Hungry campaign and other programs. With the Nourishing Neighbors grant, Share Our Strength will design and fund a program to help single mothers break the cycle of poverty through career coaching; stipends for food, housing and childcare; counseling support; tax services and more. Single mothers in the United States are the group mostly likely to live in poverty and struggle with hunger**. With this program, Share Our Strength can help these women, and their children, live the healthy, happy lives they deserve. 
 
United Way of the Bay Area 
Almost 900,000 people are food insecure in the San Francisco Bay Area. United Way Bay Area mobilizes a network of community partners to effectively respond to food insecurity by collaborating across sectors including nonprofits and government agencies to address both short-term essential human needs and advocate for long-term systemic changes in the pursuit of a healthier, more equitable region. The Nourishing Neighbors grant will fund a pilot program with 100 low-income families in Alameda County by 2027. Families will receive customized financial coaching and monthly stipends as part of an immersive and innovative community-based program to help the most marginalized communities break through the cycle of poverty and hunger. 
 
FIND Food Bank 
FIND is a regional food bank in southern California feeding an average of 150,000 people each month through their network of 150 distribution sites and over 80 community-based partners. The food bank will use their grant to create a program targeted to food insecure college students, primarily at community colleges, and provide career coaching, employment opportunities, stipends and other services to provide a pathway for success when they graduate.
Nourishing Neighbors Program
Nourishing Neighbors is a charitable program of Albertsons Cos. Foundation and seeks to ensure at-risk children, adults, seniors and families have access to the food they need to thrive.
During the month of May, Nourishing Neighbors raised more than $6.2 million through customer donations made at the register across every Albertsons Cos. store. Since the program's inception in 2014, Nourishing Neighbors (formerly Hunger Is) has raised more than $200 million for thousands of nonprofit organizations that are on the front lines of combatting hunger in America. In 2020, Nourishing Neighbors enabled 350 million meals, invested $10.4 million in schools to feed kids and provided $9 million toward empowering BIPOC communities through hunger programs.
"By declaring June 6 as Nourishing Neighbors Day, our goal is to raise continued awareness and support for Americans who continually struggle with where their next meal is coming from," said Christy Duncan Anderson, President and Executive Director for Albertsons Companies Foundation. "Thanks to the incredible generosity of our customers, the Nourishing Neighbors program is able to help millions of people gain access to a nutritious meal."
Nourishing Neighbors New PSA Campaign
To further advance the fight to end hunger, Nourishing Neighbors debuted a new PSA campaign last month to inspire communities to learn how they can get involved and help millions of Americans who are food insecure. The campaign, which emphasizes that "everyone should be welcome at the table," appears nationally across media platforms including TV, radio, digital, print and a Times Square digital billboard in New York City.
For more information on Nourishing Neighbors, click here. To download related video assets and images, please click here.
For media relations, contact media@albertsons.com.
* USDA Household Food Security in the United States in 2021: https://www.ers.usda.gov/webdocs/publications/104656/err-309.pdf?v=3584.2
** USDA Economic Research Service, September 2022:
https://www.ers.usda.gov/data-products/chart-gallery/gallery/chart-detail/?chartId=58384
About Albertsons Companies 
Albertsons Companies is a leading food and drug retailer in the United States. As of February 25, 2023, the Company operated 2,271 retail stores with 1,722 pharmacies, 401 associated fuel centers, 22 dedicated distribution centers and 19 manufacturing facilities. The Company operates stores across 34 states and the District of Columbia with 24 banners including Albertsons, Safeway, Vons, Jewel-Osco, Shaw's, Acme, Tom Thumb, Randalls, United Supermarkets, Pavilions, Star Market, Haggen, Carrs, Kings Food Markets and Balducci's Food Lovers Market. The Company is committed to helping people across the country live better lives by making a meaningful difference, neighborhood by neighborhood. In 2022, along with the Albertsons Companies Foundation, the Company contributed more than $200 million in food and financial support, including more than $40 million through our Nourishing Neighbors Program to ensure those living in our communities and those impacted by disasters have enough to eat.