Advancing Healthcare Equity in Underserved Communities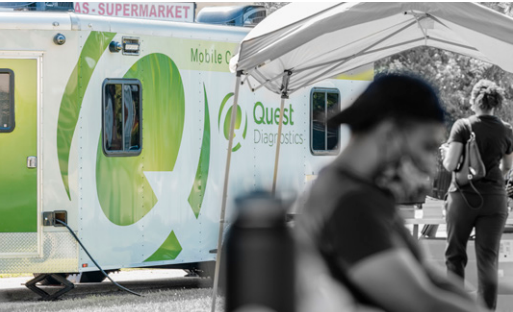 Quest mobile unit supports a community COVID-19 testing event in Newark, NJ.
Originally published in Quest Diagnostics 2021 Corporate Responsibility Report
"Together, we will leverage our insights, our knowledge, and our collective commitment to help ensure everyone— regardless of income, ethnicity, geography, or demographics— has equal opportunity for better health."
Mandell Jackson, Vice President and General Manager, Q4HE
The COVID-19 pandemic has had a disproportionate impact on those from certain racial and ethnic groups. This has served to further expose the enduring healthcare disparities that existed long before the pandemic. We continue to engage in meaningful cooperative initiatives to face and help resolve the root causes of the systemic inequities fueling this crisis and work towards impactful solutions.
Launched in 2020, Quest for Health Equity, or Q4HE, is an initiative established by Quest Diagnostics and the Quest Diagnostics Foundation focused on taking action to address health disparities across the US. Through education, engagement, empowerment, and access, Q4HE aims to provide access to essential resources for underserved communities.
Q4HE strategies
COVID-19 testing, vaccinations, and treatment
Funding programs that address the root causes of health inequities
Partnering with organizations focused on creating lasting change for persons in groups that have been historically marginalized, initiating education and outreach efforts, and otherwise enabling better health outcomes
With strong support from Quest Diagnostics leadership, Q4HE draws upon leadership and expertise from across the organization. Because Quest understands that achieving health equity is a marathon, not a sprint, Q4HE is supporting multiple national, regional, and local programs directed at the critical challenges faced by traditionally underserved communities. Following are a few snapshots of Q4HE's many efforts.