AccountAbility Receives Prestigious Global ESG Award
CFI.co Judging Panel Recognizes Company for Second Consecutive Year as a Trusted ESG Global Consulting and Standards Firm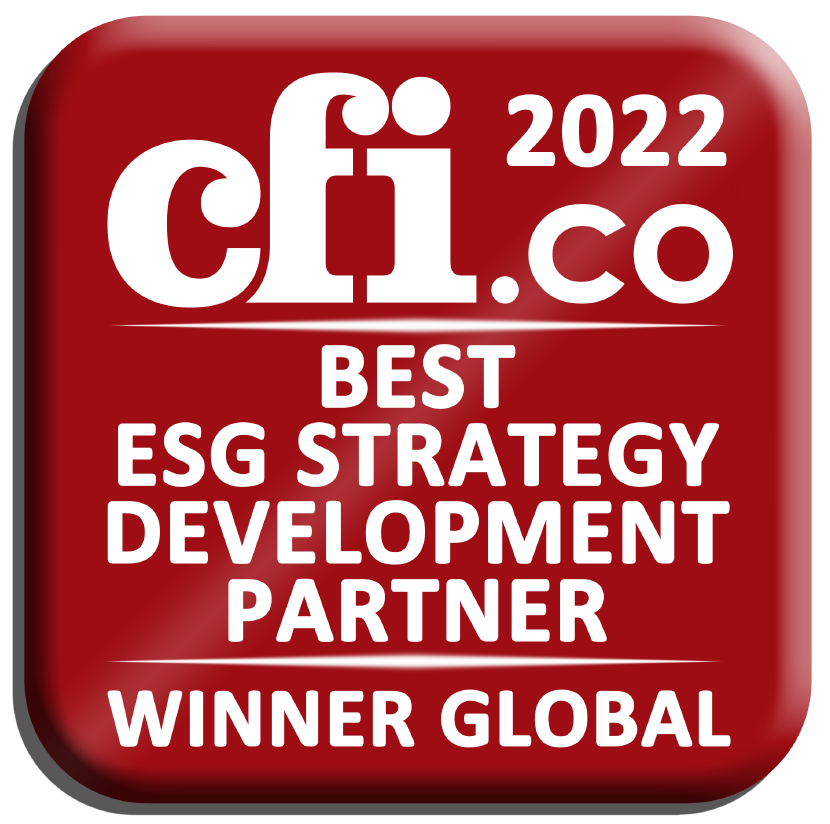 NEW YORK and LONDON, October 7, 2022 /3BL Media/ – AccountAbility, the trusted global ESG consulting and standards firm with a close to a three-decade history in helping leaders build better companies, is pleased to announce that they have been awarded Best ESG Strategy Development Partner Global 2022 by Capital Finance International (CFI.co). This is the second consecutive year that AccountAbility has received this prestigious award, marking recognition for its consistent work and counsel, and its singular goal to help the world's most prominent organizations embrace sustainability, advance the ESG agenda and excel in a changing world.
"On behalf of the global AccountAbility team we thank the CFI.co Judging Panel for assessing our company and recognizing us as Best ESG Strategy Development Partner Global 2022. This prestigious award, which we are delighted to receive for a second consecutive year, marks significant appreciation of our work as a trusted global consulting and standards firm for some of the world's largest and most important organizations. ESG has become a critical imperative for business leaders, and we are proud to continue helping them succeed in business, and in advancing a better world for us all" - comments AccountAbility Chief Executive Officer, Sunil (Sunny) A. Misser.
In their reporting remarks the CFI.co Judging Panel noted:
"AccountAbility is a trusted global consulting and standards firm, and an award-winning thought leader within the ESG ecosystem. It is a values-driven organization exclusively focused on working with business, governments, and organizations to advance responsible business practices and improve their long-term performance."
 
"Led by CEO and ESG pioneer Sunny Misser, AccountAbility's projects are designed to deliver practical and relevant solutions that advance the business performance of its clients with objective ESG counsel."
 
"AccountAbility works with prominent market leaders, including with a Fortune 10 company to translate their ESG strategies into actionable programmes in areas such as biodiversity, energy access and STE(A)M education for women in developing countries. As an outcome, this shows bigger enterprises how to scale socioeconomic and environmental impacts with global citizenship strategies in areas of critical need."
 
"The firm pioneered the application of double materiality in the alignment of ESG standards and is now working with the International Monetary Fund (IMF) on the development of a sustainable procurement framework."
About the CFI.co Awards Programme
Headquartered in London, CFI.co is a print journal and online resource reporting on business, economics, and finance. Each year, CFI.co seeks out individuals and organisations that contribute significantly to the convergence of economies and truly add value for all stakeholders. Reporting from frontlines of economies on the move, CFI.co realises that best practice is to be found throughout the world. The Awards Programme aims to identify and reward excellence wherever it is found. The programme aims to inspire others to further improve their own performance.
About AccountAbility:
AccountAbility is a global consulting and standards firm that works with businesses, investors, governments, and multi-lateral organizations on ESG matters to achieve opportunities, advance responsible business practices, and transform their long-term performance. We focus on delivering practical, effective, and enduring results that enable our clients to succeed.
For more information, please visit the AccountAbility website and follow AccountAbility on LinkedIn and Twitter.
Contact:
Mr. Jon Packer
AccountAbility
Head of Marketing & Communications
Phone: +1 416 543-9179
Email: jon.packer@accountability.org
Web: www.accountability.org