Abbott and ADA Launch First Joint Community Initiative
Abbott and ADA Launch First Joint Community Initiative
Part  of Health Equity Now, the community program works to drive health equity awareness and access to life-changing diabetes tech.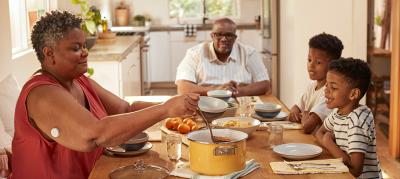 Thursday, December 2, 2021 - 8:15am
It should be simple: no matter someone's race, income level or background, quality care and life-changing technologies should be affordable and broadly accessible to all people. Yet, in the case of diabetes, studies have shown that people from underserved communities are at higher risk and have less access to technology to manage the condition.
Working to change this, last year Abbott signed on to become the first anchor sponsor of the American Diabetes Association's Health Equity NowTM platform, which aims to ensure that the more than 122 million Americans living with diabetes and prediabetes1, along with millions more at risk for diabetes, have equal access to health resources in cost, care, cure, community and cuisine that can create a future without unjust health disparities.
And now we're bringing this to life on the ground.
Together with the ADA, we're launching the first community program under the Health Equity Now platform in Columbus, Ohio, conducted in partnership with the National Center for Urban Solutions (NCUS), a Columbus-based organization focused on providing solutions in workforce development, education and wellness.
This first-of-its-kind project seeks to better understand and address the healthcare disparities for people of color living with diabetes.
The program will provide up to 150 Black adults living with diabetes in the Columbus community with health education and access to Abbott's FreeStyle® Libre flash glucose monitoring technology. Ultimately, this program aims to better understand the barriers of access so in the future, diabetes care technology can reach everyone in need.
Black Americans are 60% more likely to be diagnosed with diabetes2 and much less likely to have their condition well managed largely because care can be cost prohibitive. Further, Black Americans are at the most pronounced disadvantage when it comes to access to continuous glucose monitoring3.
When life-changing technology is cost prohibitive to those who need it most, our healthcare system is not providing the best solutions to patients.
At Abbott, we believe a sustainable future starts with health. Good health is the foundation for everything. It helps people to thrive. Healthy communities are strong communities. And there's a clear connection between healthy people and the health of societies and economies.
That's why we're committed to advancing health equity, working side-by-side with the communities we serve to address health disparities and tackle barriers to health.
Our hope is that this program and the data we'll receive will help address health disparities for people with diabetes and uncover solutions to minimize these inequalities and reduce barriers to access in the future.
This is just one piece of our broader work to address health equity.
We all must work together — citizens, government, payers and partners — to address health disparities and break down barriers to access, ensuring that the most innovative diabetes tools are affordable and available to everyone who needs them.
There is no equity in healthcare until we can provide it to those who need it the most.
References
1,2 https://www.diabetes.org/healthequitynow
3 https://www.diabetes.org/sites/default/files/2021-10/ADA%20CGM%20Utilization%20White%20Paper.pdf