60+ Speakers, Fortune 500 CEOs and a Focus on 'Brands Taking Stands'
60+ Speakers, Fortune 500 CEOs and a Focus on 'Brands Taking Stands'
Agenda for COMMIT!Forum, Oct. 10-12, Now Available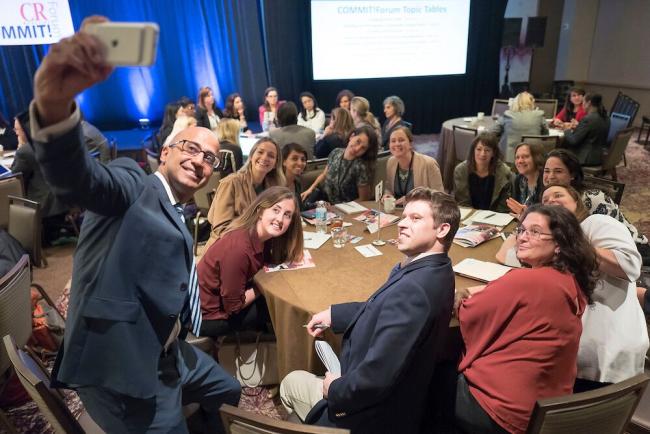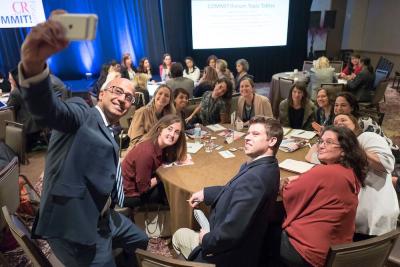 Monday, September 18, 2017 - 9:35am
WASHINGTON, September 18, 2017 /3BL Media/ - The Corporate Responsibility Association and CR Magazine published today the full agenda for COMMIT!Forum, Oct. 10-12, featuring more than 60 speakers, including Fortune 500 CEOs and top sustainability and corporate responsibility professionals.
"Brands Taking Stands" is the theme for the conference, which takes place at MGM National Harbor near Washington, D.C.  Registration is under way at www.commitforum.com.
"In a volatile political year to date, navigating the corporate responsibility landscape has never been more challenging," said Dave Armon, publisher of CR Magazine. "Confronting whether and how to position brands and flex company economic and political muscles will be a focal point of discussions and debates at the event."
Two half-day workshops on Oct. 10 are designed for practitioners responsible for corporate reporting, as well as those charged with communicating internally and externally about corporate responsibility and sustainability.
"Integrated Management and Reporting: The Next Step in Corporate Commitment" will explore what's driving the move to integrated thinking and ultimately, integrated reporting, the benefits of integrated management, and how long-term ESG factors typically make their way into conversations about corporate strategy, risk management, investor relations, and ultimately, integrated reporting. BrownFlynn will facilitate the morning session.
The afternoon session, "Breaking Through the Clutter: Data-Driven CSR and Sustainability Communications Strategy and Tactics," is a user conference for 3BL Media clients and professionals interested in improving performance around storytelling, news distribution, the use of multimedia, and data and analytics.
The newly published agenda for Oct. 11-12 includes release of new data and research, examination of tough decisions, discussion about current issues and trends in CSR, and inspiration from visionary keynote speakers who have valuable lessons and insights to share. The event is also a powerful opportunity to build new professional relationships, expand business networks, and capture new approaches and fresh ideas for organizations committed to sustainability.
Among the topics to be addressed:
Standing Up and Speaking Out: Authenticity in Corporate Messaging
CR as a Factor in Talent Recruitment and Retention
Beyond the Blue Horizon: Today's Decisions are Tomorrow's Reality
The New Normal: Embedding Social Responsibility into Business Strategy
We've Got Your Number: From Measurement to Meaning
ROI of Digital Platforms to Engage and Drive CSR Strategies
Speakers will include an A-list of executive CSR leadership from the Campbell Soup Company; General Motors; CECP: The CEO Force for Good; JetBlue; Smithfield Foods; U.S. Department of State Office of Global Partnerships, the Center for Corporate Citizenship; Fidelity Investments; Bank of America, and CEO Act!on for Diversity & Inclusion; along with experts from media organizations TriplePundit, Cone, Futerra, Atlantic Media Strategies, Tribe Pictures and 3BL Media, among others.
Workshop, panel, and issue table descriptions; speaker bios; and registration information can be found on the COMMIT!Forum web site. If you are active in the CSR industry, or want to be, make plans now to attend this leading event for corporate responsibility and sustainability practitioners.
Following COMMIT!Forum, on the evening of Oct. 12, CR Magazine will honor the 2017 Responsible CEOs of the Year.  The event recognizes CEOs who have put themselves at personal and professional risk to deliver on their corporate responsibility. In addition, the winner of the Lifetime Achievement Award will be revealed.
Event Sponsors
The COMMIT!Forum 2017 "Brands Taking Stands" event is produced by the Corporate Responsibility Association and CR Magazine through the generous assistance of more than 30 sponsors and partners listed below. To join them, click here.
MGM Resorts International | The Mosaic Company | PwC | WGL Holdings/Washington Gas | 3BL Media | Alexander Mann Solutions | AmerisourceBergen | Atlantic Media Strategies | Bevi | Blackbaud | Catalist | Cielo | Environmental Solutions Group | Leidos | NRG | Republic Services | Rolland | Smithfield Foods | Toronto Hydro | Unison | ACCP | BBB | BrownFlynn | CECP | Causecast | Commpro | D S Simon Media | E Group | Ecoprint | G&A | GlobalGiving | Meet Green | Realized Worth | Selfish Giving | VolunteerMatch
About COMMIT!Forum
COMMIT!Forum (http://www.commitforum.com) is an annual gathering of corporate responsibility and sustainability practitioners with emphasis on networking, case studies, new research and compelling presentations from companies committed to making progress against an ambitious environmental, social and governance (ESG) agenda. The event is produced by the Corporate Responsibility Association and CR Magazine.
CONTACT: Dave Armon of the Corporate Responsibility Board, +1.802.444.0177 or darmon@crboard.com