30 Million Reasons to Focus on Vocabulary
PNC has extended its successful multi-city vocabulary initiative with an additional $3.65 million investment.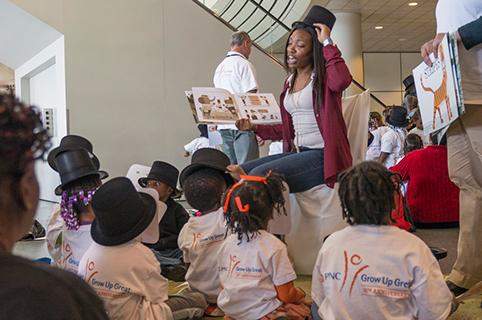 In 2015, PNC brought together 4,000 children in 37 cities to set a world record for the largest vocabulary lesson and bring attention to the importance of vocabulary development
In 2014, PNC announced a multi-city, $10 million initiative designed to promote families' awareness of the positive impact that talking to their children has on their vocabularies. Just as important, the initiative focuses on providing parents with the skills they need to do this effectively.
The vocabulary program is part of PNC Grow Up Great®, a bilingual $350 million, multi-year initiative to help prepare children from birth to age 5 for success in school and in life. The vocabulary initiative is so successful that PNC has extended it in all 10 cities with an additional investment of $3.65 million.
Vocabulary Learning Starts at Birth
Research shows that by age 3, children from families of lower socioeconomic status hear 30 million fewer words than their peers from families of higher socioeconomic standing. This educational deficit puts underserved children at a significant disadvantage before they start kindergarten.
"Words unlock success for children," said Sally McCrady, president and chair of the PNC Foundation.
This initiative provides family programming that will enhance young children's vocabularies and gives parents the tools and resources to continue the learning at home. Research shows children who are prepared for kindergarten graduate on time, go onto higher learning, obtain meaningful jobs and contribute to the community.
In 2015, PNC brought together 4,000 children in 37 cities to set a world record for the largest vocabulary lesson and bring attention to the importance of vocabulary development
Sharing the Resources
Each of the PNC markets chosen for the vocabulary initiative developed customized programs in partnership with local educational and community organizations. While the approaches were different, they all created strategies designed to level the educational playing field by increasing families' awareness of building children's vocabularies through everyday interactions, such as talking, singing, reading and playing.   
For example, the PNC Foundation collaborated with the Skillman Foundation and Max M. & Marjorie Fisher Foundation in 2015 to support Say & Play with Words, a $1.5 million effort to build preschool vocabularies in the Southwest Detroit and Brightmoor neighborhoods of Detroit. The National Center for Families Learning (NCFL), a highly respected national family literacy organization, was brought onboard to lead project programming along with select community partners.
A total of 429 children participated in the NCFL Family Learning component of Say & Play with Words over the first two years.
External evaluation of the program revealed the following:
Weekly word counts, on average, increased by 1,400 words per child.
After participating in the initiative for six months, between 95 and 100 percent of the parents reported they:

Teach their children something new on a weekly basis
Average reading to their child five days per week
Estimate their children heard 77,000 words on average per week
For six year old Gabriel, the Say & Play program has developed more of his vocabulary.
"It has helped him lose the fear of speaking in public and expressing himself," said Monica Vazquez, Gabriel's mother and a parent participant at Southwest Solutions, one of the local community organizations coordinating Say & Play with Words programming.
Gabriel has the confidence to make decisions and his learning continues to help him discover his abilities. My husband and I have learned to understand the importance of our role as teachers by speaking, listening, and reading more to Gabriel.
The PNC Foundation recently approved a $250,000 grant to extend Say & Play with Words for an additional year.
The Starling Word Counter
Say & Play with Words participants received the Starling Word Counter, a wearable tool for babies and young children that processes audio signals and determines the number of words a child is exposed to in real time. The Starling allows parents to set daily goals, monitor progress, and complete weekly challenges with fun, verbal activity prompts and helpful tips.
Free resources for parents and teachers are available from PNC Grow Up Great