The 22nd Annual Viacommunity Day Was All Good, All Around (the Globe)
by Lisa Di Venuta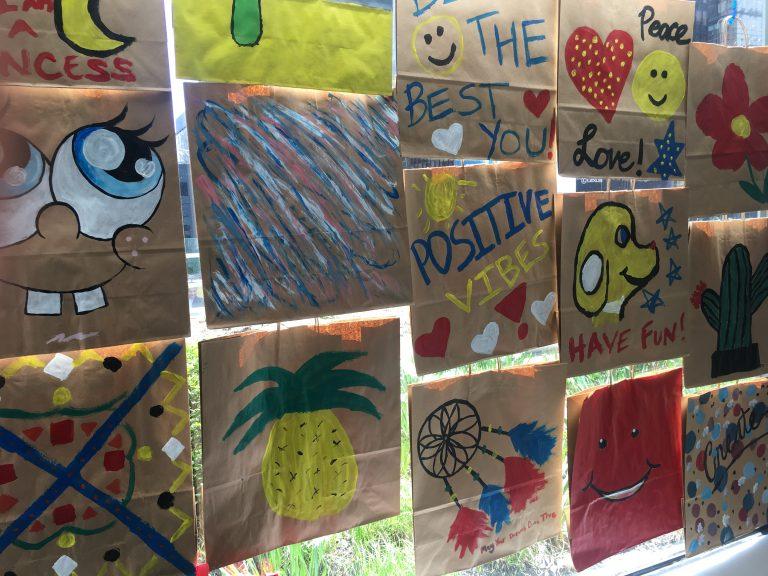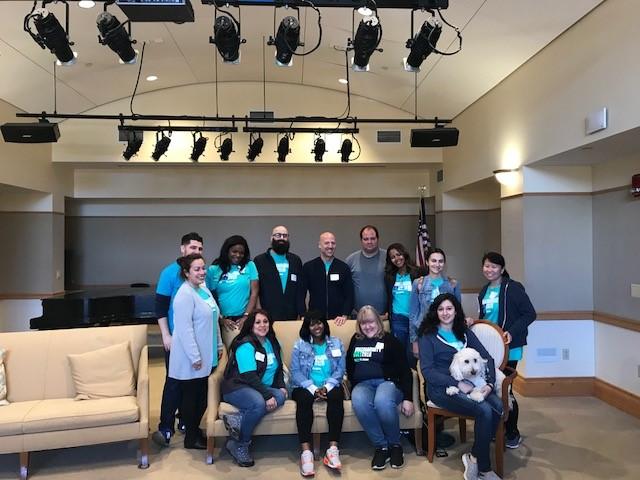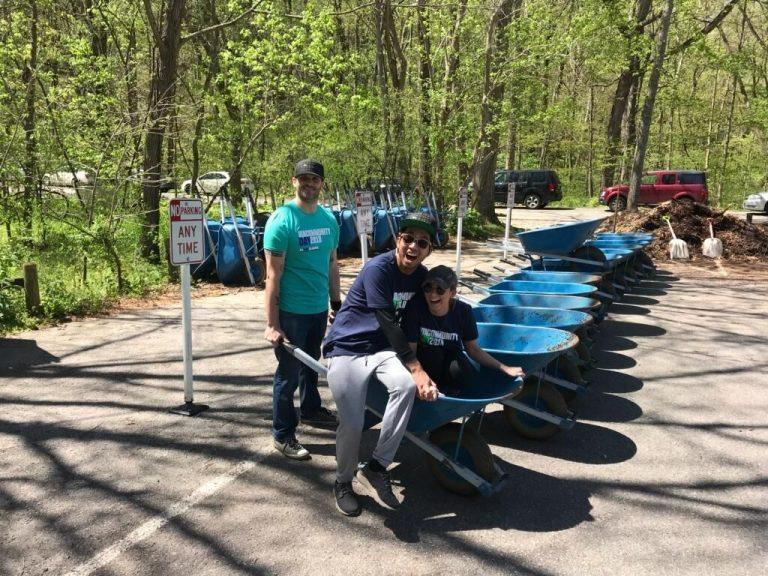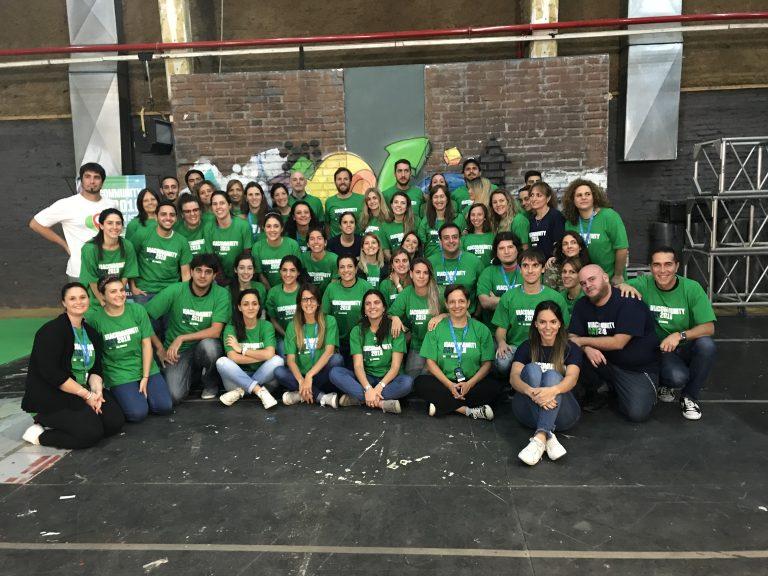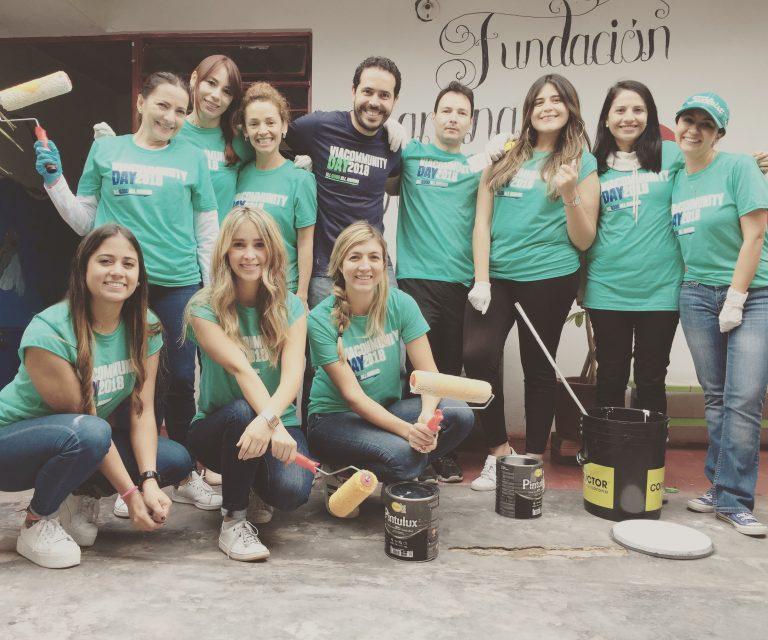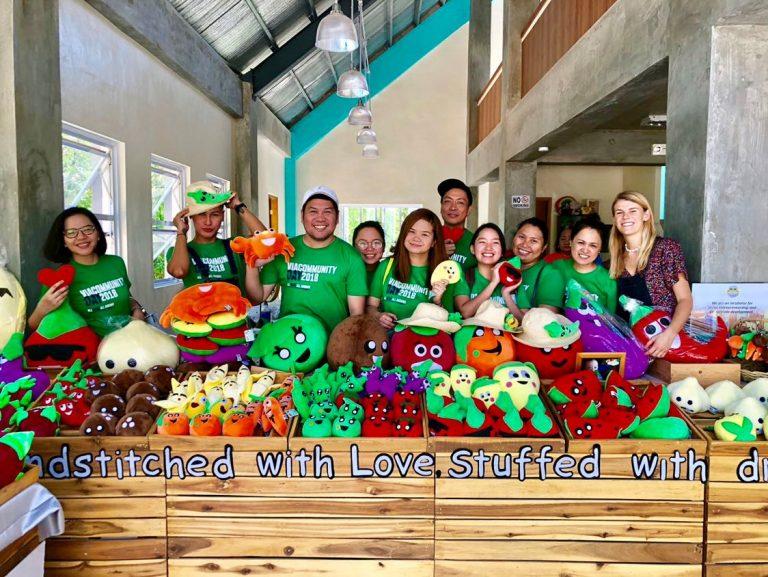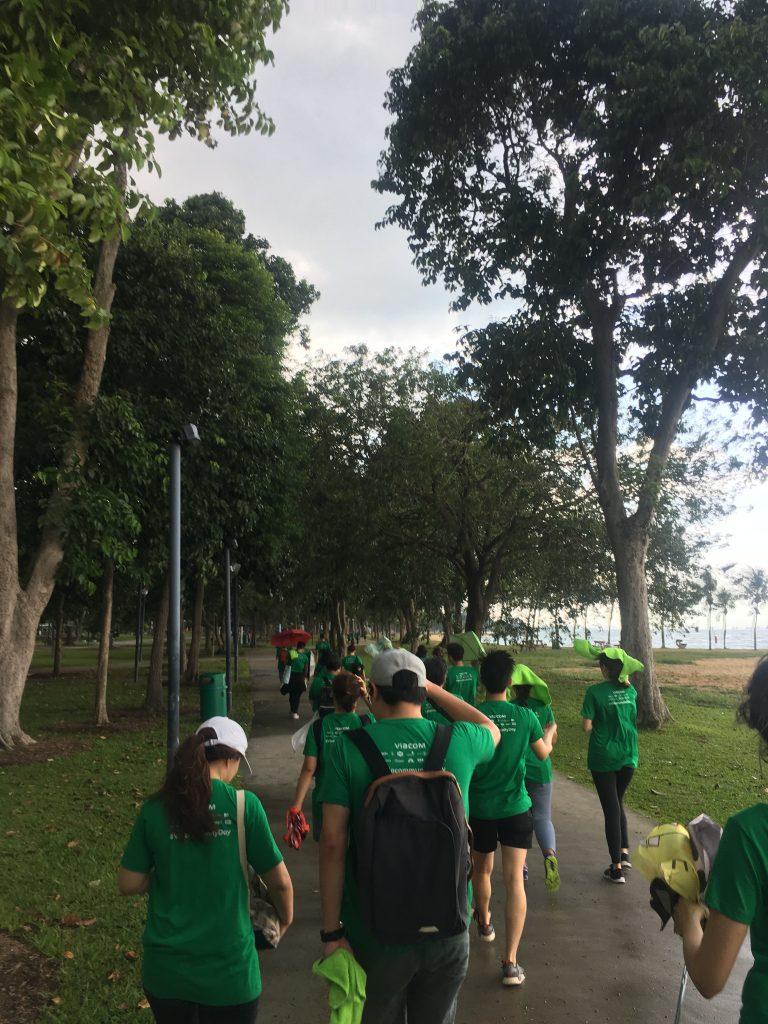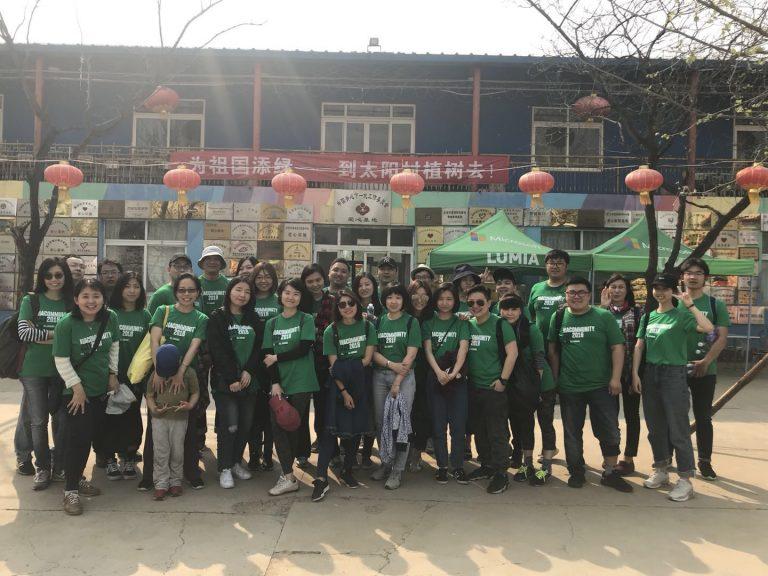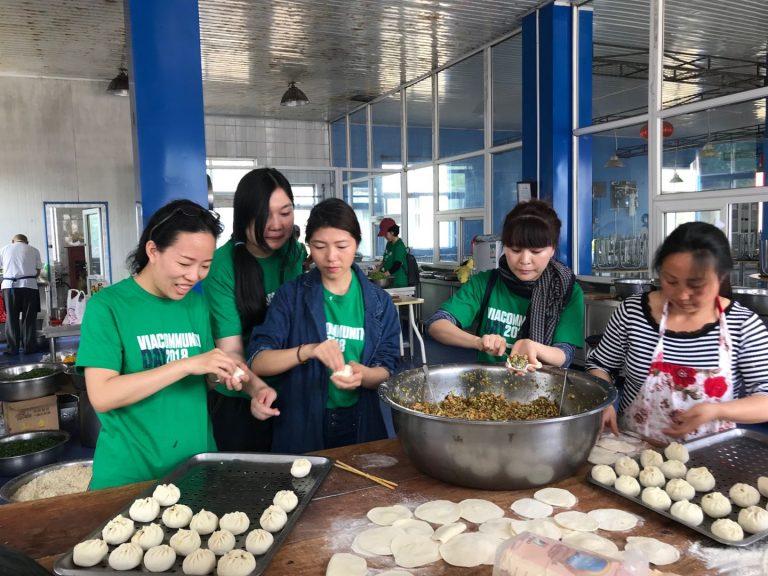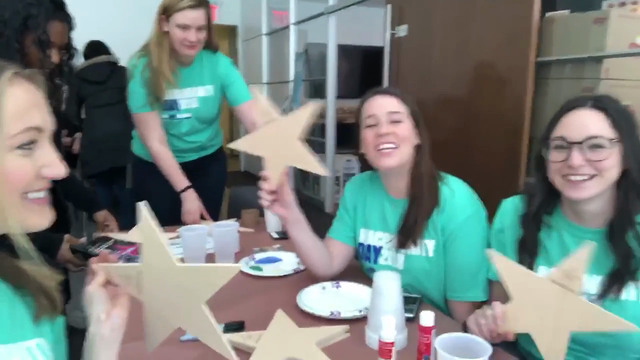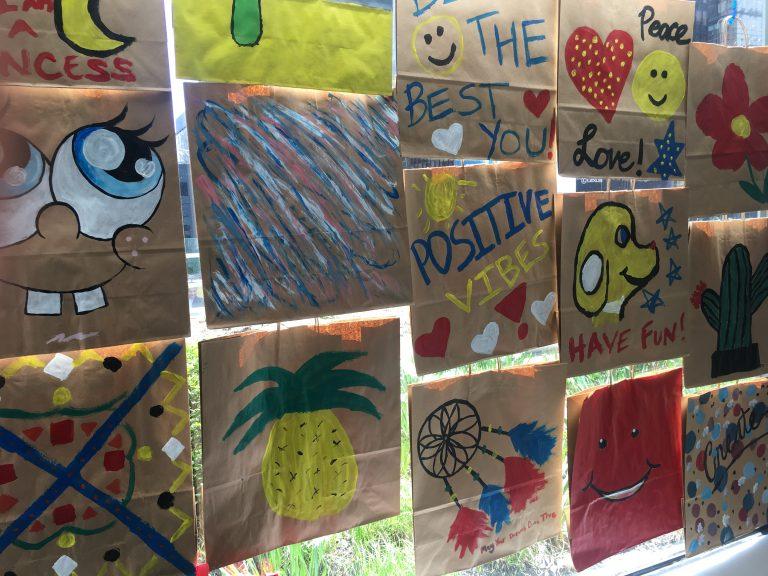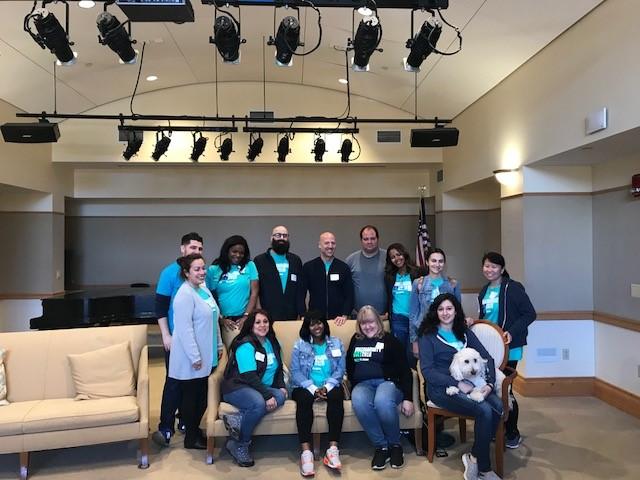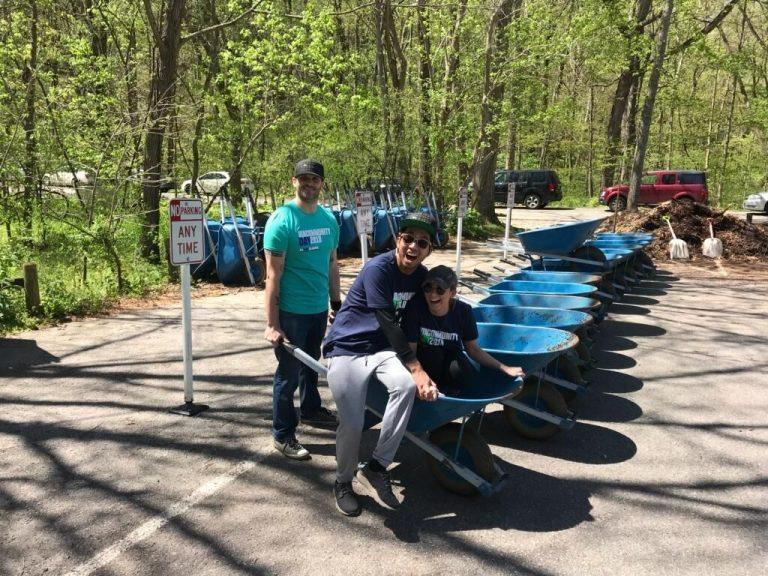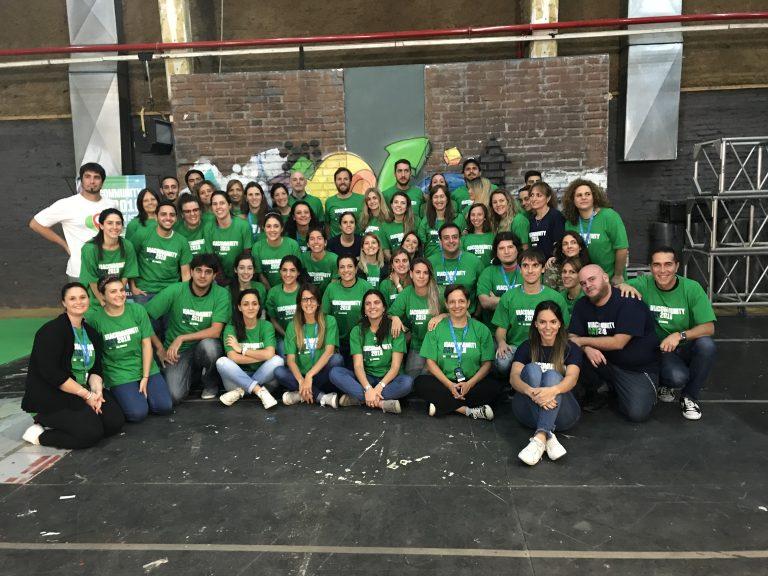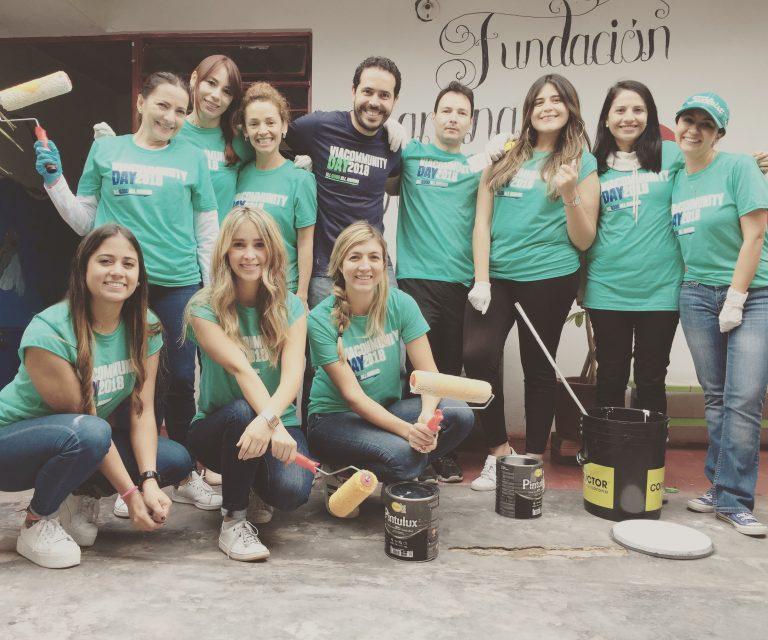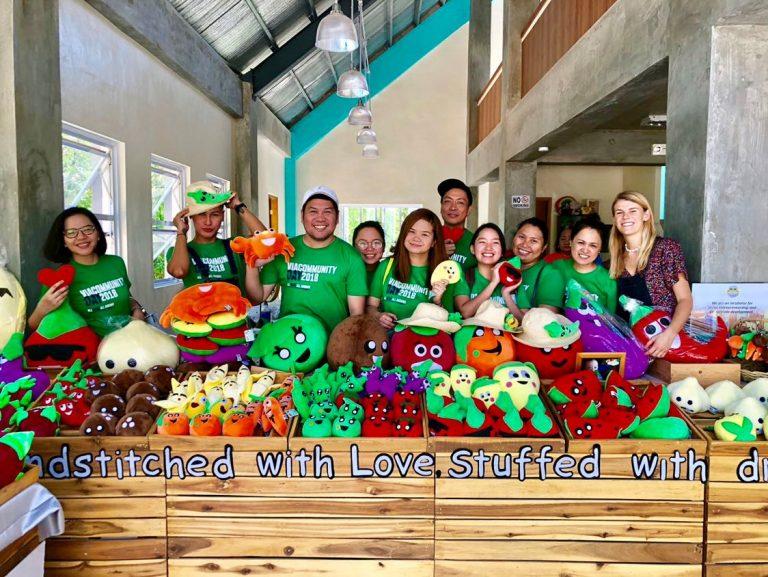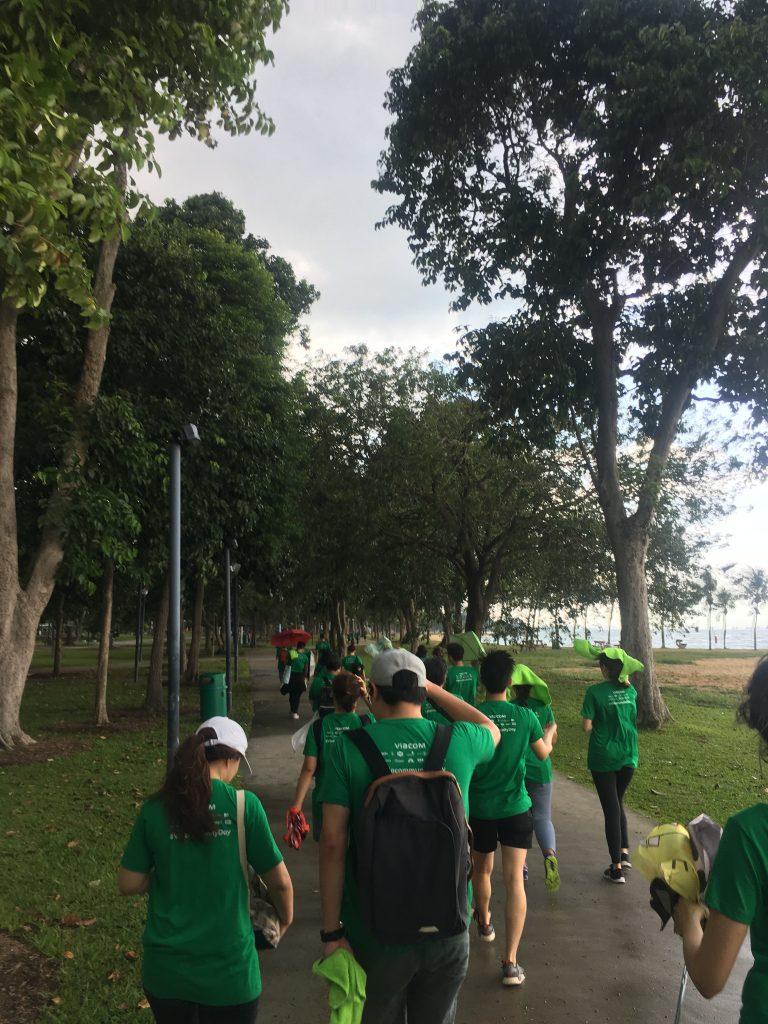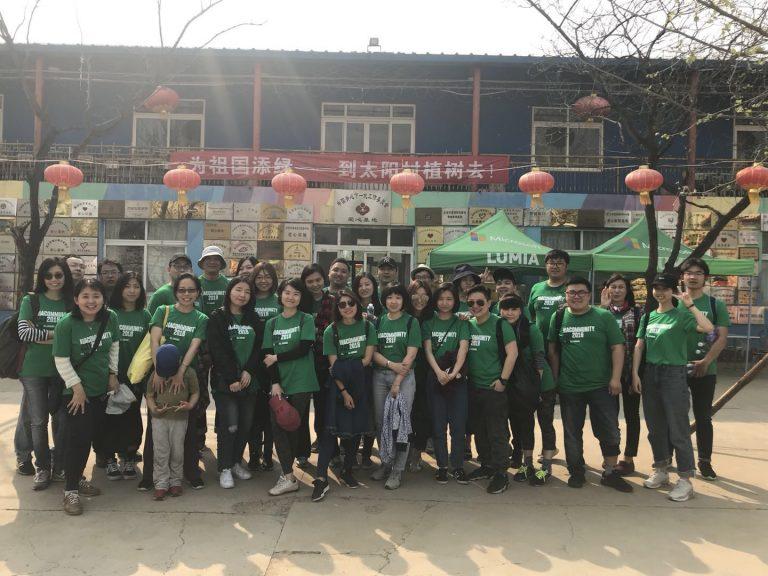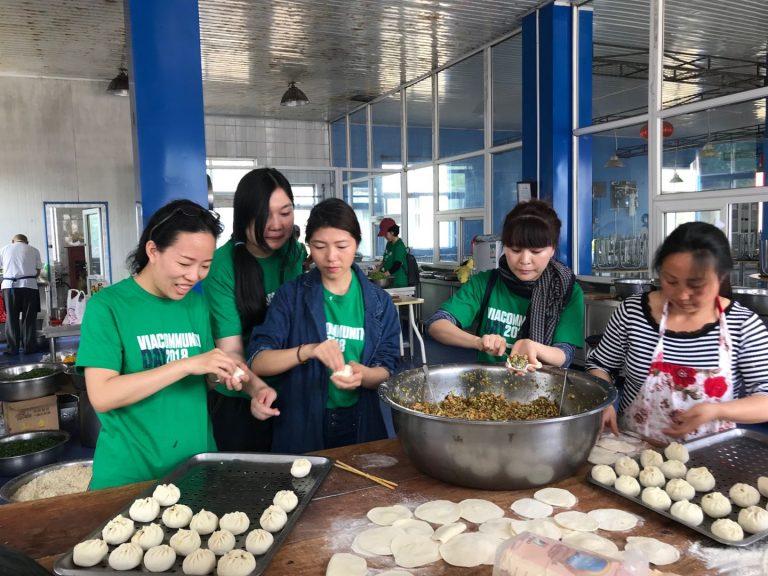 Originally published on Blog.Viacom
Friday, April 20 was truly a global day of giving. Nearly 4,000 employees from 25 different regions around the world contributed ideas, talent and compassion to more than 125 projects in local communities for the 22nd annual Viacommunity Day, a celebration of the company's values and commitment to giving back.
The day's theme was "ALL GOOD, ALL AROUND." The scope of Viacom's traditional day of service reflected this motif well, as all around the world, employees did good: helping at their regular offices, like Viacom's Times Square Headquarters; trekking to community organizations, like Chrysalis in downtown Los Angeles; or cleaning up the shores of Australia's Sydney Harbor National Park.
Viacom Corporate Social Responsibility Director Adam Robinson woke up at 4 a.m. in Los Angeles to watch employees begin to share photos and footage from sites like these around the world in real time on collaborative video production tool Seenit.
"It was as if I was watching Viacommunity Day unfold on the horizon line," said Robinson. "Australia, Asia, Europe, New York, Nashville, Chicago, all the way to Los Angeles."
Watch the video above.
"This was my 21st Viacommunity Day," said Viacom President and CEO Bob Bakish, who circulated through the on-site activities at 1515 Broadway, Viacom's global headquarters in New York City, this year.
"Throughout this time, I have worked in [Viacom Headquarters], downtown Manhattan, Westchester County, Putnam County and Fairfield County," he continued. "I've stuffed bags, provided ideas, painted objects, cleaned in all kinds of ways, painted fences and walls, raked and moved wood chips – lots of different things. What's always the same is the passion and heart that our employees, and a select group of our talent, show as they help the community. What's always the same is the happiness and thanks that comes from those that are being helped.
"As I visited different groups today, that's what I saw once again. To me, that's what makes Viacommunity Day such an important part of our culture and heritage. It is another reason why it is such an honor to be CEO this great company. I saw many great things today. All of the people involved reminded me, once again, just how important this initiative is to our company. Thank you everyone. You represent Viacom every day. In a world where there is incredible change, where some things are evolving and others arguably devolving, overall, Viacommunity Day is a constant."
Let's take a tour of these incredible sites, starting with our West Coast offices in California.
CALIFORNIA
Paramount Pictures
Chrysalis
Kevin Chalk, director of financial planning for Paramount Worldwide Television Licensing (and 2016 Viacommunity Award-winner) was site captain at Chrysalis, an organization that serves homeless men and women with three locations in the Los Angeles area. These are people who are mentally ill or physically disabled, or suffer from substance abuse or other serious issues.
They are, by most standards, utterly unemployable. At least, that's the stigma, according to Chalk. But Chrysalis helps the adult homeless population in Los Angeles overcome this bias and get into the work force. The organization's motto is "changing lives through jobs," and on Viacommunity Day, that's exactly what Chalk and fellow Paramount volunteers did.
"The most beautiful thing to witness was how our 27-plus volunteers and the homeless population interacted that day," said Chalk, describing laughter and friendly, productive conversations between Paramount employees and Chrysalis clients. While Chalk was prepared for volunteers to experience some nervousness over helping such a vulnerable demographic, this was not the case.
"Mainly, the feedback was how meaningful their work was," said Chalk. Paramount volunteers included a mix of entry to mid-level employees, as well as several executives: President of Worldwide Television Licensing Dan Cohen, Executive Vice President of Global Communications and Corporate Branding Ted Schilowitz, and Paramount Chairman and CEO Jim Gianopulos. And California congressman, Rep. Jimmy Gomez, joined Paramount to help his district hands-on.
Imagine being homeless, chronically unemployed and having to look for a job for the first time. How would you write a resume? How would you frame your cover letter? Many folks who have attained their bachelor's or master's degree still find this part of the job search daunting.
Now, imagine sitting next to Paramount's CEO for a two-hour mentoring and job-coaching session.
That's exactly what went on at Chrysalis—the executive volunteers partnered with two or three clients, giving job-seeking advice, tips and tricks. Volunteers explained how to use online job posting sites, craft a cover letter and build a resume. Other volunteers sorted donations for office clothing and personal hygiene supplies.
Chalk says he planned meticulously for the day, even going through a run-of-show prior to the event to ensure everything went according to plan. One thing he was concerned about, however, was traffic. Los Angeles traffic is notoriously heavy, and the VIP guests (Gianopolous and Gomez) were each arriving via car service from different parts of the city. Chalk worried that a standstill on the highway would be a logistical nightmare, as the day revolved around a tight schedule.
"I had to hope for the best," said Chalk. "But the congressman and Gianopolous arrived right on time, within minutes of each other. The Paramount shuttle was also right on schedule. For once, traffic in Los Angeles was running smoothly – and it was Viacommunity Day. I thought this was a good omen."
Motion Picture Television Fund
Meanwhile, at the Motion Picture Television Fund (where Jim Gianopulos is a board member), Flora Huang, a Paramount Pictures vice president of finance and planning and 2018 Viacommunity Award-winner, visited a site that was familiar to her, but new for Viacommunity Day: the Motion Picture Television Fund. She worked with Howard – who lives at the institute with his wife of 60 years – to "bling their ride."
The Black AIDS Institute
Yet another vital Los Angeles site – the Black Men's Primary Clinic launch – was helmed by Rochella Jordan, a finance manager at Paramount Pictures.
"I love to lead," said Jordan. "I was assigned to this site; I think [the CSR team] knew it was a good fit for me based on the fact that I'm familiar with the people in the community."
The clinic is a partnership between the Black AIDS Institute and St. John's Well Child and Family Center, and its opening day coincided with Viacom's annual day of service.
Fifty Paramount volunteers helped the clinic maximize its reach during the launch, welcoming walk-ins and canvassing the neighborhood to find community members interested in attending the kick-off and learning more about he clinic, which offers a much-needed source of healthcare.
Signage outside of the clinic let everyone know about free food and water inside, and Paramount volunteers partnered with employees to take clients on.
Burbank
Para Los Niños 
Burbank employees set out to help beautify the garden at the Para Los Niños Charter School in downtown Los Angeles. And though it wasn't part of the official task, Nickelodeon Animation Recruiting Manager Ariel Goldberg gave students career advice—and once word got out that a Nickelodeon recruiter was among the volunteers, students swarmed.
David Starr Jordan Middle School
And over at Burbank's David Starr Jordan Middle School, volunteers from the crew of Nick Jr.'s Shimmer and Shine were using free-hand spray paint to create a magnificent mural outside of the sixth grade patio area.
The design, reminiscent of stained glass, featured bold letters which read, "Kindness is Courage"—the school's theme, along with a colorful cougar, the school's mascot. Shimmer and Shine designer Amber Hardin conceptualized the motif. Hardin explained her process of scouting the location, confirming with the school faculty the message they wanted the mural to convey, and weighing her resources in preparation for Viacommunity Day.
"I had to remember that we had a narrow window of time to complete the mural,"said Hardin. "I knew the design would have to be easily executed by a team [of Viacom volunteers] with various artistic skill levels. It occurred that anyone can paint-by-number, but my next challenge was figuring out how to design a mural that looks professional and organic using this method."
Hardin's solution? Painting a freehand mural reminiscent of stained glass, an art form she was quite familiar with. "My mom created a bit of stained glass when I was growing up," said Hardin, "And I was familiar with the technique of crafting a recognizable image out of simple, cut-glass shapes."
On Viacommunity Day, Hardin got an early start, tracing shapes on the building's previously plain exterior wall. Once the students arrived and saw the stencil starting to take shape, Hardin was approached in droves.
"The kids recognized the cougars in the painting and thanked me for helping create the mural," said Hardin. The students also approached Hardin to say how much they wanted to work for Nickelodeon when they grew up, and showed her samples of their own artwork.
"I encouraged the kids to continue drawing and make it happen," said Hardin, referring to working at Nickelodeon. "This was my favorite part of the process: seeing how the painting inspired so many of the students."
"This kind of community service really adds something special to those students' lives," said Hardin. Indeed: the mural now provides a daily opportunity for these kids, many whom are from under-served parts of the Los Angeles area, to soak in the creative energy of Viacom and Nickelodeon while eating their school lunches.
Volunteers then built benches around the trees to provide an outdoor lunch space for the kids, and also did a little maintenance on the campus gardens, spreading mulch around the flower beds.
"Your volunteers did an amazing job, and we are so grateful," the school principal, Stacy Cashman, wrote in an email to Carson Smith, the site captain and Nickelodeon's senior manager of public affairs.
"You should have seen the sixth-graders yesterday," she continued. "They were so excited to sit in their new patio area and they love it. Jordan students were excited to see the improvements, and the pride they felt was obvious in their smiling faces."
Hollywood
.@LAPDHollywood partners w/ @ParamountPics and @Viacom on #ViacommunityDay #service in Hollywood. @pjinla4 @LAPDCRD pic.twitter.com/hIj5mLjZz6

— Cory Palka (@lapd2014) May 20, 2016
NEW YORK CITY AREA
Brooklyn
East New York Farms
Volunteers exuded positive energy and high morale at Brooklyn's East New York Farms (ENYF) part of a neighborhood center that has helped revitalize the community since the 1950s. ENYF pairs young people in the area with elderly farmers, a partnership that strengthens local farmers' markets and 60 community gardens, and gives low-income residents access to healthy, homegrown fruits and vegetables.
East New York Farms Manager Kendra Ellis Valle said Viacom's team was exceedingly helpful.
"They worked on [processing] a pile of compost that had been sitting around for almost six years," Valle marveled.
Most of the volunteers drawn to this site shared a passion for ecological sustainability, and many had worked in the East New York neighborhood for community revitalization projects in the past. They were also inquisitive, asking Valle specific questions about permaculture.
The site leader, Wesley Robinson, senior manager for Viacom Velocity, had prior knowledge about urban gardening, and was especially resourceful onsite—he even helped repair a piece of heavy machinery essential to the farm's operation.
This was the first year Viacommunity partnered with East New York Farms, but Valle hopes it won't be the last.
Queens
Astoria Park
We had a great time today, refreshing Astoria Park! A little wind but a lot of love. All good all around. #ViacommunityDay @Viacom @Viacommunity pic.twitter.com/b7Lg26FTdM

— Janet Abrams (@Jabrams24) April 20, 2018
Manhattan
LINC (Literacy INC)
Nickelodeon Velocity Partner Marketing Director Ross McGraw volunteered with LINC at PS 189's Together In Getting Everyone To Read Day – aka, Tiger Day. McGraw dressed appropriately for the occasion.
Spending time to make sure that kids find joy and see the value in reading is an amazing cause," said McGraw, who read to kids at the New York City public school. Many of these students come from low-income families without the resources to pursue reading and educational activities. According to McGraw, it's a school where many of the parents cannot read to their own kids.
"Reading to these kids, who are our biggest fans, was an incredibly rewarding experience," he said.
1515 Broadway
Free Arts NYC
In The Lodge cafeteria on the seventh floor, employee volunteers decorated brown paper bags to donate to kids in need. Jaquae and Kiyanne, two of the stars from VH1's Love & Hip Hop: New York painted paper bags right alongside them.
"It's for a good cause," said Kiyanne. "It's for kids living in shelters, who feel like they don't have any hope. We're helping children boost their confidence and spark the creative flame that's in everyone."
Jaquae was decorating his bag with some Popsicle sticks. "I'm going to get 3D with it," he said, showing off his painting of a cheerful, two-story home surrounded by hills. Kiyanne chose a text-based concept, painting in bold, colorful brushtrokes words like "Hope" and "Faith."
"My bag is a reminder of all the things that you should carry along with you," said Kiyanne, as she continued to paint. "Hope in a bag."
Kiyanne, who had a flight to catch in just a few hours after the project, didn't mind the hectic schedule. Both she and Jaquae thanked Viacom for inviting them to take part in the Viacommunity action.
"It's amazing that we were invited to this event," said Kiyanne, "And given the chance to show a side of us you don't see on [Love & Hip Hop]. Today is a beautiful day."
Nicole Landau, Nickelodeon Consumer Products manager, was site captain for the Free Arts NYC event at 1515 Broadway. He was working his second Viacommunity Day.
The volunteers included members of Nickelodeon's Creative Resources team, whose stunning recent projects include one of Obama on Instagram. Bakish showed up to encourage all the employees.
"I Always loved doing art as a kid, and I was happy to be involved with this project," Landau said. "The turnout was amazing. Viacom houses some really creative individuals, and it was great to give them an outlet to use their talent to put a smile on kids' faces."
Rise Against Hunger
The Rise Against Hunger Project was full of energy—in just two hours, Viacom employees packaged more than 10,000 meals for those in need. These meals were packed with protein-rich ingredients: rice, soy and mixed vegetables.
"Each person helped save many lives," said CSR intern Amanda Critelli, who volunteered at this onsite activity.
Rise Against Hunger is an inspiring organization committed to ending hunger by 2030.
New Jersey
Love & Hip Hop: New York star Yandy Smith-Harris showed up to help beautify the Clifton, New Jersey site.
Connecticut
Kids in Crisis
North of the city, in Connecticut, Viacommunity volunteers were teaming with Kids in Crisis – an emergency shelter for children and families – for the third consecutive year.
"Working for a company that commits to a global day of service for all of employees is a huge point of pride," said Kate Laverge, senior vice president for Viacom International Media Networks (VIMN).
"That pride is multiplied by the fact that Viacom enables it employees to support organizations that are important to their own local communities. It was incredible to see executives from every part of our business demonstrate that no job was too small, too hard or too dirty when it came to helping the kids and families cared for by Kids in Crisis."
TENNESSEE
Nashville & Franklin volunteers garden, paint, pack lunches and more
More than 80 Viacom employees from the Franklin and Nashville offices banded together to volunteer across seven different projects in the Nashville area:
Creating more than 600 snack packs at the Oasis Center to distribute to at-risk homeless youth
Mulching and clearing the trails at Radnor Lake
Painting a mural at McGavock High School's CMT Academy of Digital Design and Communication
Socializing with the animals at the Nashville Humane Association
Gardening at a community garden through the Nashville Food Project
Helping to clean and organize the youth resource center at Monroe Harding Foster Care Services
CMT coordinator Ellen Crowley volunteered at CMT's on-site project, which was packing 500 snack and hygiene kits for the USO soldiers and their families at nearby Fort Campbell. The conference room was bursting with employees eager to help.
"It was amazing to see such energy in the room full of teamwork, conversation, and unity," said Crowley. "One of the most memorable moments from the day was when a co-worker mentioned that they live in the Fort Campbell area and knew the community and the impact that our packing would make for the military families."
MIAMI
Surfrider Foundation
Springtime in South Florida is sunny and hot, but our volunteers enjoyed an ocean breeze as they worked for the second consecutive year to rejuvenate the beach dunes on Miami Beach in collaboration with the Surfrider Foundation.
The day's mission: to battle Scaevola sericea, a highly invasive weed, native to Hawaii, that showed up in South Florida in 1976 and is now pervasive along South Florida's beaches.
Viacommunity volunteers split into three teams, with one focused on removing the invasive plants from dunes and replacing them with sea oat seedlings, another cleaning up micro-plastics and other debris from the shoreline, and the third focused on logistics coordination, water restock, breakfast and lunch set-up, security and rest areas clean-up.
"I absolutely loved stepping out of the office and taking part in an environmentally conscious volunteering activity," said site captain and Public Affairs and CSR Manager Niccolo Totoro, who is actively involved in preservation-oriented non-profit organizations. "Our dune restoration and beach cleanup work of a few hours positively impacts on the long- and short-term health of our local wildlife and plants species. If we don't preserve and treat well our planet and animals, we won't leave a good heritage to future generations. Spending time with the whole VIMN Miami team made the day very special, filled with rewarding hard work, new sustainability knowledge, and lots of laughs!"
INTERNATIONAL
Canada
Jubilee Designs
Far to the north, a team from Paramount Canada worked with Jubilee Designs, a Yonge Street Mission that provides at-risk youth the opportunity to develop both professionally and personally.
The youths taught Viacommunity volunteers how to use stencils to create unique totes, T-shirts, onesies and more, helping the youths work on their interpersonal and teaching skills in the process.
"Our office believes strongly in building people up, and this was a perfect chance to give back in that way," said Amanda Lynn Watt-Henriques, the site leader.
Australia
In Australia, volunteers supported five community-focused organizations: The AIDS Council of New South Wales (ACON), Birthing Kit Foundation Australia, Ozharvest, Greyhound Rescue, and Foundation for National Parks & Wildlife.
A Nickelodeon team volunteered at ACON, a sexual health organisation supporting the LGBT community, making ribbons for the Red Ribbon Appeal fundraiser in the lead up to World AIDS Day on December 1. Their work supported considerable momentum behind LGBT rights in Australia, which recently legalized gay marriage.
"ACON plays a pivotal role in supporting and educating the community, it was great to give back to such a worthy cause," said Josh Phillips, a commercial producer at Nickelodeon Australia. "This helped provide a voice to those that would usually find it hard to gain cut-through in a very competitive landscape."
London
Over at Viacom's UK offices, site captain Rebecca Simuyemba was busy facilitating activities at organizations throughout the city: The Tipe Project, Mermaids, Castlehaven Gardening Project and Media Trust.
Viacommunity Day is a fantastic initiative. It is rare to find a workplace that allocates time for volunteer work – especially at such a large scale. It is a great day bonding with colleagues across the business & helping our local communities. It is true what they say, when you do good you feel good! 

– Rebecca Simuyemba, Site Captain, Corporate Social Responsibility Team Assistant, London
Argentina
In Argentina, members of Viacom's Telefe brand helped put together more than 300 educational games that would help children develop their fine motor control.
"I am really grateful to have a Viacommunity Day," said Telefe's Paula Denise Velasco Gadea. "I liked very much help children. I imagine their faces when they receive these games. Their smiles will be more than i can do for them. That is the best prize."
Check out some photos from the site (1, 2, 3).
Colombia
Mariana Novoa Foundation
In Colombia, volunteers spent Viacommunity Day at the Mariana Novoa foundation, a non-profit organization that helps prevent childhood accidents among the nation's boys and girls. The team fixed up the house where 104 of the foundation's children spend their time, painting the foundation, facade, halls, and parts of the bathrooms and doors of the living rooms. In the afternoon, they spent time with the children, playing games and eating snacks.
"The experience was amazing for us," said site leader Andres Velez.
Check out some photos from the site (1, 2, 3).
Philippines
Singapore
Viacom employees in Singapore participated in a walk-a-thon to raise funds for the Children's Society, a child advocacy organization.
Check out this boomerang video
China
In Beijing, Viacom employees were busy volunteering at Sun Village, an organization dedicated to the welfare of children of Chinese convicts. Projects included tending to the crops of fresh fruit and vegetables and assisting with meal prep for the children living in the shelter.
*International photos courtesy of Viacom International Media Networks*
About Viacom
Viacom is home to premier global media brands that create compelling entertainment content - including television programs, motion pictures, short-form content, games, consumer products, podcasts, live events and social media experiences - for audiences in 183 countries. Viacom's media networks, including Nickelodeon, Nick Jr., MTV, BET, Comedy Central, Paramount Network, VH1, TV Land, CMT, Logo, Channel 5 (UK), Telefe (Argentina), Colors (India) and Paramount Channel, reach approximately 4.3 billion cumulative television subscribers worldwide. Paramount Pictures is a major global producer and distributor of filmed entertainment. Paramount Television develops, finances and produces original programming for television and digital platforms. 
For more information about Viacom and its businesses, visit www.viacom.com. Keep up with Viacom news by following Viacom's blog at blog.viacom.com and Twitter feed at www.twitter.com/viacom.
About Viacommunity​
Viacommunity is the global umbrella covering all of Viacom's social impact and purpose-driven initiatives. By leveraging Viacom's culture of creativity, Viacommunity offers programs that empower, engage and inspire our employees, audiences and company to make a difference in the global communities we serve.