13 Reputable Charities to Support on #GivingTuesday
13 Reputable Charities to Support on #GivingTuesday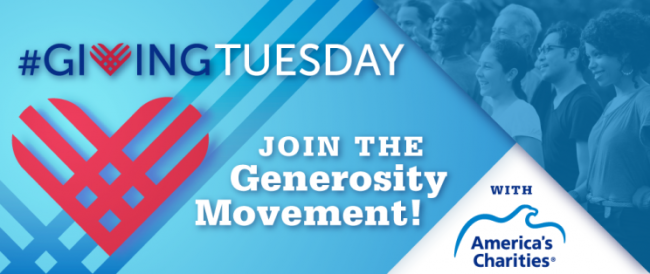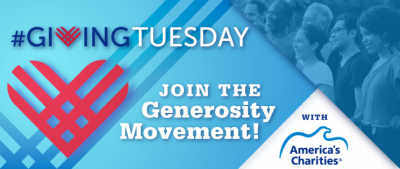 Monday, December 2, 2019 - 5:40pm
#GivingTuesday takes place on December 3, 2019 this year! Looking for causes to support? America's Charities' members are some of the most reputable and recognized charities in the world.
Below are 13 #GivingTuesday initiatives for you to support. If your employer offers workplace giving, be sure to contribute to these charities through your employer's giving program - and check to see if they will match your gift! Can't find the nonprofit you're looking for below? Click here to view a list of our 130+ nonprofit members and sort by the cause that interests you. Click here for additional #GivingTuesday resources for companies, nonprofits, and individual donors.
---
$60,000 - That's the cost of two service dog partnerships - AND that's how much money Canine Partners for Life hopes to raise this #GivingTuesday with your help! 
Exciting Giveaways for Donors
If you make a gift of $150 or more, our friends at Giggybites Bakery & Marketplace will give you a jar of dog treats for your dog at home OR you can gift the treats to the CPL kennel dogs!
If you make a donation between 12pm-1pm (on Giving Tuesday) of at least $30, your name will be entered into a raffle to name a puppy! We will pick one lucky donor from that hour to name a future CPL puppy!
If you make a donation between 3pm-4pm (on Giving Tuesday), you will receive a CPL notepad! The notepad has flowers made from CPL puppy paw prints.
Increase Your Impact
Once we raise $30,000, we have a donor willing to give an additional $4,000! Plus, CPL's Board of Directors will donate $9,600 if we reach our goal!
Click here to support Canine Partners for Life this #GivingTuesday.
---
Join our 2019 Care Challenge — help us reach our goal to make the holidays bright for our patients and families.
A tax-deductible donation to Capital Caring is a gift that supports many in our community who are facing some of their hardest days ahead — especially during the holidays.
Make your #GivingTuesday gift — one that will be doubled to make a significant difference in someone's life in your own community this holiday season.
Click here to get started.
---
This #GivingTuesday, be an essential part of the cure to end children's cancer. With the unmatched expert leadership of CureSearch's Scientific and Industry Councils, they identify and fund only the most innovative research with the potential to move quickly into the clinic and marketplace, reaching children now – not 10-20 years from now. Donate to CureSearch and help fund critical childhood cancer research. Click here to donate now.
---
Diabetes Research Institute Foundation
All donations for #GivingTuesday will be DOUBLED—up to $200,000—thanks to a generous matching gift from the Diabetes Foundation of the High Plains! This is an incredible opportunity to keep cure-focused research moving forward. Thank you for your support!
Click here to get started.
---
Feeding America
Help put food on the table for families in need this Giving Tuesday. $1 helps us provide at least 20 meals through the Feeding America network of food banks. Now, thanks to The Starbucks Foundation every gift can be matched up to $200,000. And remember, you can dedicate that matched gift in honor of a friend – we'll even give you a card to print or email. Click here to donate now.
---
Help Make Memories This #GivingTuesday! On December 3, 2019, each gift we receive - until we raise $45,500 - will be doubled! That means double the smiles, laughter and happy memories. Make a donation to Give Kids The World to create joyful moments for critically ill children and their families. Get started here.
---
Human Rights Campaign
Help us double your impact. When you donate to HRC for GIVING TUESDAY, Facebook is matching donations up to $7 million. As we approach the end of the year please consider donating to HRC on Giving Tuesday — a national day of giving back to causes close to your heart. At this time of year, we hope HRC and LGBTQ equality are close to yours.
Your contribution will make an impact, whether you donate $5 or $500. Every gift helps. Thank you for your support as we end this year and prepare for 2020! Learn more and get started.
---
LIVESTRONG has a 23-year legacy of listening to the cancer community's most urgent needs and creating solutions to address those needs, now.
Your gift today turns survivors' voices into twice as many cancer solutions. All donations made this Giving Tuesday will be matched 100%. Donate now.
---
Mothers Against Drunk Driving (MADD)
Every day, 30 loved ones are killed by drunk drivers. In their honor, MADD is raising $30,000 to help keep our roads safe and our families together for the holidays.
Can we count on you to help us? Click here to learn more and participate!
---
This #GivingTuesday – December 3rd – be a social media hero for The Inn! Help us share our mission and raise money to help provide a "Place Like Home" for the many families with children in treatment at the National Institutes of Health (NIH). You can donate today or create your own fundraiser for The Inn.
---
Your gift to The Conservation Fund benefits America's lands, waters, and communities. No matter what inspires you to give today, you can trust that we will put your donation into action and create lasting results for nature and for people. Thank you! From now until December 13th, your online donation to the Fund will be matched (up to $150,000). Make your gift go twice as far and donate today!
---
The Sesame Street Yellow Feather Fund
Double your donation on #GivingTuesday to help children and families take on tough times. Your gift will support parents, caregivers and community providers to give all children a strong and healthy start. Click here to donate. 
***
Support America's Charities | Donate Now
Did you know that we are a nonprofit? And we rely on the generosity of donors, like you, to support our work. 
America's Charities inspires employees and organizations to support causes they care about. We do this to bring more resources to the nonprofits that are changing our world. We provide a wide range of fundraising solutions to help nonprofits expand their reach and diversify their revenue streams and help employers maximize community impact and employee engagement through seamless integration of workplace giving, volunteering, social responsibility, and other philanthropic initiatives. Our 40 years of experience combined with an accountable and transparent process has resulted in raising more than $700 million of sustainable funds for more than 20,000 nonprofits addressing a range of causes including education, human rights, hunger, poverty, research, animals, veterans, disaster relief, and health services.
Every day we work to help you help others. As such, a donation to America's Charities has a ripple effect on hundreds of thousands of causes around the world. With your help, we will raise $1 billion for worthy causes by 2026. Help us achieve this goal by donating to America's Charities today.