The (event) AfterLife
The (event) AfterLife
tweet me:
Make the AfterLife of an event work to promote #sustainability Leadersh while reducing carbon footprint. http://3bl.me/4rnym7
Tuesday, July 31, 2012 - 9:00pm
The afterlife of an event featuring sustainability leaders isn't being given much thought. Where is the afterlife? On the Web and successfully so when video is used to extend the reach of the unfiltered voices of the leaders brought together, often at great expense, by event sponsors.  Here are some recommendations to discuss among your colleagues who incorrectly perceive video as an added expense, rather than as an investment.
1. Live stream and/or provide video "on-demand" covering the main presenters, panels and or teaching circles. Engage  partners in sponsoring the live stream and on-demand "product" much as they have done so in the past for the conference itself or for lunches, receptions, and workshops.
Case in Point:
We are providing sixteen hours of streaming content for our client, The Seed Institute, for their upcoming conference, WISDOM FROM THE ORIGINS: The Mayan Calendar and Other Prophecies on the Future of Humanity this September 13-17, 2012, in Albuquerque, NM. There are over thirty presenters ranging from the best selling authors,  Marianne Williamson and James O'Dea to wisdom keepers representing fifteen indigenous tribes. We will be reporting back in late fall on this experience as a model the non-profits, especially associations and educational organizations.
2. Interview thought leaders at the conference, both presenters and attendees and pepper the Web with them.
Case in point:  Take a look at how 3BL Media has worked with event organizers to interview their leadership, now positioned as sustainability thought leaders on EarthSayers.tv.
3. Maximize visibility by using a search strategy identifying keywords/phrases when posting content and always include the big picture phrases, not only sustainability, but  those specific to the event such as responsible investing along with names of leaders.
Case in point:
We interviewed Julia Anastasio, Director of Sustainability for the American Public Works Association (APWA) at a meeting on Sustainability by the APWA.  This content now contributes to her visibility as Director of Sustainability; as a subject expert in 3(e)BL;  and as a sustainability thought leader in the category of transforming our economy. Here are the results: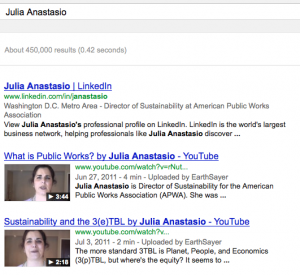 Searching on the subject 3(e)TBL and we see this content is well seeded with Julia in the top listing: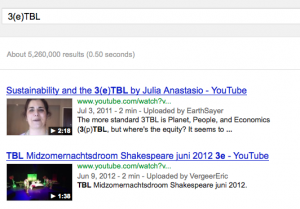 Finally on a category search, Transforming Our Economy, the special collection on EarthSayers with Julia's presentation in this collection, comes up in the top three rankings.  This positions Julia as a sustainability thought leader and by extension her organization.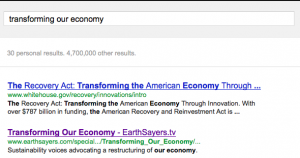 4. Post content, in whole or part, and in order of importance to search strategy on your (1) YouTube, (2) Vimeo and (3) Blip.tv channels.
Leave a trail of something other than carbon emissions. As cited in a recent article, "Air travel is incredibly destructive to our environment. Just one round-trip flight from New York City to San Francisco, CA is nearly 15% of the annual carbon emissions for the average American."   This quote is from an excellent article, "How to Lesson Air Travel's Damage to our World," in case you missed it. AND at the same time, reduce emissions while extending the reach and impact of our sustainability leaders.
Leverage your events to help our citizens find the voices of sustainability to be educated, inspired and motivated by them.
Ruth Ann Barrett, Sustainability Advocate, Portland, Oregon, 97201, 415-377-1835.