On World Environment Day, The Olympic Movement Celebrates One Year of Action Against Plastic Waste
On World Environment Day, The Olympic Movement Celebrates One Year of Action Against Plastic Waste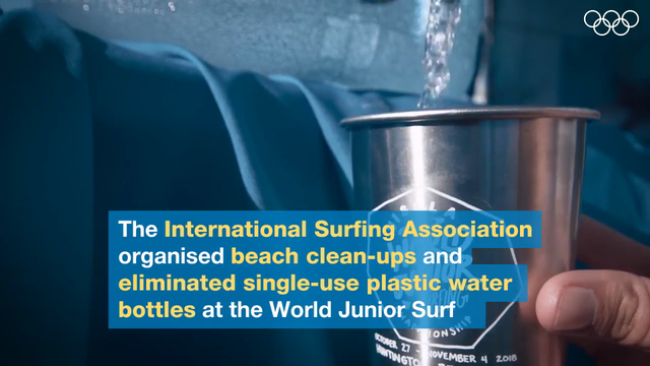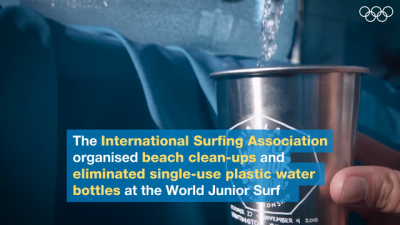 tweet me:
Watch: On this #WorldEnvironmentDay, The Olympic Movement celebrates 1 year of action against plastic waste. #CleanSeas http://bit.ly/2Z88Aj0 @IOCmedia
Wednesday, June 5, 2019 - 10:35am
World Environment Day 2019 marks one year since the International Olympic Committee (IOC) joined UN Environment's #CleanSeas initiative to beat plastic waste and called on the Olympic Movement to come on board.
Since then, 11 International Sports Federations (IFs), four National Olympic Committees (NOCs), three of the IOC's commercial partners and the Japanese town of Ichinomiya – host of the Tokyo 2020 surfing competitions – have joined the initiative. Here are some examples of how they are turning their commitments into action.
Sustainability is one of the three pillars of Olympic Agenda 2020 – the strategic roadmap for the future of the Olympic Movement. The IOC is working to ensure that sustainability principles are embedded across all its operations – as an organisation, as the owner of the Olympic Games and as the leader of the Olympic Movement.
As part of the Clean Seas initiative, the IOC will continue to work closely with IFs, NOCs, commercial partners, athletes and other Olympic Movement stakeholders to encourage them to join and help them turn their commitments into action.
Read more about the Olympic Movement's continued action against plastic waste.
More From International Olympic Committee
Monday, April 19, 2021 - 9:05am
Friday, April 16, 2021 - 8:20am
Thursday, March 25, 2021 - 1:15pm