What Experts Are Saying About the Natural Capital Protocol Toolkit
What Experts Are Saying About the Natural Capital Protocol Toolkit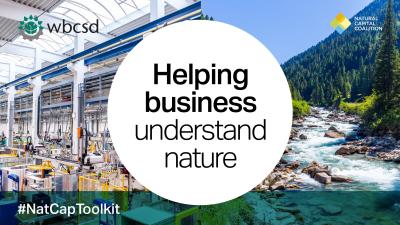 tweet me:
What #Experts Are Saying About the #NatCapToolkit http://bit.ly/2sQb8CN @WBCSD @NatCapCoalition #NaturalCapital
Monday, July 17, 2017 - 8:25am
The Natural Capital Protocol Toolkit was recently launched. Check out what sustainability experts from around the world are saying about this new resource to help companies implement the Natural Capital Protocol.
"Business success and the value we create ultimately is grounded in natural capital – the resources and ecosystems that sustain us all. This new WBCSD Toolkit will help businesses everywhere benefit from the best available knowledge and information to make decisions that support long term sustainable growth."
Paul Polman, CEO of Unilever and Chairman of WBCSD
"The Toolkit is an important step on the journey to understanding the true cost and true value of business's impacts and dependencies on nature. Understanding natural capital risks and opportunities will help forward-thinking businesses thrive in a world where more sustainable companies continue to become more successful."
Peter Bakker President and CEO, WBCSD
"Released a year ago to the day, the Natural Capital Protocol is now recognized as the harmonized approach for businesses looking to understand their impacts and dependencies on natural capital.  The Natural Capital Protocol Toolkit will further simplify the process of carrying out a natural capital assessment, by providing an up-to-date searchable database of necessary tools presented in the context of the Protocol."
Mark Gough, Executive Director of the Natural Capital Coalition
"The new version of the Natural Capital Protocol Toolkit is a great milestone. In a context of declining biodiversity across the globe and increasing pressures on natural resources, companies and investors recognize the need to assess and value their own impacts and dependencies on natural capital, biodiversity and ecosystem services, in order to understand how their business relies on natural capital, and how this translates into financial risk and opportunities. The new Toolkit is a key reference for companies to check out which methods to use to inform better decisions."
Humberto Delgado Rosa, Director, Natural Capital DG Environment, European Commission
"The launch of the Natural Capital Protocol Toolkit is an important next step for both business and nature. Many businesses are using the Natural Capital Protocol to value their impacts and dependencies on nature. The Toolkit not only opens up a vast array of practical methods and approaches for business, but will also stimulate SMEs and other companies to join the early adopters. This Toolkit is essential in moving beyond the best practices of frontrunners into daily practice for all."
Martin Lok, Program Manager Natural Capital, Netherlands Ministry of Economic Affairs
"Businesses face increasing risk from natural capital costs priced by markets, either directly by regulators, or indirectly by trends such as customer preference and reputational damage. Factoring natural capital costs into business decision-making helps companies get ahead of these risks and identify transformative business models in the transition to a more sustainable economy. Trucost is pleased to work with the Natural Capital Coalition and WBCSD as part of its Advisory Group and to have the Trucost and Ecolab Water Risk Monetizer as one of the tools available on the Natural Capital Protocol Toolkit."
Steven Bullock, Global Head of Research, Trucost, part of S&P Dow Jones Indices
"We welcome the launch of the Natural Capital Protocol Toolkit. At Solvay, we are proud to share our SPM tool and learnings for measurement of environmental impact. Reducing environmental impact while at the same time bringing solutions for the planet and society is our duty. Massive changes in consumption patterns will drive the demand for more sustainable products. In this journey, the Toolkit offers a unique platform for companies to join efforts to accelerate this transition." 
Bruno Van Parys, Corporate Sustainability Senior Officer, Solvay S.A.
"Exactly a year after the Natural Capital Protocol has been launched, now the Natural Capital Protocol Toolkit sees the light. It is a next step in enabling businesses to clarify on their relationship with the natural environment. Where the Protocol provides the framework indicating the steps to be taken and stakeholders to involve in the process, the Toolkit provides businesses with tools to measure and value impacts and dependencies and translate these into risks and opportunities. The Natural Capital Protocol Toolkit is the next step in making the natural capital concept actionable."
Bianca Nijhof, Global Sustainability Program Manager and Lead Natural Capital, Arcadis
"The Natural Capital Protocol Toolkit will definitely aid users in making the right decisions when measuring Natural Capital - a great and important step forward for business."
Dr. Christopher Earl, Safety, Security, Health and Environmental Data Manager, F. Hoffman-La Roche AG
"The Natural Capital Protocol Toolkit will be an invaluable asset for business, community and governments as they begin to identify the true value of nature to our society and economy."
Andrew Petersen, Chief Executive Officer, Sustainable Business Australia
"Providing business with the tools to measure and value their impacts and dependencies on nature is critical for achieving the global Sustainable Development Goals.  As a key supporter of the Natural Capital Protocol, IUCN believes this new complementary Toolkit is an important contribution for engaging business on this journey."
Gerard Bos, Global Director of IUCN's Business and Biodiversity Programme
"The launch of the Natural Capital Protocol was an important milestone for enabling companies to account for and incorporate nature into management and decision making. Our efforts are now enhanced by the release of the Natural Capital Protocol Toolkit, which will facilitate robust, pragmatic measurements of a range of business impacts and dependencies on nature, as proposed by the Protocol. Use of the Toolkit by business will in turn make existing approaches more effective by supporting their continuous improvement. Adoption of the Toolkit will also help to identify opportunities for new work, an important task for enhancing the science of natural capital accounting and its use by businesses."
Rosimeiry Portela, Ph.D., Senior Director | Betty and Gordon Moore Center for Science and Oceans | Conservation International Professor of Practice | Center for Biodiversity Outcomes | Arizona State University
"Awareness of the full range of natural capital guidelines and tools at one's disposal can really help undertaking natural capital assessments.  This user-friendly Toolkit should prove extremely handy to help people navigate through what can otherwise be a complex and daunting space."
James Spurgeon, Director, Sustain Value.
"Insight in dependencies and impact on the environment is essential for companies and organizations in order to navigate their businesses to the next step. Finding the right information and tools can be a challenge but is needed to support entrepreneurs. We strongly believe and experience it on a daily practice that entrepreneurs are willing to make their practices futureproof."
Maria van der Heijden, Director-manager MVO Nederland
"The Natural Capital Toolkit plays a vital role in the development of the use of sustainability accounting tools related to natural capital. Indeed, the many initiatives are often either unknown by practitioners in organizations. Moreover, they face the daunting task of making the decision to use 'the right tool.' The Toolkit allows them to do both: stay up to date with the newest tools and choosing the most adapted one for their organization. Right for MNEs and also for SMEs!"
Prof. Delphine Gibassier, Toulouse Business School
"Every business depends on natural systems, whether an SME or multinational; organizations with the qualities needed to thrive in the future have begun to understand this. The Natural Capital Protocol is the perfect framework to help businesses protect and enhance those natural systems relevant to them, while the Natural Capital Protocol Toolkit will let every organization find exactly the help they need to benefit most from implementing the Protocol."
Angus Middleton, Commercial Director, Viridian Logic
"Lately, a large number of tools have emerged to support companies on assessing natural capital. Therefore, the effort to build the Natural Capital Protocol Toolkit that organizes available mechanisms and facilitates the flow of information and use by companies is an important step to embed natural capital in business management. As a result of a participatory process, the Natural Capital Protocol and its complementary Toolkit tend to elevate to a global level as a leading instrument that systematizes other initiatives."
Natalia Lutti Hummel, TeSE Coordinator, Center for Sustainability Studies of the Business Administration School of Fundação Getulio Vargas (GVces - FGV)
More From World Business Council for Sustainable Development (WBCSD)
Wednesday, March 6, 2019 - 3:30pm
Friday, May 11, 2018 - 8:50am
Tuesday, May 8, 2018 - 8:55am
Videos from World Business Council for Sustainable Development (WBCSD)