Welltower Announces Stock Ticker Change to "WELL"
Welltower Announces Stock Ticker Change to "WELL"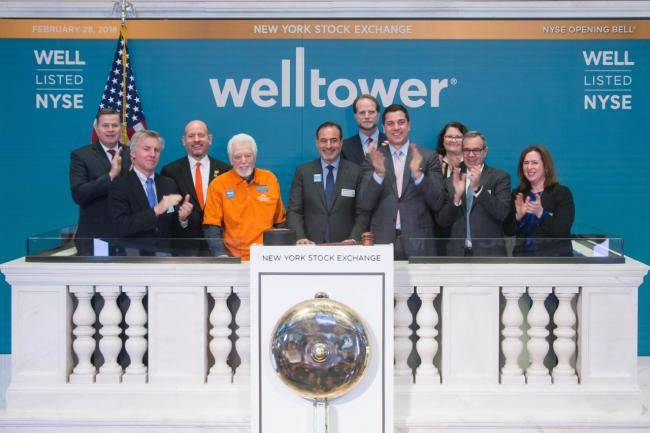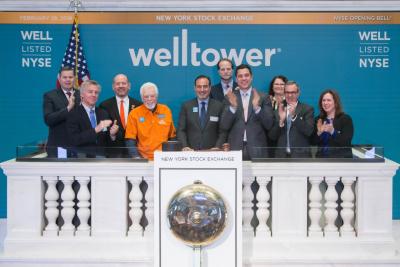 tweet me:
This morning, @Welltower turned Wall Street into WELL Street. Ticker symbol WELL now stands for Welltower on the NYSE. Learn about what this means for the company: http://bit.ly/2HQ01BM
Summary
Ticker symbol represents new wellness model to support improved care outcomes among the aging population;
In celebration of this day of wellness in New York City, the Welltower Foundation is making charitable contributions to several local, best-in-class organizations
Wednesday, February 28, 2018 - 4:30pm
TOLEDO, Ohio, February 28, 2018 /3BL Media/ - Welltower Inc. (NYSE:WELL) today announced the New York Stock Exchange has approved a change of its stock trading ticker symbol to "WELL," effective with the opening of trading today. The previous trading ticker symbol was "HCN."
In celebration of this milestone, Thomas J. DeRosa, chief executive officer, will ring the Opening Bell® of the NYSE alongside Chris Winkle, CEO of Sunrise Senior Living, and representatives of three premier institutions focused on meeting the health and wellness needs of the greater New York metropolitan region: NewYork-Presbyterian, Northwell Health and Citymeals on Wheels. Mr. DeRosa also will be joined by Daryl Brewster, CEO of CECP: The CEO Force for Good.
"Wellness is at the center of all we do. Today, at the New York Stock Exchange, WELL becomes who we are to the global financial markets. Welltower provides real estate settings that promote wellness for the aging population and allow leading health systems to drive health care delivery towards the goal of lower costs and improving outcomes," said Mr. DeRosa. "We are honored to share this moment with major organizations who share our commitment to wellness, including our valued operating partner, Sunrise Senior Living, which recently was awarded the top spot in J.D. Power's 2018 Senior Living Satisfaction study, a demonstration of their commitment to serving seniors' personalized needs."
In an effort to help support wellness in New York, the Welltower Foundation has donated a combined $250,000 to NewYork-Presbyterian, Northwell Health and Citymeals on Wheels to support their senior-focused health care delivery and nutrition programs.
"As our population ages, it is imperative that high-quality care is delivered by specialized, compassionate professionals in best-of-class settings to help residents live meaningfully each day," said Chris Winkle, chief executive officer for Sunrise. "As the leader in personalizing high-quality care for seniors, this customer-centric approach is reflected in our identity as a trusted partner, and is what sets us apart in the minds of our residents."
The Opening Bell® was streamed live from 9:26 - 9:30 a.m. ET on its Web site; an archived video of the bell ringing can be viewed on that same page: http://livestream.com/NYSE. 
No action is needed from current shareholders in relation to the ticker symbol change. The common and preferred stock will continue to be listed on the NYSE, and the CUSIPs will remain unchanged as 95040Q104 and 95040Q203, respectively. As part of the change, the ticker symbols for all listed securities will be updated to reflect the new "WELL" ticker.
About NewYork-Presbyterian
NewYork-Presbyterian, ranked New York's No. 1 hospital for 17 years in a row by U.S. News and World Report, is one of the nation's most comprehensive, integrated academic healthcare delivery systems, whose organizations are dedicated to providing the highest quality, most compassionate care and service to patients in the New York metropolitan area, nationally, and throughout the globe. For more information, visit www.nyp.org and find us on Facebook, Twitter and YouTube.
About Northwell Health
Northwell Health is New York State's largest health care provider and private employer, with 23 hospitals, more than 650 outpatient facilities and nearly 15,000 affiliated physicians. We care for over two million people annually in the New York metro area and beyond, thanks to philanthropic support from our communities. For information on our more than 100 medical specialties, visit www.Northwell.edu.
About Citymeals on Wheels
Citymeals on Wheels provides a continuous lifeline of nourishing meals and vital companionship to New York City's homebound elderly. Working in partnership with community-based organizations and senior centers, Citymeals prepares and delivers over 2 million weekend, holiday and emergency meals for more than 18,000 of our frail aged neighbors each year. Since its founding in 1981, Citymeals has ensured 100% of all public donations are used entirely for the preparation and delivery of meals. For more information, visit www.citymeals.org.
About CECP: The CEO Force for Good
CECP is a CEO-led coalition that believes that a company's social strategy — how it engages with key stakeholders including employees, communities, investors, and customers —determines company success. CECP helps companies transform their social strategy by providing customized connections and networking, counsel and support, benchmarking and trends, and awareness building and recognition. For more information, visit http://cecp.co.
About Sunrise Senior Living
Sunrise Senior Living, based in McLean, VA, employs approximately 32,000 people. As Welltower's leading operating partner in its investment portfolio, Sunrise offers a full range of personalized senior living services, including independent living, assisted living, care for individuals with Alzheimer's and other forms of memory loss, as well as nursing and rehabilitative services. In 2018, Sunrise became the first senior living company to be ranked "Highest in Customer Satisfaction among Senior Living Communities" by J.D. Power. For J.D. Power award information, visit jdpower.com. To learn more about Sunrise, visit www.SunriseSeniorLiving.com.
About Welltower
Welltower Inc. (NYSE:WELL), an S&P 500 company headquartered in Toledo, Ohio, is driving the transformation of health care infrastructure. The company invests with leading seniors housing operators, post-acute providers and health systems to fund the real estate infrastructure needed to scale innovative care delivery models and improve people's wellness and overall health care experience. Welltower®, a real estate investment trust ("REIT"), owns interests in properties concentrated in major, high-growth markets in the United States, Canada and the United Kingdom, consisting of seniors housing and post-acute communities and outpatient medical properties. More information is available at www.welltower.com.
Contacts
Tim McHugh 419-247-2800
More From CECP: Chief Executives for Corporate Purpose
Thursday, September 12, 2019 - 8:00am
Monday, July 29, 2019 - 10:15am
Thursday, July 18, 2019 - 2:45pm
Videos from CECP: Chief Executives for Corporate Purpose