WMM Names Moody's one of the "Top 75 Companies For Executive Women"
WMM Names Moody's one of the "Top 75 Companies For Executive Women"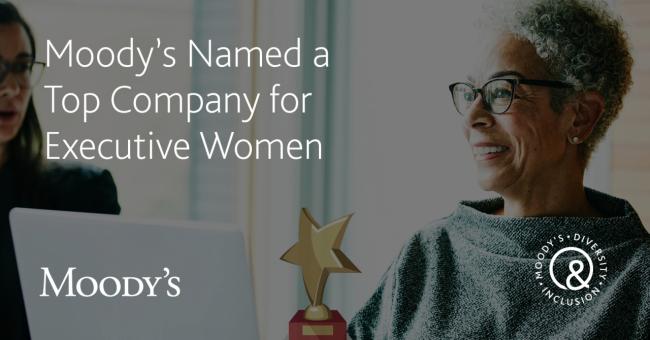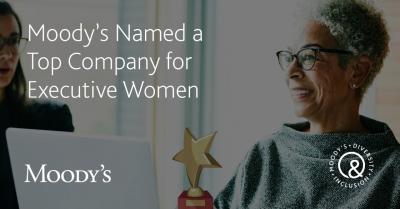 tweet me:
.@MoodysCorp has been named one of the 2020+ Top Companies for Executive Women by WMM https://bit.ly/3fNQNrc
Tuesday, December 1, 2020 - 9:30am
NEW YORK, NY, December 1, 2020 /3BL Media/ — Moody's Corporation has been named one of the 2020+ Top Companies for Executive Women by WMM. WMM continues to explore ways to move more women into top positions, while highlighting the successes at these trailblazing companies.
This list is the most definitive list of top workplaces for women who want to advance through the corporate ranks. It celebrates companies that champion women's advancement, with a focus on succession planning, profit-and-loss role, gender pay parity, support programs and work-life balance programs.
"Moody's is strongly committed to enhancing career and leadership opportunities for women in the workplace," said DK Bartley, Chief Diversity Officer at Moody's. "We are honored to be recognized as a top company for executive women and proud to have instituted policies and programs that support the development and advancement of women and other diverse groups."
"Because what gets measured gets done, our Top Companies list stresses the number of women in senior positions," says Betty Spence, president of the National Association for Female Executives. "Most important, we are the only organization that counts women holding revenue-generating operations positions with profit-and-loss responsibility, as those are the jobs that are the path to the top. Companies need to pay attention because that number dropped in the past year, even pre-COVID-19."  
Highlights of all the 2020+ Top 75 Companies for Executive Women include:
The percentage of women corporate executives increased 1 percentage point to 31 versus 30 percent in 2019.
Female executives responsible for divisions worth more than $1 billion decreased to 30 percent from 38 percent in 2019.
Forty-three percent of women at the Top 75 Companies are among the top 20 percent in terms of pay, up from 37 percent in 2019.
Sixty percent of the Top 75 Companies offer formal sponsorship, down from 71 percent in 2019
Methodology
The 2020+ Top 75 Companies application includes more than 200 questions on topics including female representation at all levels, but especially the corporate officer and profit-and-loss leadership ranks. The application, based on 2019 data, tracks and examines how many employees have access to programs and policies that promote advancement of women and how many employees take advantage of them, plus how companies train managers to help women advance. To be considered, companies must have a minimum of two women on their boards of directors, a US-based CEO and at least 1,000 US employees.
About Moody's Coporation
Moody's (NYSE:MCO) is a global risk assessment firm that empowers organizations to make better decisions. Its data, analytical solutions and insights help decision-makers identify opportunities and manage the risks of doing business with others. We believe that greater transparency, more informed decisions, and fair access to information open the door to shared progress. With over 11,400 employees in more than 40 countries, Moody's combines international presence with local expertise and over a century of experience in financial markets. Learn more at moodys.com/about.
About WMM
Working Mother Media (WMM) is a strategic professional services firm that partners with leading companies to build inclusive talent strategies by providing the tools needed to maximize the business benefits of DE&I. With four decades of expertise in what drives cultures of equity and belonging, powered by a research-based, data-driven understanding of the employee experience, WMM continues to champion a more equitable future. To learn more, visit workingmother.com.
Media Contact
Jordan Brueckner, Communications
jordan.brueckner@moodys.com