WEC Annual Report 2018 is now live!
WEC Annual Report 2018 is now live!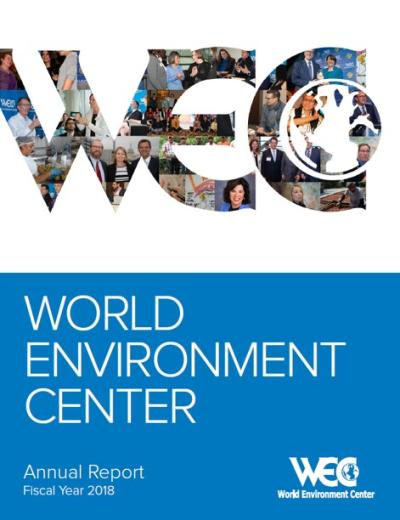 tweet me:
.@WorldEnvCenter's Annual Report 2019 is now live! It showcases the impact of the work done over the past year. Find out more here: http://bit.ly/2sTMNhd #sustainability #AnnualReport
Wednesday, January 30, 2019 - 2:00pm
The World Environment Center publishes its 2018 Annual Report that showcases its members and its impacts. 
WEC is pleased to share the results of our efforts to raise expectations and standards for business excellence in environmental sustainability, catalyze thought leadership and implementation strategy for sustainability, prepare current and early career leaders to achieve a sustainable future and implement scalable public and private capacity building programs around the world.
2018 highlights include:
Presenting Ecolab with WEC's Gold Medal for International Corporate Achievement in Sustainable Development
Framing our Thought Leadership agenda on megatrends that will redefine how sustainable business runs in the future
Working with business leaders to develop strategies and practices to future-proof themselves in a fast-changing world via our Roundtable events
Collaborating with businesses and universities to prepare leaders for a sustainable future via Advisory Board Service and Better World Leaders Program
Partnering with the U.S. Department of State to empower micro, small and medium enterprises and drive sustainable economic growth and prosperity in Latin America and the Caribbean via the La Red Network
Partnering with the Germany Ministry of the environment to study how to promote sustainability management in Latin America.
More From World Environment Center
Thursday, March 5, 2020 - 1:00pm
Monday, December 2, 2019 - 9:15am
Monday, October 21, 2019 - 12:00pm