Update to German Translation of GRI Standards
Update to German Translation of GRI Standards
Latest versions now available in German language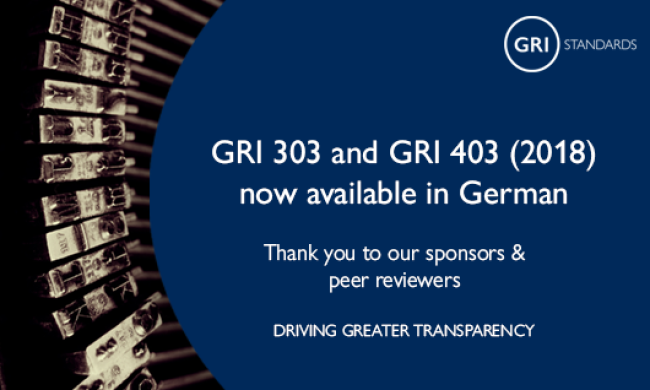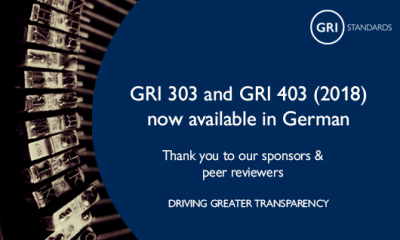 Wednesday, June 19, 2019 - 9:00am
June 19, 2019 /3BL Media/ - Updates to two versions of the GRI Standards – 'GRI 303: Water and Effluents 2018' and 'GRI 403: Occupational Health and Safety 2018' – have been translated into German. They are now available to any German-speaking organization using the Standards.
All of the German translations of the Standards can be downloaded free of charge on the GRI website.
The translation into German was carried out by Language Scientific and reviewed by a committee. This committee consisted of:
Dr. Thomas Fleissner, Founder and CEO, DFGE Institute for Energy, Ecology and Economics, Germany
Doreen Herrmann, CQC Consulting - Experts in CSR, QM & Communications, Germany
Dr. Sied Sadek, CEO, CEO, DQS CFS (German Sustainability Association), Germany
Dr. Thijs Willaert, Director of Marketing and Communication, DQS CFS (German Sustainability Association), Germany
This translation was made possible by financial support from Germany's Federal Ministry of Labor and Social Affairs.
Language translations of the GRI Standards are also available in Arabic, Chinese (traditional and simplified), Indonesian, Japanese, Spanish and Vietnamese.
Those who are reporting on the topics of GRI 303 or GRI 403 for the first time are advised to adopt the new Standards for their reports. For those who are already reporting on these topics, the 2016 versions of GRI 303 and GRI 403 can continue to be used for reports or other materials published on or before 31 December 2020.