U.S. Department of Labor Recognizes Booz Allen for Veteran Support
U.S. Department of Labor Recognizes Booz Allen for Veteran Support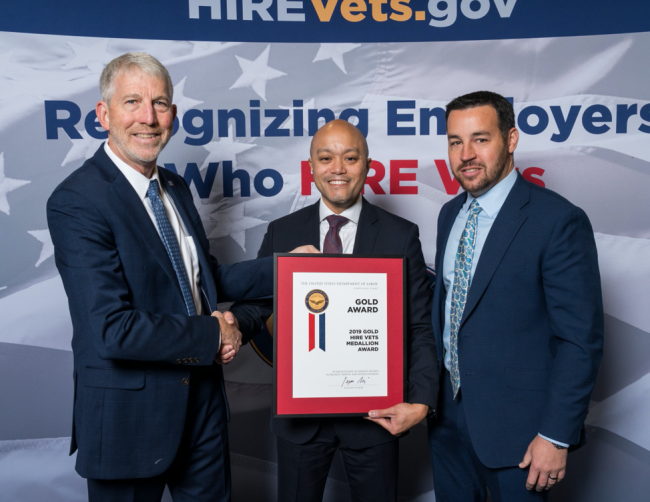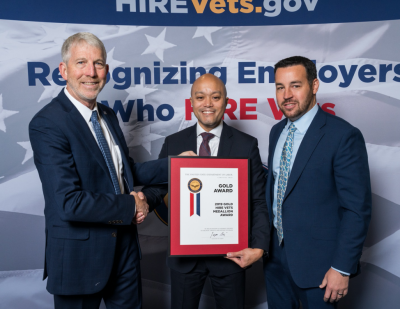 tweet me:
This past fiscal year, 34% of hires across Booz Allen were #veterans and transitioning military professionals. We're thrilled to be recognized by the @USDOL for doing so http://bit.ly/32WwUpP
Wednesday, November 20, 2019 - 7:00am
Booz Allen has received a Gold Medallion in the 2019 HIRE Vets Medallion awards for the firm's work for recruiting, employing, and retaining America's veterans. This award is the latest in a list of recognitions that include Military Friendly Employer, Military Friendly Spouse Employer, and Military Times Best for Vets.
"The recipients of the 2019 HIRE Vets Medallion Awards demonstrated a commitment to hiring veterans and helping them develop meaningful, long-term careers," said U.S. Secretary of Labor Eugene Scalia. "From small-town businesses to Fortune 500 companies, these employers understand that veterans are uniquely qualified and dedicated employees who make significant contributions in the workplace."
This award is more than just a reflection of the firm's hiring and retention practices, said Booz Allen Vice President Terence Mandable. "This honor is particularly special to us because our team worked with the Department of Labor to develop HireVets.gov. This award symbolizes our dedication to veterans in both our employment practices and our client work."
Supporting the military community from the inside out
Inside the firm, Booz Allen supports its veteran and military spouse colleagues with formal programs, employee-led resource groups, and career-development resources. And with clients, Booz Allen supports veterans through its many projects for the Department of Veterans Affairs: helping the agency transform to next-generation IT for quicker access to benefits, implementing a veteran benefits management system, and rolling out mobile infrastructure to veterans and clinicians.
Booz Allen is also making positive and long-lasting impact in the military community through partnerships with organizations like Hiring Our Heroes, the Elizabeth Dole Foundation, and Blue Star Families.
Learn more about HireVets.gov and how Booz Allen supports the military community.
More From Booz Allen Hamilton
Tuesday, October 27, 2020 - 8:00am
Friday, October 23, 2020 - 8:00am
Thursday, October 22, 2020 - 8:00am