TransCanada Community Scholarships: Creating Value for Community and Business
TransCanada Community Scholarships: Creating Value for Community and Business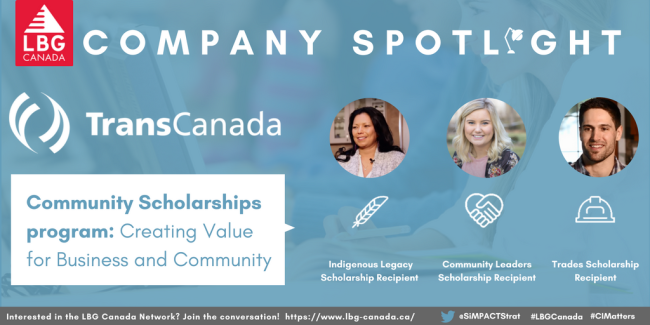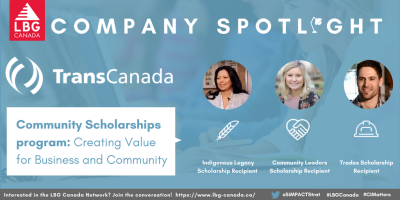 tweet me:
#LBGCanada company @TransCanada Community Scholarships creating value for #community and #business http://bit.ly/2JjOiLF #CIMatters
Monday, April 23, 2018 - 3:30pm
In 2017, TransCanada launched a scholarship program for students living near the company's geographical footprint.
The initiative is TransCanada's first, internally-administered scholarship program, and was created with the specific intention to reduce barriers to education for communities while also creating value for the business.
More than 350 scholarships are awarded annually to students living in the communities where the company lives, works and operates across North America.
Scholarships are offered in the following categories:
TransCanada Community Leaders Scholarship (Canada, U.S., Mexico)
TransCanada Indigenous Legacy Scholarship (Canada, U.S., Mexico)
TransCanada Trades Scholarship (Canada and U.S.)
TransCanada Women's Scholarship (Mexico)
To read the full Spotlight on TransCanada's Community Scholarships, please visit: https://www.lbg-canada.ca/blog/2018/04/18/transcanada-community-scholarships-creating-value-for-community-and-business/
-30-
About LBG Canada
LBG Canada is a network of corporate community investment professionals from many of Canada's leading companies, who work together to apply, develop and enhance the use of the LBG Model and measurement framework in Canada. Participation in LBG Canada encourages companies to focus on strategy, measurement and reporting to demonstrate the business value achieved through investment in community. LBG Canada is facilitated by SiMPACT Strategy Group. For more information, please visit: https://www.lbg-canada.com
More From SiMPACT Strategy Group
Thursday, January 14, 2021 - 12:15pm
Thursday, December 17, 2020 - 2:40pm
Monday, September 14, 2020 - 7:00pm
Videos from SiMPACT Strategy Group