Sustainability and Environmental Stewardship
Sustainability and Environmental Stewardship
A Guide for Fueling Employee Engagement in your CSR Program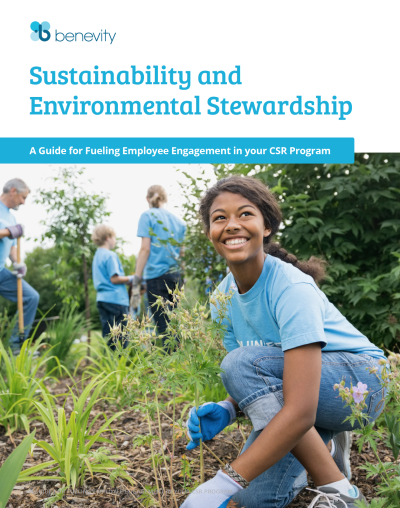 tweet me:
The desire to take actions that make the community & world better doesn't stop when we go to work! Check out @Benevity's guide to fueling employee engagement in CSR programs & start supporting your people's passion for a healthier planet. http://bit.ly/2Ob68Ty #ForGoodnessSake
Monday, August 6, 2018 - 3:15pm
With employees are looking for more than just perks and a paycheck, there's a massive opportunity to harness their desire to do more good while embedding more purpose into your culture. High-performing companies are using their CSR and employee engagement programs to do just that, encouraging their people to support their passions in the workplace—including their desire to create a healthier planet!
DOWNLOAD THIS GUIDE to learn:
Why now is the time to empower employees to support their passions in the workplace, like the environment, and how it can build more purpose into your culture
Why you don't need a sustainability program to create a grassroots, employee-centered environmental stewardship movement (and how to encourage that movement if you do have one!)
5 strategies to drive engagement in your workplace giving, volunteering and community investment initiatives by adding sustainability and environmental stewardship
More From Benevity
Tuesday, February 23, 2021 - 7:55am
Thursday, February 18, 2021 - 3:40pm
Tuesday, February 16, 2021 - 9:00am