Supporting Sustainable Communities: Bloomberg Corporate Philanthropy
Supporting Sustainable Communities: Bloomberg Corporate Philanthropy
Bloomberg Impact Report 2019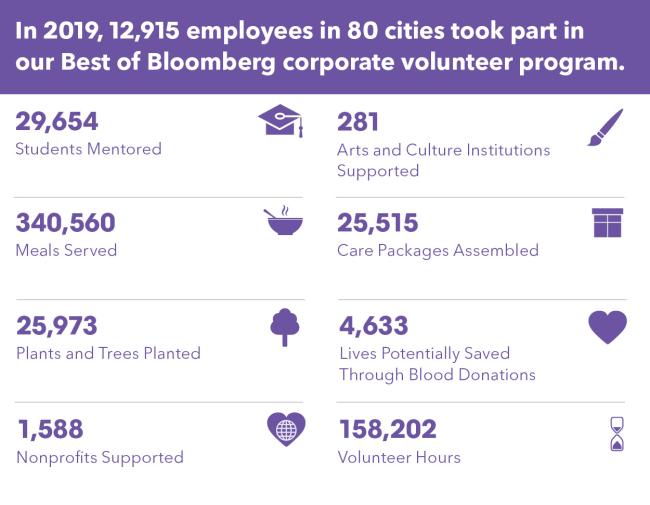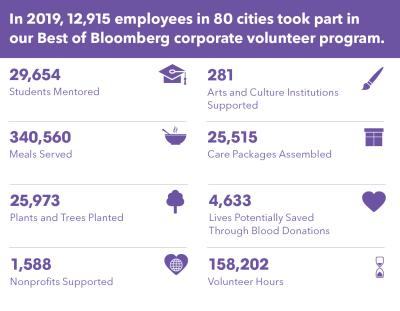 tweet me:
.@Bloomberg focuses their philanthropic efforts in four key areas where they believe they can achieve the greatest good — arts & culture, education, human services and the environment https://bit.ly/2XeajUX #bloombergimpact #corporatephilanthropy
Tuesday, June 16, 2020 - 1:20pm
Philanthropy and service are an integral part of the Bloomberg culture. We're committed to giving back to the cities in which we live and work, using our employees' expertise and our company's resources to address unmet needs in our communities, deepen engagement with our colleagues, clients and partners and improve lives around the world. In 2019, 12,915 employees in 80 cities took part in our Best of Bloomberg corporate volunteer program, contributing more than 158,000 hours of volunteer service.
For more on Bloomberg's Corporate Philanthropy program, view the 2019 Impact Report.
More From Bloomberg
Monday, April 19, 2021 - 1:30pm
Friday, April 16, 2021 - 1:25pm
Friday, April 9, 2021 - 4:05pm