Steve Almond: How to Take Back the White House in 2020
Steve Almond: How to Take Back the White House in 2020
tweet me:
This week's @SeaChangeRadio - "Steve Almond: How To Take Back the White House in 2020" @SteveAlmondJoy speaks with host @SweetAl: https://www.cchange.net/2020/02/25/steve/
Multimedia from this Release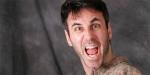 Wednesday, February 26, 2020 - 7:55am
What can all the money in the world buy you? Thanks to the Beatles, we already know it's not love, but could it perhaps buy you the most powerful office in the world? We may have an answer to this question as early as Super Tuesday, as one of the wealthiest humans on the planet attempts to buy the US presidency. This week on Sea Change Radio, we talk to author Steve Almond about the state of the Democratic primary. He offers his perspective on what we should be learning from Mike Bloomberg's political ads that presently blanket our nation's air waves, how the age of Trump changes the way that people view the field of presidential hopefuls, and what Democrats need to do if the nominee ends up being someone other than their favorite.