Stepping Up the Fight Against Discrimination
Stepping Up the Fight Against Discrimination
Two Whirlpool Corp. Employees Honored for New St. Joseph City Ordinance at EQMI Annual Gala.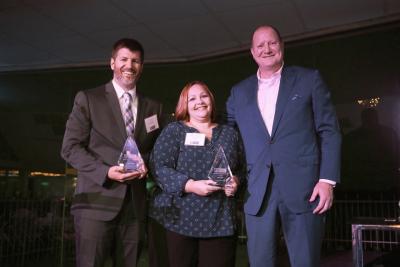 tweet me:
The Equality Michigan Fall Reception honored Whirlpool Corp. employees Laura Goos and Greg Fulmer, who were instrumental in expanding the city of St. Joseph's non-discrimination ordinance to include sexual orientation and gender identity protections. http://bit.ly/2Mj0qkq
Tuesday, October 15, 2019 - 11:45am
The Equality Michigan Fall Reception on Friday, Sept. 13 was attended by 400 people and resulted in record-breaking fundraising for the annual gala. Emceed by WDIV-Detroit reporter Hank Winchester, the EQMI event hosted speakers including Michigan Gov. Gretchen Whitmer and Sen. Debbie Stabenow, as well as keynote speaker, Michigan Attorney General Dana Nessel.
Among the honorees were Whirlpool Corporation employees Laura Goos and Greg Fulmer, who were instrumental in expanding the city of Saint Joseph's non-discrimination ordinance to include sexual orientation and gender identity protections. For their role, they were awarded the Activist Award, which "recognizes and honors individuals who have engaged in the grassroots fight to bring about political or social change that benefits the lives of LGBTQ Michiganders."
More From Whirlpool Corporation
Thursday, May 14, 2020 - 9:00am
Wednesday, May 13, 2020 - 8:00am
Tuesday, May 12, 2020 - 9:00am