Solar, Wind, Batteries To Attract $10 Trillion to 2050, But Curbing Emissions Long-Term Will Require Other Technologies Too
Solar, Wind, Batteries To Attract $10 Trillion to 2050, But Curbing Emissions Long-Term Will Require Other Technologies Too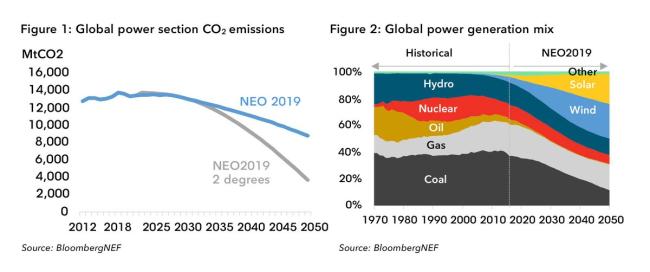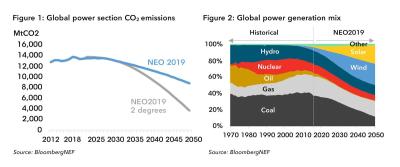 tweet me:
Solar, Wind, Batteries To Attract $10 Trillion to 2050, But Curbing Emissions Long-Term Will Require Other Technologies Too. The 2019 @BloombergNEF New Energy Outlook (#BNEFNEO) is out today: https://bloom.bg/2WMrK1r
Tuesday, June 18, 2019 - 2:35pm
London and New York, June 18, 2019 – Deep declines in wind, solar and battery technology costs will result in a grid nearly half-powered by the two fast-growing renewable energy sources by 2050, according to the latest projections from BloombergNEF (BNEF). In its New Energy Outlook 2019 (NEO), BNEF sees these technologies ensuring that – at least until 2030 – the power sector contributes its share toward keeping global temperatures from rising more than 2 degrees Celsius.
Each year, NEO compares the costs of competing energy technologies through a levelized cost of energy analysis. This year, the report finds that, in approximately two-thirds of the world, wind or solar now represent the least expensive option for adding new power-generating capacity. 
Click here to read the full story.