Seeing Red: The Story of Cyanide Dye at Goldcorp
Seeing Red: The Story of Cyanide Dye at Goldcorp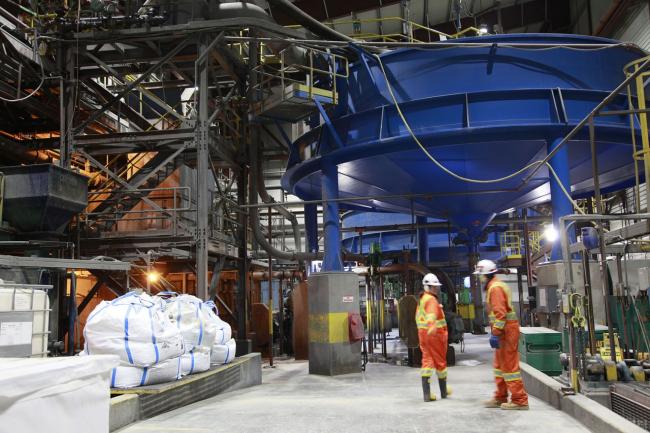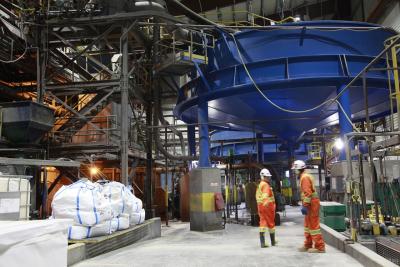 tweet me:
Cyanide is a highly toxic chemical most commonly used in the leaching process for gold extraction. One of the ways it is handled safely is with the addition of red dye to the mix, which helps with leak detection of an otherwise clear liquid. Learn more: http://bit.ly/2zmlAau
Monday, November 26, 2018 - 6:00am
Goldcorp's safety culture underpins everything we do as a company. Mining safely is a challenge we face every day, and there is no better example of this challenge than safety surrounding cyanide.
Cyanide is a highly toxic chemical most commonly used in the leaching process for gold extraction, which means we need to take every precaution to ensure it is handled safely at all our sites. One of the ways we do this is with the addition of red dye to the mix, which helps with leak detection of an otherwise clear liquid.
Adding dye to cyanide has a long history at Goldcorp, beginning in 1997, and is now due to become a standard, auditable practice under the ICMI Cyanide Code in 2019.
Back in 1997, Goldcorp's Musselwhite Mill operation team heard about the use of dye at Placer Dome Mine in Timmins, Ontario (which later became Goldcorp's Porcupine Gold Mine in 2006). At first the dye that was supplied was in solid form, so mixing was very messy and sometimes it was not added regularly.  "I take the safety of our workers very seriously", said Nuri Hmidi who was then Goldcorp's Musselwhite Mine Metallurgical Engineer, now Surface Operations Manager at Red Lake Gold Mines, "I contacted the dye supplier and asked if we could obtain the dye in solution form, which eliminated the need for a mixing system at site. I worked with our Maintenance Supervisors to come up with a safe process to add the dye solution to the cyanide reagent," added Hmidi.
Nuri Hmidi was one of the Engineers who pushed to have the dye added to cyanide mixing tanks as common practice at Goldcorp sites, and auditable under our Sustainability Excellence Management System (SEMS). The practice of adding dye has now spread to other Goldcorp sites, and is a company-wide mandatory practice under SEMS. It's an important component of every site's yearly SEMS audit.
The next step was to get the dye added to the cyanide even earlier. Our cyanide supplier Chemours, previously DuPont, saw the value in adding the dye at the manufacturing level. Brian Morris, Global Product Stewardship Manager at Chemours notes, "We could see that adding the dye at site-level was challenging because of the mess it created. Having red dye everywhere defeated the purpose of using it for leak detection, making it difficult to differentiate dye spills from dangerous leaks."
"DuPont/Chemours has been handling cyanide for 60 plus years, so we were happy to fulfill Goldcorp's request to add another layer of safety. Through a process of trial and error, we were able to come up with a solution that worked for us, our clients, and our supply chain. Goldcorp, and by extension Chemours, have been the leaders in implementing cyanide dye in the industry. This was definitely a customer-led initiative that has had positive repercussions for our business," continued Morris.
Chemours now offers all its mining clients the option to have red dye added to their cyanide orders, with most of them choosing to add it.
In February of this year, the ICMI announced that all mining signatories of the Cyanide Code will be required to use dyed high-strength cyanide solutions by July 1, 2019. The announcement came following extensive research and discussion starting in 2015, when ICMI management identified several Cyanide Code program changes aimed at improving the program overall. "The ICMI became aware of our practices and decided to consider adopting it as a standard," added Hmidi.
A working group, chaired by John Barber, Goldcorp's Director of Environment, and made up of signatory cyanide manufacturers (including Chemours), and two signatory mining companies, ultimately concluded that adding dye to high-strength cyanide solutions should become the industry standard. The recommendation was then approved by the ICMI Board of Directors following a public stakeholder consultation process.
Paul Bateman, President of the International Cyanide Management Institute (ICMI) notes, "The incorporation of dye to reagent-strength cyanide as a requirement of the Cyanide Code offers an opportunity to enhance protection of personnel and the environment. Use of dye by [mining] companies is believed to enhance product awareness, personnel safety, and to provide a quick indication of cyanide leaks and spillages."
Bateman added, "Specific to the gold and silver mining industries, it is our view that the use of dyes in high-strength solutions will expand over time to operations that are not yet participating in the Cyanide Code as the practice becomes more established within the industry. In time, this should become common practice."
The decision to defer the implementation of the requirement to July 2019 was to provide mining companies time to make changes to procedures, documentation, to train workers and emergency responders about recognition of dyed cyanide solutions, according to Bateman.
The story of cyanide dye is just one of many innovative safety stories at Goldcorp. "Goldcorp is always looking for ways to evolve safety and push the industry to do the same," Morris said.
"It makes us have pride in what we do as a team, and we are proud that ICMI implemented this idea that started many years ago and we were part of it," concluded Hmidi.
For more information on SEMS, our external commitments, safety initiatives and sustainability, please visit our 2017 Sustainability Report available here.
More From
Friday, April 5, 2019 - 6:45am
Thursday, April 4, 2019 - 6:30am
Wednesday, April 3, 2019 - 6:00am