Register Now! Join us May 12th to Learn How to Create a Corporate Giving Program in the Time of COVID-19
Register Now! Join us May 12th to Learn How to Create a Corporate Giving Program in the Time of COVID-19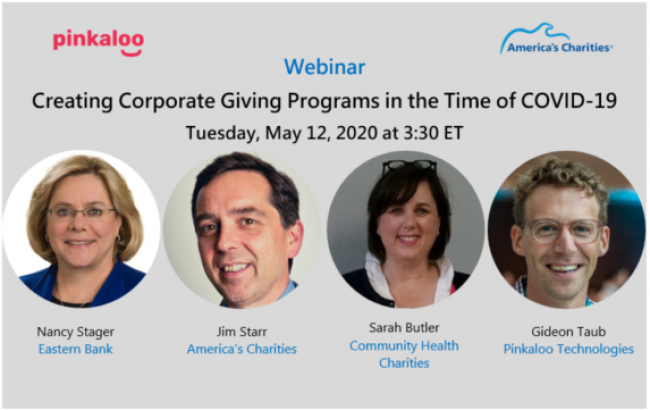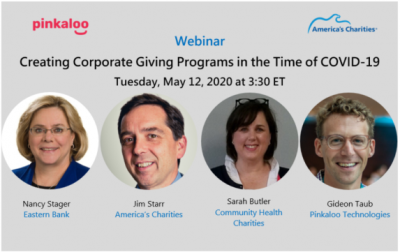 tweet me:
#Coronavirus has proven the value of virtual #SocialImpact activities-like #CorporateGiving. Join @AmerCharities @pinkalootech @easternbank @HealthCharities 5/12 @ 3:30pm for a free webinar about #WorkplaceGiving, #EAFs, #Crowdfunding, #DonationMatching: https://impact.ac/2SHWxYX
Thursday, May 7, 2020 - 5:40pm
Join us May 12, 2020 at 3:30 PM EDT
~ Hosted by our Partner Pinkaloo ~
Between workplace giving programs, employee assistance funds (EAFs), crowd-fundraising campaigns, and matching gift programs, employers have an arsenal of options for supporting their employees and the community in response to the COVID-19 pandemic.
How can your organization get started in this new era of social distancing and working in virtual environments? Wherever your team is, as long as they have access to a computer, they can make a real and lasting difference.
Join America's Charities' President and CEO, Jim Starr, and other community leaders for this free webinar, hosted by our partner Pinkaloo, on Tuesday, May 12, 2020, from 3:30-4:15 pm EDT, for examples and best practices. 
More From America's Charities
Wednesday, July 1, 2020 - 3:55pm
Wednesday, July 1, 2020 - 3:25pm
Monday, June 22, 2020 - 11:05am