Reducing Landfill Waste, One Cup at a Time
Reducing Landfill Waste, One Cup at a Time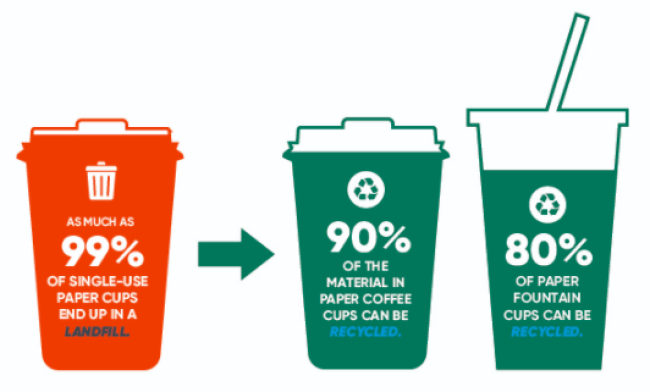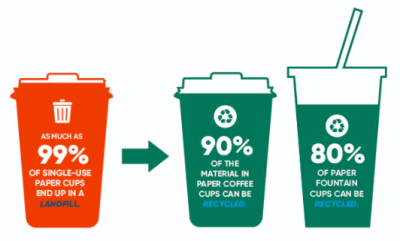 tweet me:
.@GeorgiaPacific, a @KochIndustries company, is investing in new recycling technologies to increase the amount of recyclable single-use paper and plastic cups. https://bit.ly/2MZeylU
Wednesday, February 17, 2021 - 9:45am
A simple cup of coffee on your way to work is often a much-needed jolt of energy at the start of the day. But once you're done, what happens to the cup next isn't so simple.
Day after day, those disposable cups start to accumulate, particularly during this time when many coffee shops are refusing to fill customers' reusable mugs. And that's a challenge quick-service restaurants such as McDonald's and Starbucks are looking to partners like Georgia-Pacific to help overcome. 
"Although their customers enjoy the benefits foodservice packaging provides, whether it's hygiene or convenience, we hear from consumers that there is a level of guilt associated with the single-use nature of the product," says John Mulcahy, vice president of sustainability at Georgia-Pacific, a Koch Industries pulp and paper company. "And we are responding with a solution."
The Foodservice Packaging Institute estimates that as much as 99 percent of single-use paper cups end up in a landfill. Where others saw waste, the Georgia-Pacific team saw opportunity. Based on actual mass of Georgia-Pacific-produced paper cups, about 90 percent of the material in traditional coffee cups and 80 percent of single-use paper fountain cups can be recycled.
Recycling single-use paper cups, however, is easier said than done. Paper coffee and soda cups are often coated with polyethylene (PE), a thin plastic coating that prevents liquid from soaking through the cup. Unfortunately, PE renders the paper unrecyclable and must be separated from the paper fiber to change that. 
The traditional pulping process at paper mills – which uses water and agitation to break down and separate fiber from PE – usually fails, leaving PE-coated cups intact. That's why these cups and similarly constructed containers (juice boxes, milk cartons, etc.) generally aren't accepted for recycling.
"The equipment wasn't aggressive enough to break down the cups and separate the bonds between the PE and the fiber," explains Dean Wesolowski, fiber operations manager for Georgia-Pacific's Broadway Mill in Green Bay, Wisconsin.  
In 2016, Georgia-Pacific invested $36 million in new pulping technology with improved recycling capabilities, including with mixed varieties of paper.  "That was a turning point," John says. The new pulpers deliver numerous benefits, such as the ability to handle more tons of mixed paper and capture more fiber per ton, which means less waste goes to landfills. A team of Georgia-Pacific engineers, operators and environmental managers worked together to confirm if the new pulping equipment could also better separate the PE from the paper cup fiber during the recycling process.
"Typically, paper cups only account for about 1 to 2 percent of a recycling bale's total volume," Dean says. "In our trials, our improved pulping process could handle cups at up to 10 percent of total volume. It's been a successful validation of our equipment." This process can recycle single-use paper cups contained in mixed paper bales into new napkins, paper towels or bath tissue within 24 hours from the time they're delivered to the mill in bales of mixed paper.
Georgia-Pacific has been recycling paper since the 1930s. As one of the largest paper recyclers in the country, the company has a steady need for used fiber to recycle into new paper goods and the know-how to get it done. Combined with the consumer desire to recycle single-use paper cups, a trending global decline in printing paper waste (fueled in part by the global pandemic) and a decrease in China's purchase of mixed-paper waste, the newfound ability to recycle PE-coated cups widens the supply of reusable paper material.
"The company's investment in the Green Bay mill's recycling capabilities has turned paper cups into a source of usable fiber that can be recycled instead of something that ends up in landfills," Dean adds.
Georgia-Pacific can now process up to 700 tons of mixed paper per day at its Green Bay facility alone and is expanding these capabilities to its mills in Muskogee, Oklahoma, and Savannah, Georgia. "In Green Bay, mixed paper recycling is just one part of ongoing investments in sustainability at the 102-year-old facility," says Michael Kawleski, public affairs manager for Georgia-Pacific. "The recent installation of a second natural gas boiler has dramatically reduced air emissions by eliminating coal as an energy source, and an onsite wastewater treatment plant allows the mill to reuse stormwater and water from manufacturing processes."
With more robust recycling capabilities in place, Georgia-Pacific set out to educate consumers to put single-use paper cups in the recycle bin. An environmental group called The Recycling Partnership – which provides blue bins to households in the Green Bay area – helped communicate the news to the community that their PE-coated takeout cups could now be recycled. And municipal material recycling facilities (or MRFs), which collect, sort and pack recyclable materials into bales before they're sent to the mill, have started processing the single-use paper cups.
The response from Georgia-Pacific customers Starbucks and McDonald's has also been promising that more paper cups will be recycled instead of going to landfills.
"We are taking a meaningful step forward with Georgia-Pacific toward our goal of reducing paper cup waste," Michael Kobori, chief sustainability officer at Starbucks, shared. "We're excited by this progress and look forward to our continued partnership with organizations that support our vision of a resource-positive future."
At the Georgia-Pacific Green Bay facility, the team is inspired to keep building its recycling capabilities. Speaking on the impact of this technology in the community, Dean says, "It feels good to continue the mill's long tradition of transforming materials that would otherwise be wasted into quality products that people value."
More From Koch Industries
Wednesday, April 14, 2021 - 2:30pm
Monday, February 15, 2021 - 10:40am
Wednesday, January 6, 2021 - 12:30pm