Rebecca Leber: A Brand New Day
Rebecca Leber: A Brand New Day
tweet me:
This wk's @SeaChangeRadio - "Rebecca Leber: A Brand New Day" @MotherJones environmental reporter looks at the Biden Administration's possible wishlist for the #climate https://www.cchange.net/2020/11/10/day/
Multimedia from this Release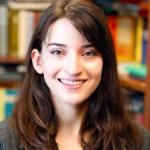 Wednesday, November 11, 2020 - 2:10pm
The New York Times recently compiled a list of 104 environmental protections that the Trump administration has rolled back in four short years — they include major climate policies as well as rules that ensured clean air and water, preserved wildlife, and regulated toxic chemicals. With the election of Joe Biden, however, many are hoping for a dramatic and immediate reversal. This week on Sea Change Radio, we unpack some of the key items on our environmental wishlist for the incoming Biden Administration with Mother Jones reporter Rebecca Leber. We talk about restoring our standing in the world by re-entering the Paris Climate Agreement, look at possible variations of a Green New Deal, and ponder what can be done with or without Democratic control of the Senate.