Rafael Mandelman: Inner City Blues
Rafael Mandelman: Inner City Blues
tweet me:
This wk on @SeaChangeRadio - host @SweetAl sits down with SF politician @RafaelMandelman for an in-depth discussion on homelessness: http://www.cchange.net/2018/05/29/blues/
Multimedia from this Release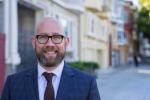 Wednesday, May 30, 2018 - 3:00pm
Futurists, environmentalists and planners alike generally believe that humans living in more densely populated areas has benefits for the earth – city-living is just a much more efficient use of the planet's resources. But cities also expose a society's inequality. Some of the world's wealthiest cities are plagued by abundant homelessness and have deep pockets of  persistent poverty. This week on Sea Change Radio, we speak to Rafael Mandelman, a local San Francisco politician who has seen homelessness up close. Mandelman tells his story of growing up with a mother who struggled with mental illness and homelessness and how, despite the odds, he made his way through an Ivy League education and helped lift his mother out of her dire situation. Now an advocate for homeless rights, Mandelman walks us through the simultaneous explosion of homelessness and high-paying tech jobs in his hometown, sets forth some of his ideas for solving the crisis, and gives examples of cities that have been able to tackle this problem in an ethical, compassionate, and effective manner.
More From Sea Change Radio
Wednesday, May 27, 2020 - 4:15pm
Wednesday, May 20, 2020 - 4:45pm
Wednesday, May 13, 2020 - 3:30pm