Putting Shared Value Into Practice: A Conversation With Justin Bakule, Executive Director of Shared Value Initiative
Putting Shared Value Into Practice: A Conversation With Justin Bakule, Executive Director of Shared Value Initiative
tweet me:
.@jbakule of @SVInitiative explains how companies can put #sharedvalue into practice on the newest episode of the Champions for Social Good podcast hosted by @blackbaud's @RachelHutchssn http://bit.ly/2q4kF9d
Multimedia from this Release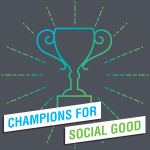 Wednesday, April 4, 2018 - 11:00am
In this episode of the Champions for Social Good podcast, Rachel Hutchisson, vice president of Corporate Citizenship and Philanthropy at Blackbaud, speaks with Justin Bakule executive director of the Shared Value Initiative (SVI), about the concept of shared value and how SVI is helping advance the practice of shared value through best practice sharing, capacity building, research, and its annual Shared Value Leadership Summit. Justin explains what shared value is at its core, and how it can help companies gain greater insights into their customers that lead to long-term value creation.  Concrete examples of companies practicing shared value are highlighted throughout the episode to help listeners understand the various ways shared value can be incorporated into a company's core business model. Rachel and Justin also talk about how shared value and corporate social responsibility (CSR) can complement each other both directly and indirectly. Finally, Justin shares how the Shared Value Initiative is building an enterprise diagnostic tool that will allow companies to track their progress in incorporating shared value into their business practices and help them compare their progress against their plans. Listen now!
Blackbaud's Champions for Social Good podcast, hosted by Rachel Hutchisson, VP of Corporate Citizenship & Philanthropy, brings together thought leaders and practitioners in the social good movement to share learnings, educate and inspire change across the sector. Subscribe to the Champions for Social Good Podcast on iTunes, Google Play Music, Stitcher, or your favorite podcast player.
To learn more about Blackbaud, the world's leading cloud software company powering social good, and about how we are helping companies advance their social impact, visit www.blackbaud.com/corporations. 
More From Blackbaud Corporate Solutions
Thursday, May 21, 2020 - 9:00am
Thursday, May 14, 2020 - 10:00am
Tuesday, April 7, 2020 - 11:05am
Videos from Blackbaud Corporate Solutions